Stay updated with news, favorite photos, and terrific videos about our Supercar Driving Experiences in Las Vegas. Exotics Racing have been featured in some of the most prestigious publications and automotive websites including Road & Track, Car and Driver, DuPont Registry, Racer Magazine, Popular Mechanics, LA Times, US Today, Hollywood Reporter, Vegas Magazine, Luxury Magazine, Robb Report, and Autoweek just to name a few. Our Communication and PR team is dedicated to provide every media with information about our activity such as new supercar deliveries on track or racing events. Contact us for more information about Exotics Racing Group or to schedule your next visit at one of our racetrack: experience@exoticsracing.com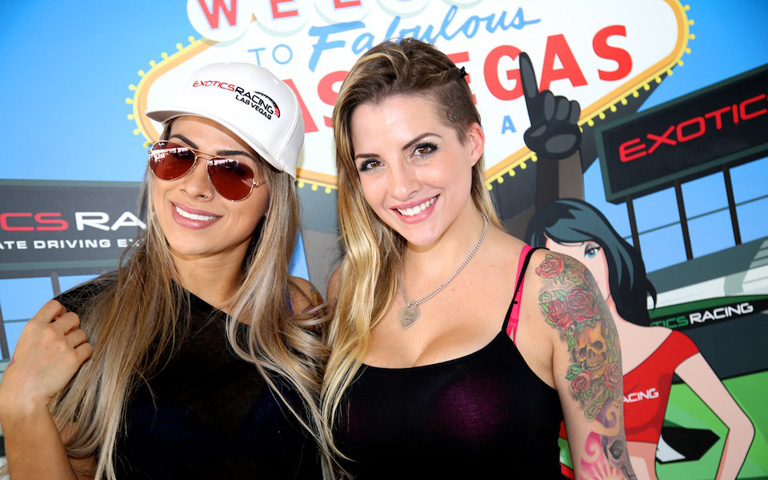 Big Brother Brazil Visits Exotics Racing
Big Brother Brazil Visit Exotics Racing
Reality television star and fitness model Vanessa Mesquita from Big Brother Brazil visited Exotics Racing in Las Vegas with fellow Big Brother contestant and close friend Clara Aguilar. This is Clara's second trip to our 1.2-mile road course while Vanessa was making her first appearance at our track. Vanessa beat out 20 competitors on Big Brother Brazil 2014 and brought home the $1.5 million grand prize. Clara did well on the show too, finishing 3rd over all.
Friends of Exotics Racing
"I'm proud to call Clara and Vanessa my friends" said David Perisset, Exotics Racing's co-CEO. "It's always a pleasure to welcome them to our Las Vegas track". Vanessa chose to take out Exotics Racing's newest exotic supercar, the 475 horsepower Porsche 991 GT3. Clara spent her time on the track driving the 570 horsepower V10 Lamborghini Gallardo Superleggera. Once the Big Brother contestants were done with their supercar driving experience, they both hung out to take laps in Exotics Racing's Corvette Z06 drift car.
{{sharing}}
OTHER NEWS