DRIFTING RIDE-ALONG EXPERIENCE
The most thrilling ride on a racetrack!
The Drifting Ride-Along experience is truly an adrenaline shot! Exotics Racing's professional drifter will take you as a passenger for the Supercar full-speed drifting experience. Onboard the Dodge Charger SRT Hellcat, you will feel the rush of the 707hp V8 like nowhere else. The ride-along experience will amaze you with skillful racing techniques. This supercar is fully mastered by our expert racing drivers and it shows it on the racetrack! Buckle in for the adrenaline-pumping ride of your life!



Drifting Ride-Along
Dodge Charger SRT Hellcat

204 MPH
707 HP
3.4 S
US$65.900
How do you take up to three passengers for a sideways drifting, tire-smoking extravaganza of a thrill ride? Buckle them into a Dodge Charger SRT Hellcat. Why this car? To start, it's a four door sedan, so the two backseat passenger can get in with ease. More importantly, the Charger SRT Hellcat pumps out a whopping 707 horsepower and 650 lb-ft of torque.
SUPERCAR RIDE-ALONG EXPERIENCE
Pick one of three exotic cars below
Exotics Racing's professional drivers will take you as a passenger and show you what a supercar can do on our racetrack. Onboard the Porsche 991 GT3, Ferrari 488 GTB or the Lamborghini Huracan, these ride-along experience will amaze you with skillful racing techniques mastered by our experienced racecar drivers!


Supercar Ride-Along
Lamborghini Huracan

198 MPH
580 HP
3.4 S
US$216.000
It's like a time machine. Only faster. For the speed seekers the Lamborghini Huracan together with our racing drivers will have you at the edge of your seat. With 580 horsepower and our expert racing drivers, hold on tight and enjoy the high speed ride.
Supercar Ride-Along
Ferrari 488

205 MPH
660 HP
3.0 S
US$330.000
Supercar Ride-Along
Porsche 991 GT3

198 MPH
500 HP
3.8 S
US$143.000
One thing is clear already: the new 911 GT3 ride along is going to change the way you think about Porsches. With outstanding performance and offering excellent manageability, our racing drivers will break through the limits to give the Supercar experience.
RIDER ITINERARY
Our team of racing experts will guide you through the entire experience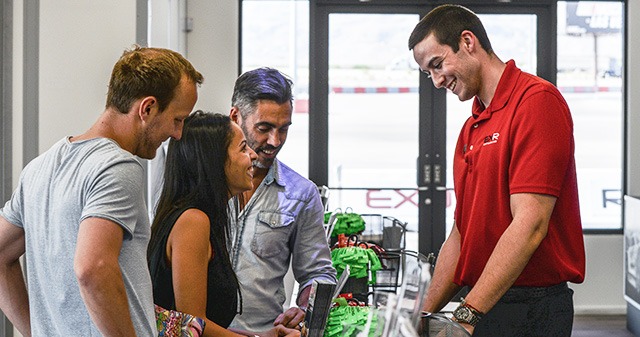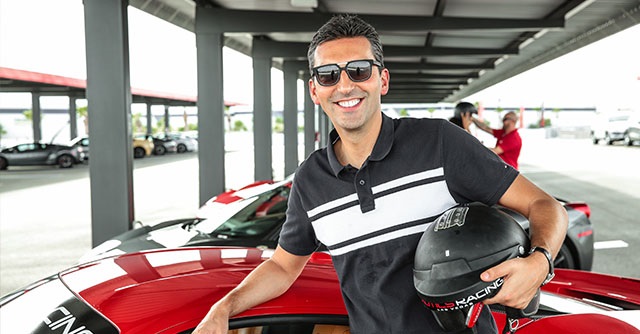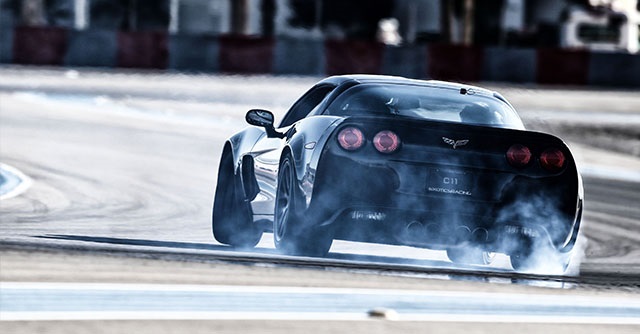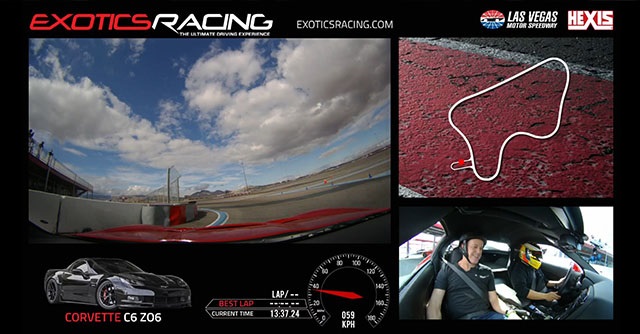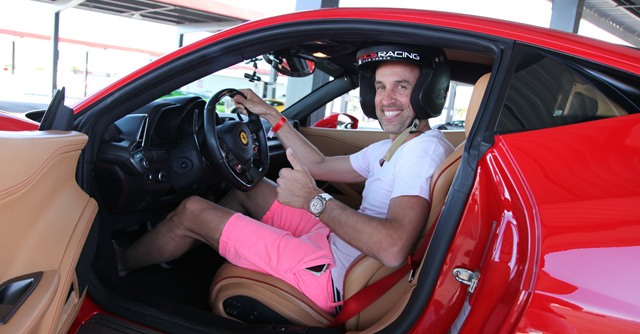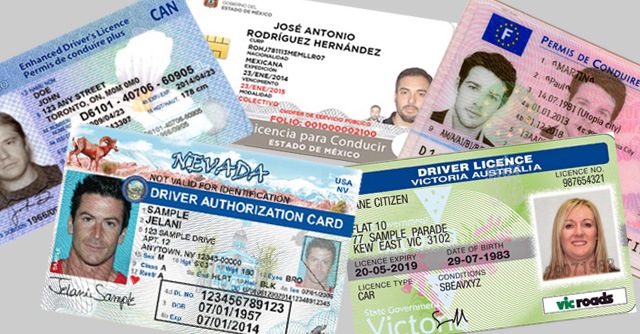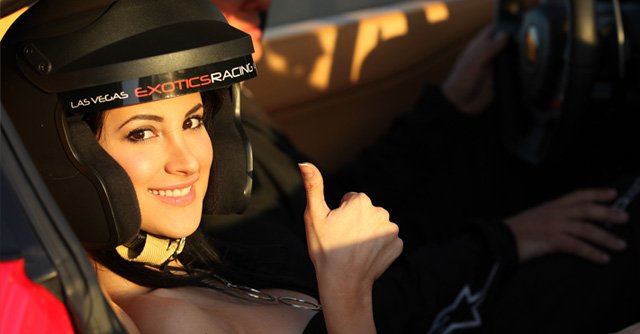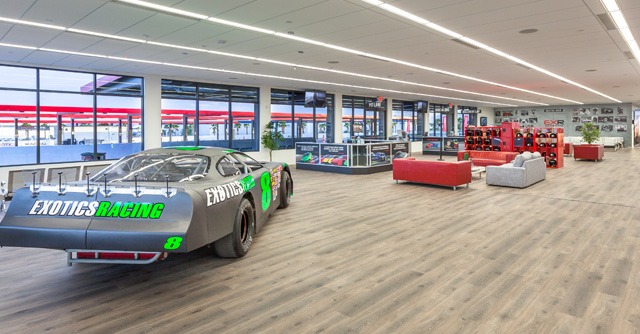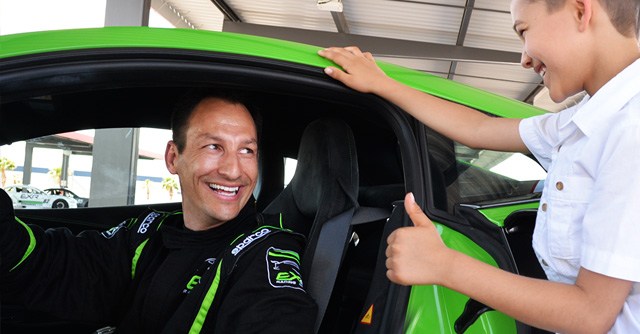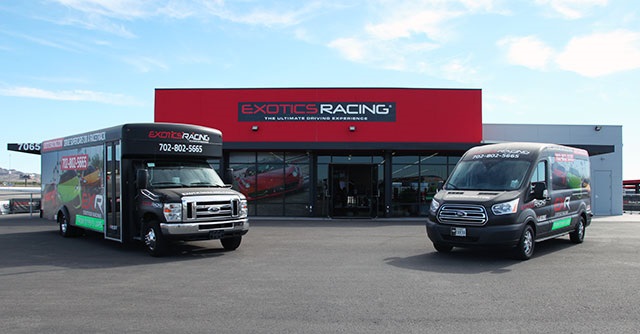 SUPERCAR DRIVING EXPERIENCES
Located on the grounds of the Las Vegas Motor Speedway, our exclusive 1.2-mile racetrack was designed by professional racing drivers to highlight our supercars performance capabilities. You'll find an example of many turns found on the world's greatest racetracks including hairpins, double apex corners, fast sweepers, chicanes, 90-degree corners and even a banked turns as well as large runoff areas, the latest high-tech safety barriers, and even the only in-ground LED lighting system in the US.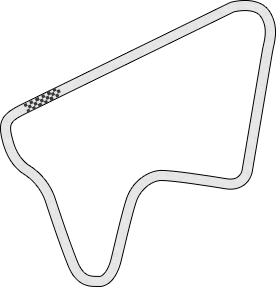 1,800 ft

Main straight away

1.2-mile

track length

7

days open

7

turns

140 mph

top speed

15 min north

Of the las vegas strip
7.587 Reviews
Over 260,000 Happy Customers! We've become a top rated racing attraction in Las Vegas. See what others have to say about their exciting driving experience at Exotics Racing.

enero 20, 2017
We absolutely LOVED our experience! It was our first time, but certainly not our last! My husband and I both thought the order of things made sense and worked well for us. The staff were all extremely patient, helpful, and kind. The only criticism we would have to offer is that we were not informed ahead of time to bring cash if we would like to tip our instructors, which we luckily we did have cash on us... I would suggest putting the tipping information as part of the booking or checkout process. Also, we would both like to offer a personal compliment to our instructor Michael (big red beard). He was absolutely amazing at learning our different personalities quickly and then adjusting accordingly so as to make our experience the best it could be! Not to mention how congenial and knowledgeable he was!

enero 20, 2017
From start to finish, I knew I had made the right choice. Everyone was very friendly and professional. With a wider selection of cars and a larger track than "the other guys" in Vegas, going with EXR seemed a no-brainer (the other website boasted a straight-away where you can hit speeds of 80mph, let's just say we far surpassed that on EXR's straight-away!) Dave and Dave, the two instructors I had for my Cayman/Aventador experience set me equally at ease and briefed me in great detail on the specifics and nuances of each of these fine machines. After carving into the corners and getting used to the track in the 350hp Porsche, the 700hp pride of the Lamborghini's stable will indeed allow me to die content! ...at least until they add a Bugatti to their fleet! -Travis from Edmonton, Canada

enero 20, 2017
Had an incredible time. The car selection is awesome and when we made it to the track my instructor (Luigi) made it super fun and really did everything he could to make it a great time. I chose 12 laps which I think was the way to go, your u really don't get a good feel for the car with any less than that. Everyone there was nice and I will definitely be back to drive soon me more cars. Keep up the great work. If your a little skeptical about the price, that leaves immediately when you hit the track.

enero 18, 2017
Everyone at Exotics Racing in Fontana, CA is a professional with the right attitude. From the person handling your account behind the counter, to the drivers themselves! This is my third "driving experience" and I couldn't be happier. From the Ferrari 458 Italia to the Porsche 997 Turbo S to the Nissan GT-R, no car disappoints. I can't wait until the next time awesome ride at Exotics Racing. Thinking Vegas next time for some night driving!

enero 18, 2017
Overall experience was awesome. Great people, cars in great shape. where else can you drive this array of high performance vehicles on a track, where they belong? Safety was always a priority. Flew 10 hours from South America to do this. Can´t wait to go back. thanks! CARLO ALCANTARA- Lima, PERU

enero 18, 2017
I really enjoyed my second trip to Exotics Racing. They always have the latest cars and it was fun to drive them back to back for comparison. My instructors were great and allowed me to push the cars beyond my comfort zone. Can't wait to go back!!

enero 18, 2017
Outstanding. Best thing to do in Vegas if you are a car fan. The entire process from booking to check-in, to a brief instructional video to driving the Ferrari and Aston Martin was outstanding. Great job for an often hard to please car fanatic! Will be back.

enero 18, 2017
On line sign up was easy. 3rd visit was just as much fun as the 1st and 2nd. Now an annual event for my wife and I during CES. Sunday morning turned out to be a great time to go - FAST.

enero 17, 2017
Great experience, and very good instructor!

enero 17, 2017
I had a really great experience at EXR. I highly recommend it. ***

enero 17, 2017
Instructors are amazing, cars are great. Best track, best prices, with the best selection of cars. Book it now you won't regret it

enero 17, 2017

enero 17, 2017
I had a great time. Can't wait to go back to the track!

enero 13, 2017
My son drove the Porsche his 18th birthday! He loved it! Thank you!

enero 11, 2017

enero 11, 2017
Exotics Racing was AWESOME!!!! I had a great time and Josh was an excellent instructor. My only issue was that I didn't purchase more laps! I'll definitely be recommending Exotics to others.

enero 11, 2017
Really a fantastic experience and thing to do. Frank my instructor taught me so much in just 7 laps it was unbelievable, Since I drive a 991.1 Turbo S - I now know how to at least start using it's potential. Thank you very much. I brought a friend and she has never been around exotic cars ever. Her instructor Nico was just fantastic and was perfect in his teaching methods and getting her around in the Huracan. It was great. Intense and exciting, just 7 laps and in a full sweat. Much respect to pros with everyone doing this craziness at the same time and everyone being a great driver. I'm just a mild-mannered CPA sitting at my desk. WOW!

enero 11, 2017

enero 11, 2017
This was a surprise gift for my boyfriend and it went down perfectly! From checking in to having to sit through the training course and finally being able to watch my man drive one of his favorite cars around their course it was absolute bliss! Everyone was so nice and you could tell they didn't mind at all having to interact with anyone. They held everyone's interest and of course made sure everyone was kept safe. The cars were incredible and getting to actually look at them and sit in them was definitely a plus I didn't know about but wouldn't complain about either! I couldn't have asked for a better experience and even the prices are worth it! I would totally go through this experience again, except for myself next time!

enero 11, 2017
This is the absolute perfect experience! I am not a professional race car driver. Heck, I'm barely a professional soccer dad driver. But no matter your skill level, you will be going fast and furious on the race track with Exotics Racing. Any fears you have about driving fast are put to rest during the 30 minute class presentation. Though it seems boring at first, by the end you certainly feel informed and comfortable. And just in case there is any fear lingering in your gut, an instructor takes you out on a discovery lap in a Porsche Cayenne and shows you exactly how to race the track. You then get an in car professional who verbally communicates with you during the race to ensure that you are getting max speed and max experience. It is simply unbelievable how fun and awesome the experience feels. Have you ever gotten a Lambo from 40-115mph in 7 seconds after drifting a left turn? You certainly will at Exotics Racing.

enero 10, 2017

enero 10, 2017

enero 10, 2017
A great experience - a real class act. My one worry was that the cars would be rev-limited or governed in some way. Not so. You get to go flat out - a much as the cars - or your nerves - will do. Also, the ride-along instructors were great, and will encourage you to go faster with each lap. There is no holding back - these are fast cars and you get to drive them fast. Highly recommended.

enero 10, 2017

enero 7, 2017
Great cars, great instructors, great track leading to a great overall experience.