Stay updated with news, favorite photos, and terrific videos about our Supercar Driving Experiences in Las Vegas. Exotics Racing have been featured in some of the most prestigious publications and automotive websites including Road & Track, Car and Driver, DuPont Registry, Racer Magazine, Popular Mechanics, LA Times, US Today, Hollywood Reporter, Vegas Magazine, Luxury Magazine, Robb Report, and Autoweek just to name a few. Our Communication and PR team is dedicated to provide every media with information about our activity such as new supercar deliveries on track or racing events. Contact us for more information about Exotics Racing Group or to schedule your next visit at one of our racetrack: experience@exoticsracing.com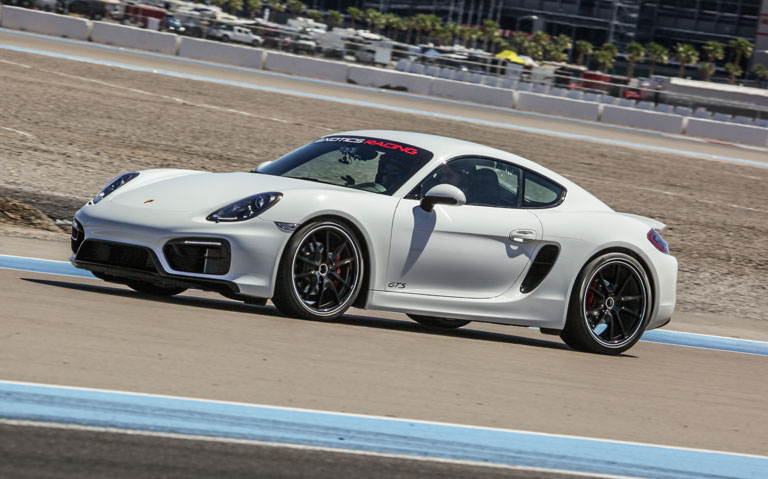 It's like go-kart with 340hp. The new Porsche Cayman GTS has arrived at Exotics Racing.
The New porsche cayman gts
With the Cayman GTS, Porsche has gone back to its roots, creating a car that is small, nibble, well balanced, smooth, and powerful. This is an enthusiast's car, a real track day thrill, which hugs the corners and booms in the straights. The Cayman is everything you expect from a sports car, making it one of the most satisfying driver's cars out there. The Cayman performs with pleasing precision thanks to its perfect weight distribution.
Come try it!
Outside of an increase in horsepower, the new Cayman GTS also receives an upgraded PDK transmission that now includes launch control, as well as, an upgraded suspension that is adjustable depending on driver preference. But maybe our favorite part, the new sports exhaust that makes this small sports car sound big and mean. Simply put, this is one of the best handling cars in our fleet; it's also one of the fastest through the bends, making it a real menace as it slips inside and over takes more powerful cars.
{{sharing}}
OTHER NEWS