The EXR LV02 is a driver's machine. The lightweight, rear-wheel drive racing car offers a rewarding driving experience that is fun to drive all the way to the edge
Professional drivers Romain Thievin and Alexandre Premat have both put the car through its paces and they agree the car is excellent for drivers of all levels. For new competitors, the car offers the incredible opportunity to realize a childhood dream of becoming a real race car driver, while professionals will enjoy the experience of challenging the limits in this purpose-built racing machine. read more >
"The EXR LV02 is a car that rewards great driving," said Thievin, who put the car on the podium in his first race with it. "It is forgiving enough for beginning drivers and will also grow with them as their skills improve through coaching, our racing school and racing experience. It doesn't take long to develop a real sense of confidence in the car. Professional drivers will take to it immediately."
On its face, the LV02 is a great looking machine. Its tube-frame chassis is dressed in a sedan style body, with several sexy touring car inspired looks available now, and more designs to come in the future.
Inside the spacious interior, the quality of the construction is evident in the details. The FIA certified racing seat is ideally situated to maximize visibility and feel every movement of the car. The steering wheel and seat are fully adjustable to provide a perfect fit for drivers of all sizes.
"It doesn't matter if you're a novice or a professional, you're going to have fun with the LV02," said Thievin. "We chose it for the EXR Racing Series because it's everything you want in a race car."
An enviable power-to-weight ratio means the car feels light and responsive to late braking and hard acceleration out of corners. Its front-engine configuration puts most of the weight up front, giving the EXR LV02 a playful feel that edges toward oversteer, while still being easy to control. Its six-speed sequential SADEV transmission delivers the power when it's needed, with a safety system to keep it from over-revving on the downshifts.
A digital dashboard provides access to all the necessary vehicle information, while an onboard timekeeping system helps drivers track lap times and position. Video and data acquisition are also available as training tools.
"Drivers are going to appreciate having all the information they want right there on the dash," said Premat. "And being able to review data and video after each session will make them faster every time they get behind the wheel."
The next evolution of Europe's popular Mitjet 2L, the EXR LV02 is race proven. It is now available in the United States exclusively to drivers in the EXR Racing Series.
less >
EXR LV02

150 MPH
230 HP
4.0 S
$80,000
The EXR LV02 is a driver's machine. The lightweight, rear-wheel drive racing car offers a rewarding driving experience that is fun all the way to the limit -- for novices and experts alike. The successor to Europe's popular Mitjet 2L, the EXR LV02 is raced exclusively by the EXR Racing Series in Sprint, Endurance races & Time Attack competitions in the United States.
Lapping sessions in the EXR LV02 are available by 15-minute increments
Depending on your racing skills, actual laps driven will vary by driver
An average of 12 to 14 laps will be accomplished within a 15-minute session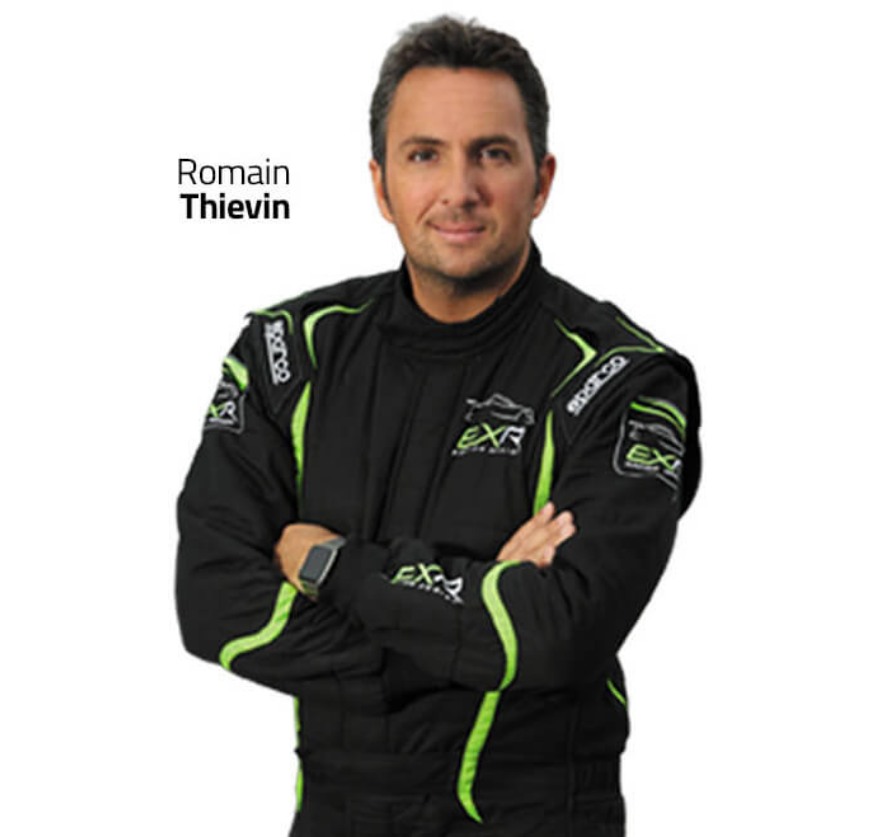 Tips From A Pro
"This is a race car that delivers the whole package. It looks great, it is powerful and lightweight, and it is predictable all the way to the limit. The EXR LV02 is the kind of car that you can't wait to drive – again and again."
DRIVER ITINERARY
Our team of racing experts will guide you through the entire experience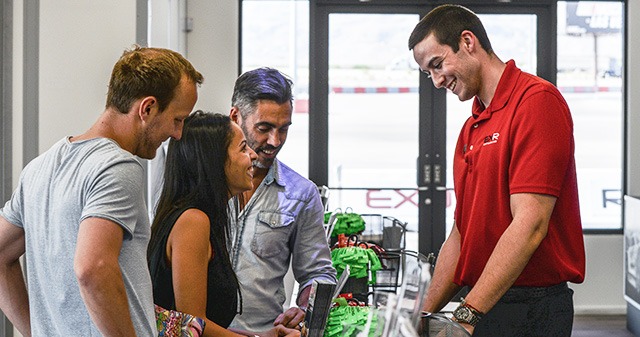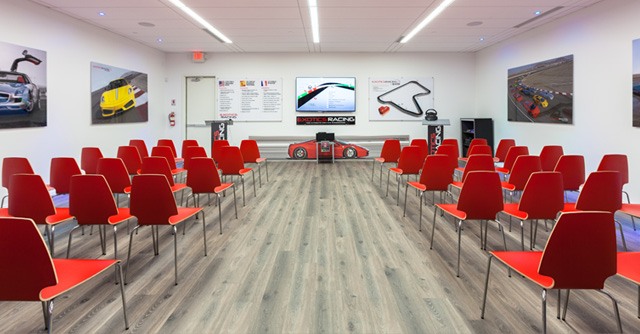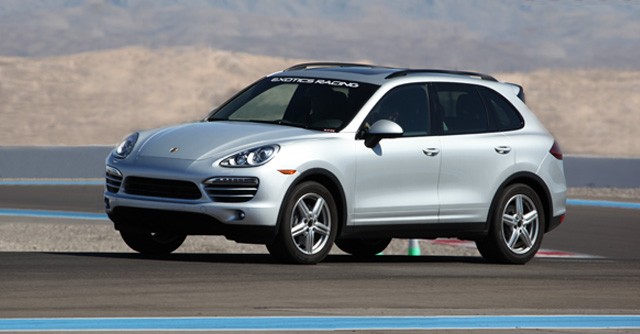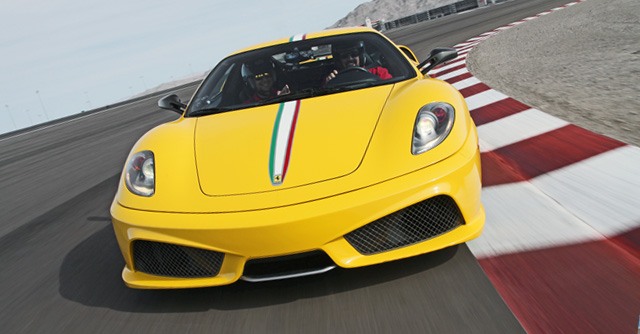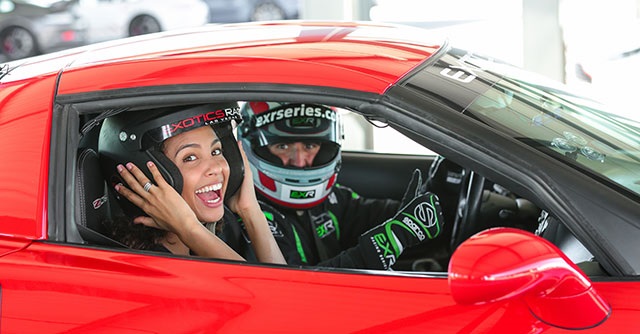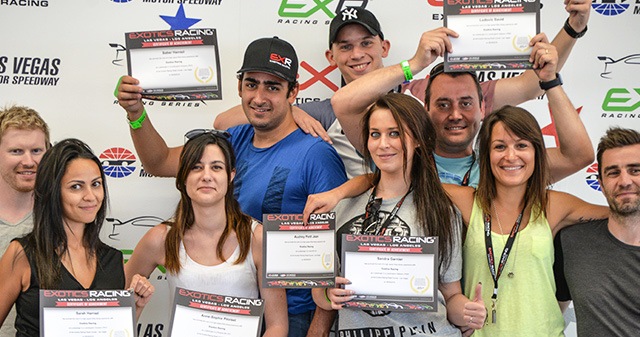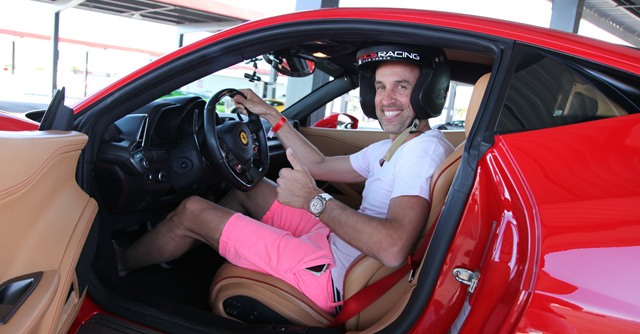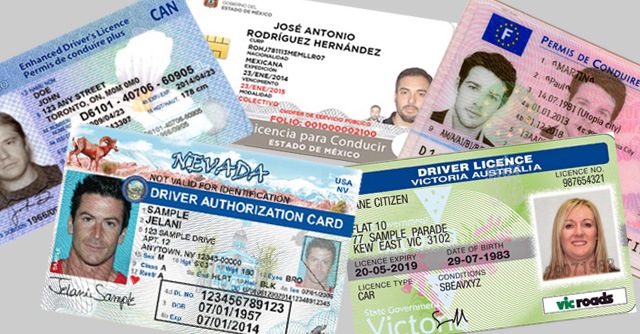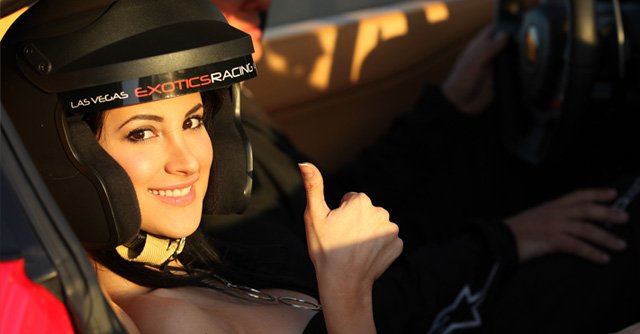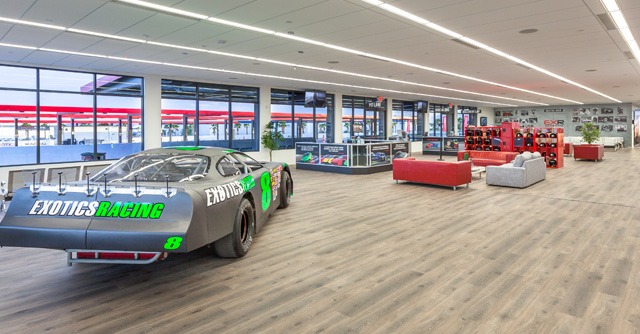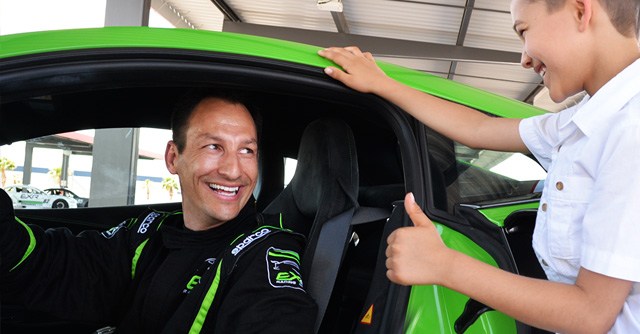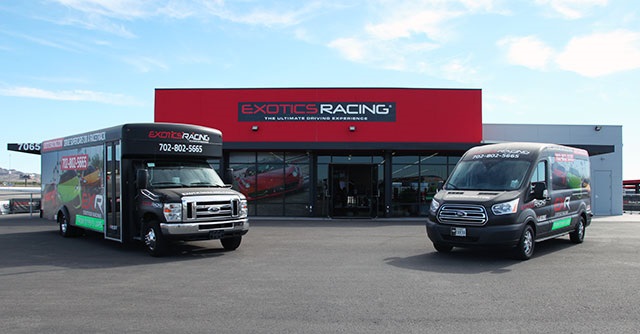 11 Reviews
Over 230,000 Happy Customers! We've become a top rated racing attraction in Las Vegas and Los Angeles. See what others have to say about their exciting driving experience at Exotics Racing.

August 15, 2016
Drove the EXR LV02. All over great experience. Great car, great time, great coaching, VIP treatment with the coach, private session was all over great. Recommend to everyone looking to have a great time and great experience.
OTHER AVAILABLE SUPERCARS
The world's largest fleet of exotic cars with over 50 cars and 19 models to choose from including the hottest cars by Ferrari, Lamborghini, Aston Martin,
Porsche, Corvette, Audi and Mercedes. All cars are equipped with paddle shifters to accommodate all skill levels and board dash
cameras to capture every moment of your Exotics Racing experience.