Porsche 991 GT3


There is No Substitute
The Porsche 911 has always been a benchmark in the supercar world, beginning its journey over 50 years ago. A definitive favorite of enthusiasts around the world, Porsche has offered the 911 in many different combinations, including the most hardcore, stripped down and exciting version; the Porsche GT3. read more >
Named after the famous racing class for which it is called, the Porsche GT3 at Exotics Racing provides all that same intense speed and agility. With a 475bhp naturally aspirated 3.8 liter flat-6 power plant in Porsche's lightest offering, combined with active rear steering and adaptive motor mounts this is definitely a true porsche enthusiast car.
Boasting unparalleled handling characteristics and road hugging grip, the Porsche GT3 is in a class all of its own. Exploding off the line to 62 mph (100 kph) takes a mere 3.5 seconds, making the Porsche GT3 one of the quickest supercars in the world. With an entirely new design for the latest (5th) generation, the Porsche 991 GT3 boasts a host of newly introduced features, all of which make for an entirely new driving experience.
With the new redesign comes a 9,000rpm redline from that howling 3.8 liter flat-6, mated to an also newly redesigned dual clutch DPK gearbox, giving drivers the chance to harness all the same extreme speed and dynamics from a car that is can be found on any race track around the world.
Now that you've read about how incredible the Porsche GT3 is, it might be time to experience it on one of tracks in Las Vegas or Los Angeles. Our tracks were specially designed by a team of experienced race car drivers, and are laid out with the purpose of getting the most of what the incredible Porsche 991 GT3 does best, tearing up the track. Visit Exotics Racing in Las Vegas or Los Angeles and drive a Porsche GT3 today!
less >
Porsche 991 GT3

198 MPH
500 HP
3.8 S
$143,000
The wait is over! One of the most anticipated cars has arrived to Exotics Racing®; the all-new Porsche 911 GT3. One thing is clear already: the new 911 GT3 is going to change its driver. With outstanding performance and by offering excellent manageability, it breaks through existing limits in the mind and on the track.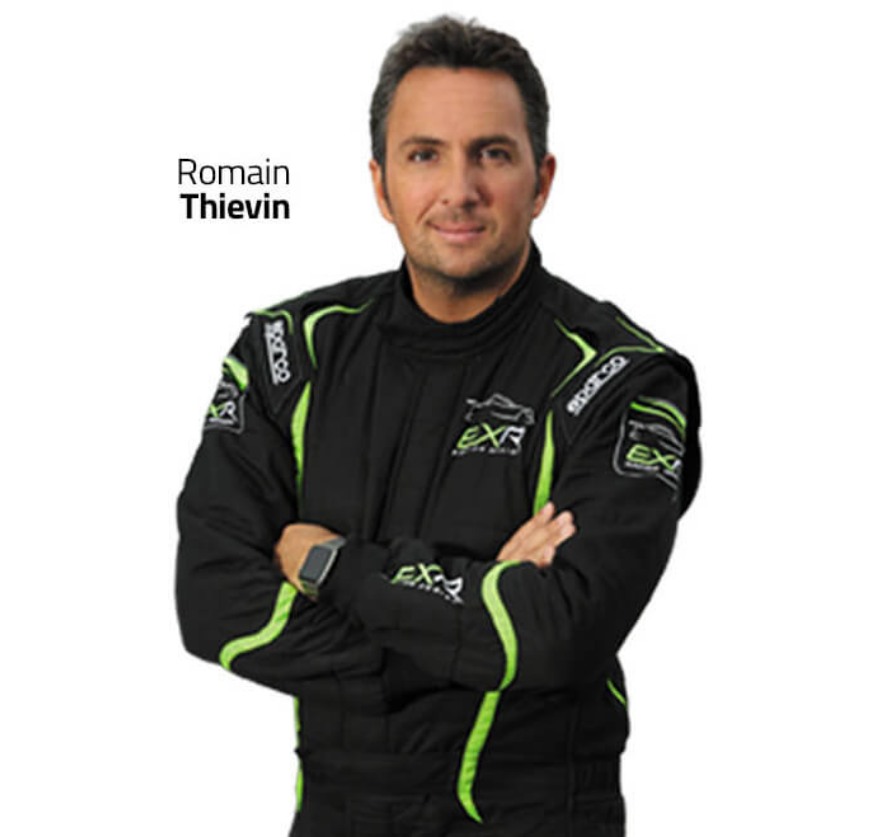 Tips From A Pro
"Why has Porsche won Le Mans 18 times overall? Because they never stop searching for improvement. The 2018 911 GT3 is born of the same philosophy. That means on track, you can drive it like a racecar. Push as deep into the corners as you dare, trail-braking to the apex and then feed the power aggressively, because the 911 GT3 can handle it lap after the lap."
DRIVER ITINERARY
Our team of racing experts will guide you through the entire experience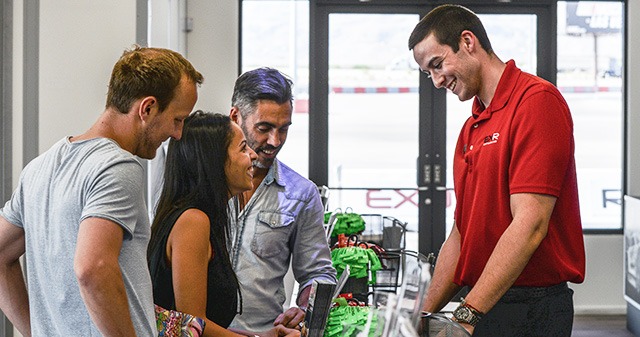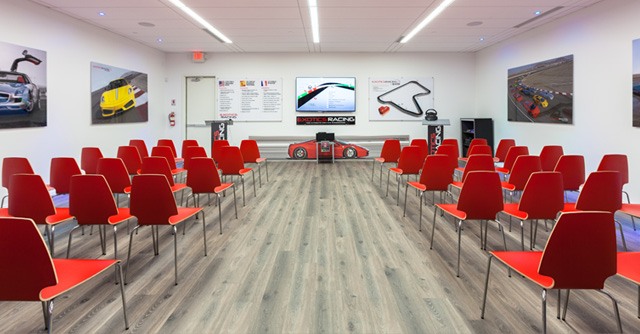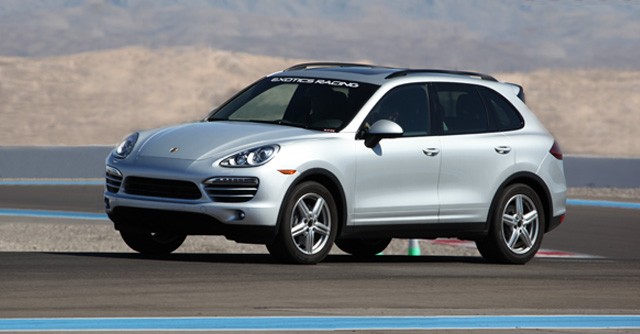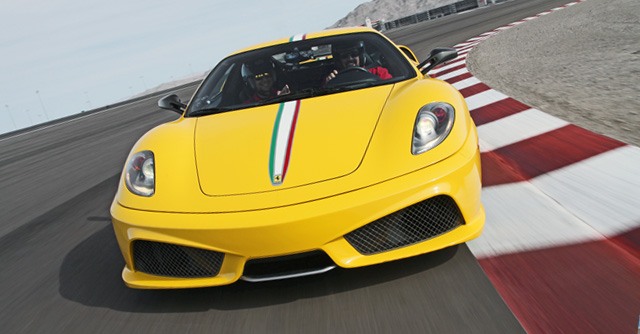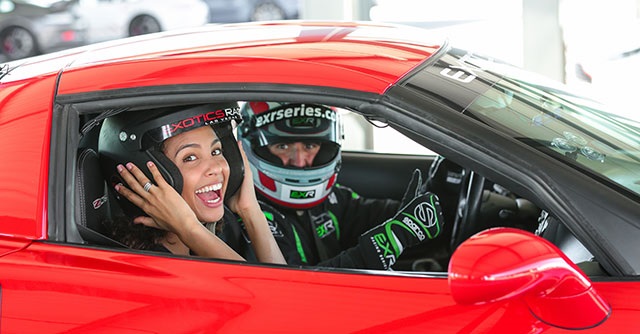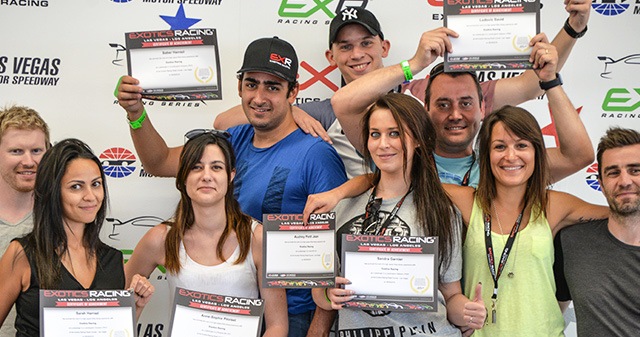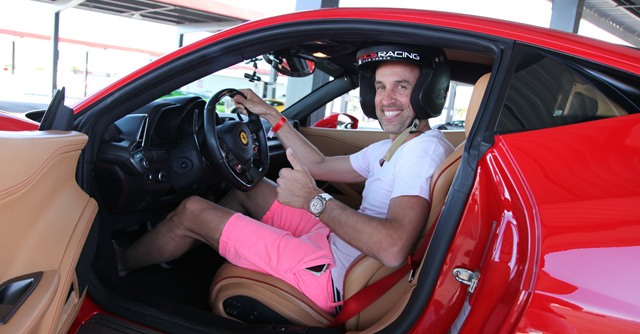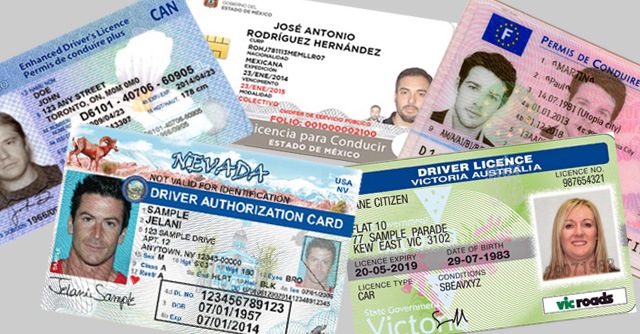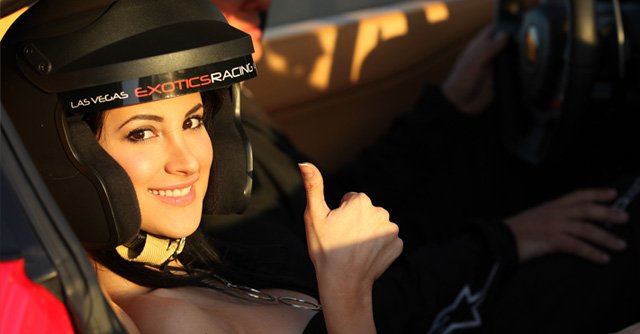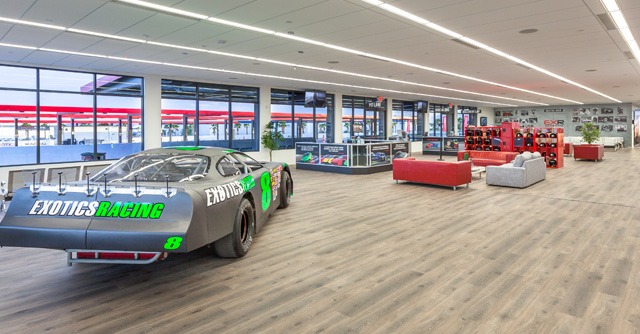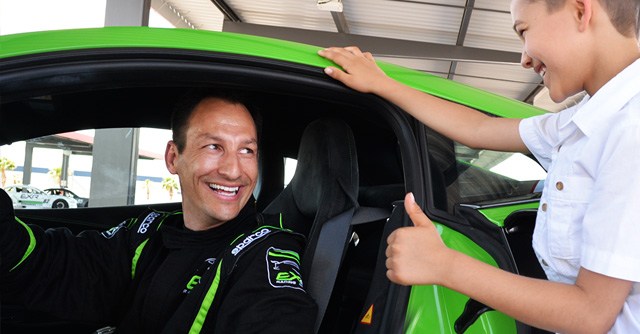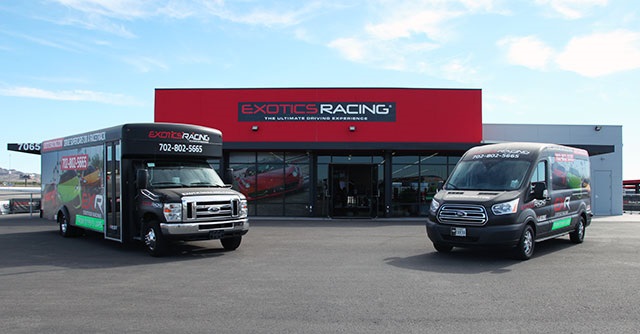 SUPERCAR DRIVING EXPERIENCES
Located on the grounds of the Las Vegas Motor Speedway, our exclusive 1.2-mile racetrack was designed by professional racing drivers to highlight our supercars performance capabilities. You'll find an example of many turns found on the world's greatest racetracks including hairpins, double apex corners, fast sweepers, chicanes, 90-degree corners and even a banked turns as well as large runoff areas, the latest high-tech safety barriers, and even the only in-ground LED lighting system in the US.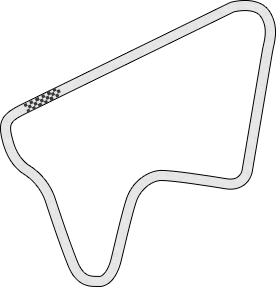 1,800 ft

Main straight away

1.2-mile

track length

7

days open

7

turns

140 mph

top speed

15 min north

Of the las vegas strip
TIME TRIAL WORLD CHALLENGE BY EXOTICS RACING
NEW and ONLY at Exotics Racing!
You never know how fast you are until you come to Exotics Racing for the Michelin Time Trial Challenge! Challenge your driving skills on a racetrack behind the wheel of our supercars and take part of the world's largest motorsports competition, exclusively at Exotics Racing Las Vegas.
After each driving experience, whether you want to race against the clock or a friend, our automatic live and online ranking allows you to compare your laptimes and rank against other drivers. There is no exception, every driver is timed on our racetrack and therefore is a competitor of our World Challenge!
Who will be the next fastest driver at Exotics Racing?
243 Reviews
Over 400,000 Happy Customers! We've become a top rated racing attraction in Las Vegas. See what others have to say about their exciting driving experience at Exotics Racing.

April 9, 2015
Great time. Second time in vegas both times went racing. Will be there next time in vegas for more laps at Exotic Racing.

April 11, 2015
You guys totally exceeded my expectations. I expected it to be more of a go fast driving experience. I was hoping for a full on see what you can do with these machines in a real race track environment experience. It was all that and More!! I drove the Porsche 991 GT3, the Ferrari 458 Italia, and the new Corvette ZO6. It's obvious these guys are pro racers. These guys are providing real race method instruction, if you listen to these guys you'll drive these cars the way they were designed to be driven...if you have it in you to do so. They will push you to find your limits if that is what you want do all while keeping things very safe. I can testify to this because I was a licensed motorcycle roadracer for over 10 years. Every aspect from registration to orientation, was world class service. Awesome job guys and gals, if you are thinking about doing this, stop thinking and go for it. Special thanks to Kye & Josh, my instructors. Now my wife's worried I want to start racing again.

April 12, 2015
My driving experience is always good with Exotics Racing. This time i went with 5 cars. Gtr nissan for 7 laps for warming up, and then 12 laps on Corvette, 14 laps each on Porche GT3, porsche turbo and Huracan. I want to say thank you to all of my instructors on that day Mike for letting me pushed the nissan from the begining, Chris for believing in my driving, and especially Josh Burdon for really pushed me very hard and gave attention to the small details of my bad driving technique and tried to fixed it. I always left exotics racing with big smile because I always learned something overthere. I will definitely come back again next time. I wish I book the gt3 and huracan each for 20 laps, not 14 laps ..

April 12, 2015
It was the by far the best race track experience I have ever had, amazing cars, great instructures, super professional team. I would strongly recommend exotics racing, it's an amazing experience.

April 17, 2015
The experience is exactly as advertised.

April 17, 2015
Fantastic driving experience. Driving instruction before the laps was simple clear and concise. The instructors were patient, helpful and gave great feedback. Overall I would do this all again but spend more for more laps.

April 23, 2015
The drifting experience was also worth the 2 laps and If I had brought someone, I would have taken the super special deal one this...

April 24, 2015
When you have yor first track aquaintance lap at slow speed the track instructions seem a bit disconnected from your experience. Then on the second lap at speed they make much more sense. Then you get into ( in my case ) the Porche GT3 and... "Shut the lights out" this thing is fast and the track is coming at you almost too fast to process the instructions. But you forget about this because the instructor is correcting you on the fly and urging you to greater speed. The experience was truly a rush. I would return in a flash when next in the area. Scott, Toronto.

December 1, 2015
I took a day off from the medical meeting I was attending in Las Vegas and drove five cars (R8, GT3, Z06, Ferrari 458 and Aventador) with Exotics Racing. I must say the experience truly exceeded my expectations! The facility was quite well-run and the staff did a tremendous job familiarizing us with the cars and track, all within a period of 30 minutes. The driving experience itself was exceptional with each accompanying instructor helping me get the most out of my (limited) skill set! At the close of each five-lap session, I was amazed how my driving had become more efficient with lowered lap times and a sense of how each car had its own characteristics and demanded unique techniques for attaining the speeds and cornering power of which it was capable. All in all, I would give this experience 6 stars if I could! I believe I learned more from this session than all the other medical sessions I attended and at a price lower than a single payment for one of these super cars!

December 1, 2015
It's a great experience. The instructors are patient (they need to be) and the track is well run and safe. They are keen for you to drive as fast as you can, they let you brake later and later and if you get it out of shape they are helpful in giving you the composure to continue and improve. Where else can you drive someone else's expensive super car as fast as you dare? I was there two years ago and drove a McLaren MP4 and a 458 back to back - which caused me to buy a 458, so it was an expensive trip :). This time I drove a Huracan and a 991 GT3 (which was a deeply religious experience and I may now need to buy one). Next time I may go for 10-12 laps in just one car.
OUR SUPERCARS
The world's largest fleet of exotic cars with over 50 cars and 19 models to choose from including the hottest cars by Ferrari, Lamborghini, Aston Martin,
Porsche, Corvette, Audi and Mercedes. All cars are equipped with paddle shifters to accommodate all skill levels and board dash
cameras to capture every moment of your Exotics Racing experience.