Drive an
Audi R8 V10 Plus

On a Racetrack!
Audi has learned a lot on the racetrack. Thirteen victories at the 24 Hours of Le Mans within a 15-year span plus wins in several major GT endurance races fed the minds and hearts of engineers in Inglostadt, and they poured it all back into the Audi R8 V10 Plus. This car delights and excites the most demanding of drivers. While other supercars shout with their look-at-me designs, the R8's style is beautiful in its minimalism. Such is the knowledge of aero and chassis dynamics gleaned from thousands of laps at Le Mans that the R8 needs little more than its sleek shape to grip the track. read more >
Beneath the subtle exterior lies an abundance of technology that enables the R8 to leap from a standing start to 60 MPH in just 3.2 seconds, corner with the agility of a humming bird and continue up to a top speed of 205 MPH. Because this car shares almost half of its parts with its racecar sibling, the R8 GT3 LMS, it's completely at home on a racetrack where it can really exploit all the engineering within.
As its full name implies, the R8 has a 5.2-liter V10 FSI engine that pumps out 610 horsepower at 8,250 RPM along with 413 ft-lb of torque at 6,500 revs. The R8 channels power to four wheels through its famed quattro® all-wheel drive system while the driver keeps it all under control via a paddle actuated 7-speed S-tronic dual clutch gearbox. At the end of the straights, carbon-ceramic brakes enable you to hang onto the throttle a bit longer and still control the speed before turn in.
In the corners, magnetically charged dampers further keep the car planted by making thousands of adjustments per second to control body roll and grip. At turn in, the Audi R8 V10 Plus grips at the front through mid-corner with a touch of rear wheel drift at the exit that demands only the slightest steering input to correct. Like all great sports cars, the Audi R8 V10 Plus encourages the driver to push harder, rewarding with more confidence-inspiring feedback.
Don't let all that cool precision and technology fool you into thinking that the Audi R8 V10 Plus doesn't like to cut loose and have fun. Quite the opposite, it was built for it.less >
Audi R8 V10 Plus

205 MPH
610 HP
3.2 S
$US202 000
The Audi R8 was so popular with our visitors that Exotics Racing now has 3 R8s available for use. The R8 is a mid engine 5.2L, V10 that delivers 525 hp with a top speed of 196 mph. Commonly referred to as the "Iron Man Audi", the R8 is developing a reputation as the go-to-car in Hollywood, having been featured in 7 major films in the last 3 years.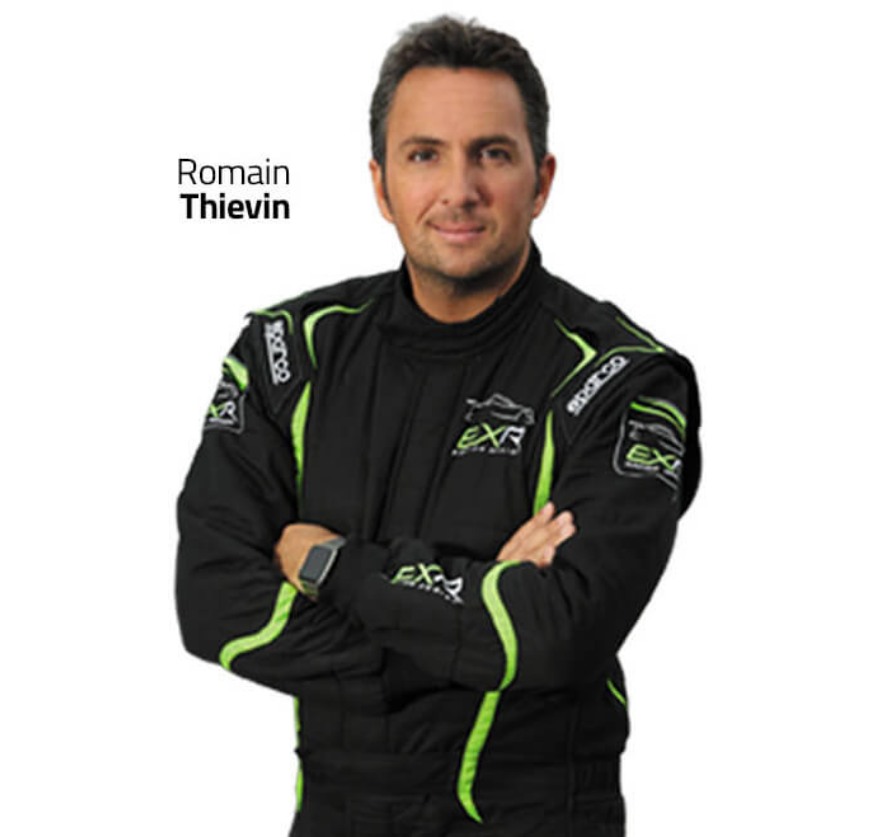 Tips From A Pro
"The R8 is the perfect example of what happens when you take a high powered Italian engine and give it to one of the most prestigious car manufacturers in the world. It shares many parts and characteristics with the Lamborghini Gallardo. It has style, comfort, and speed, all in one package; and the Advanced Quattro all-wheel-drive makes the R8 very easy to drive fast."
DRIVER ITINERARY
Our team of racing experts will guide you through the entire experience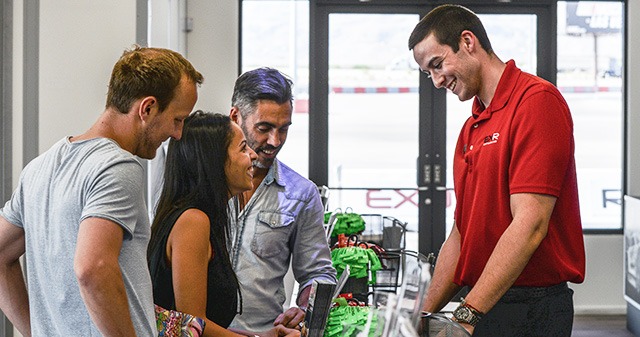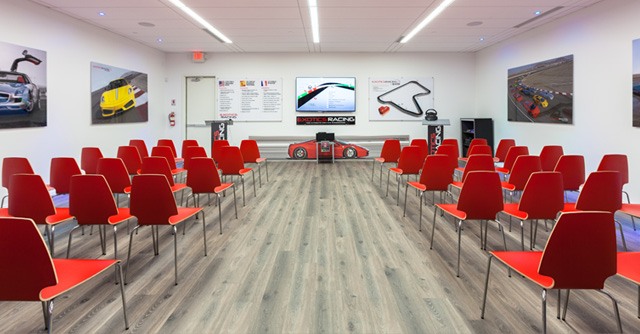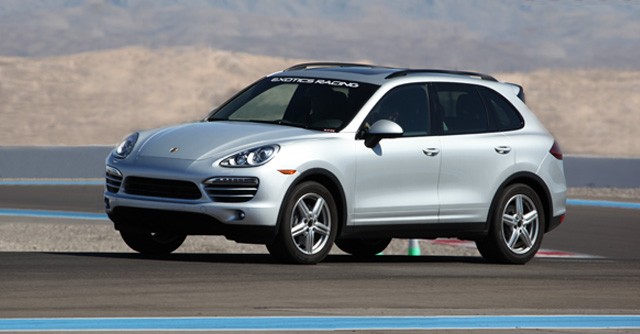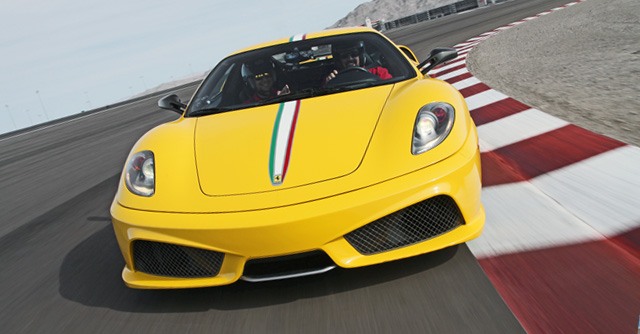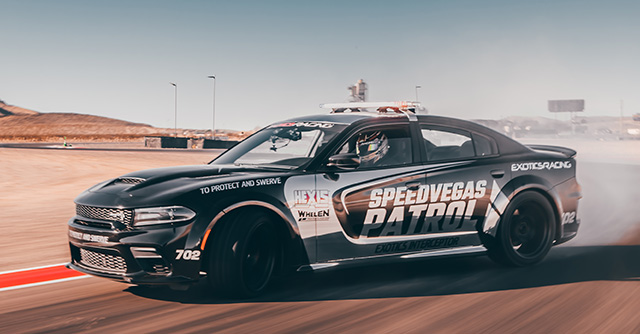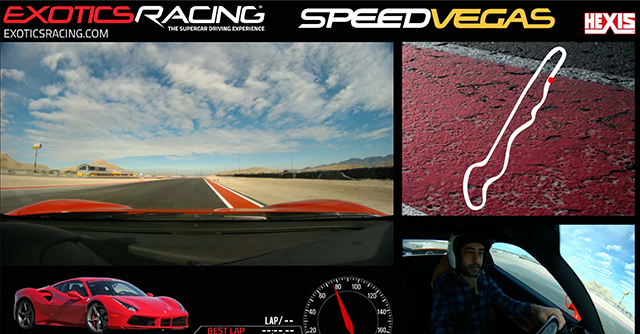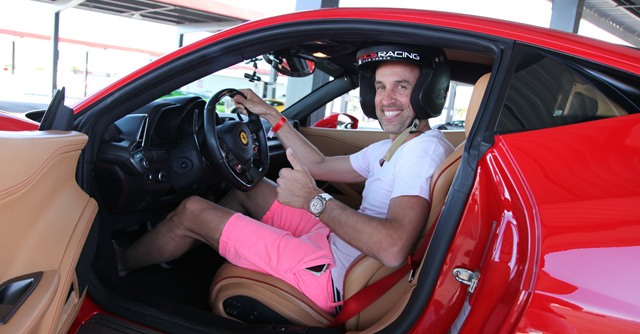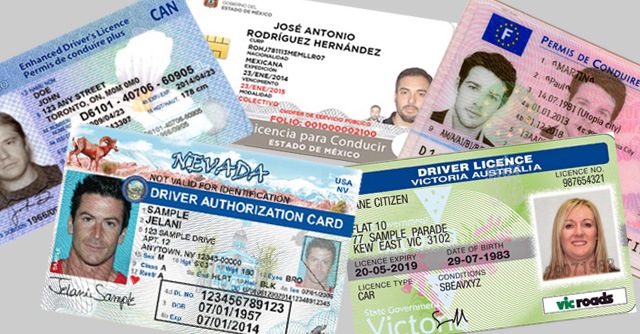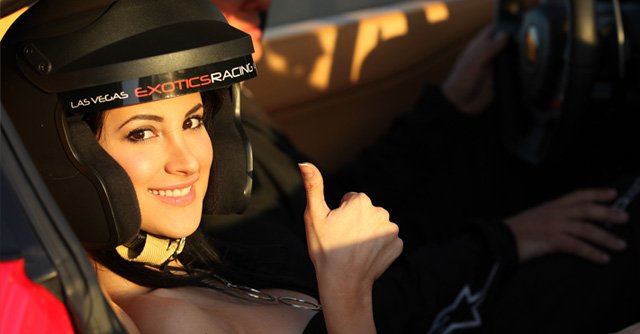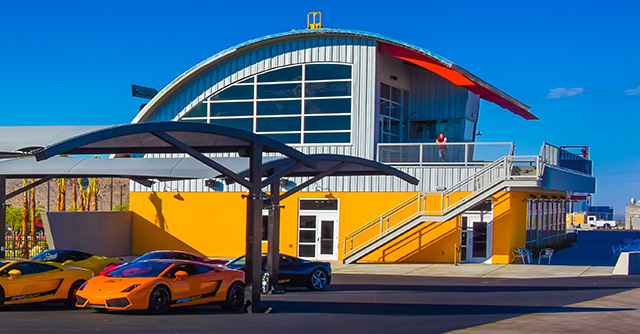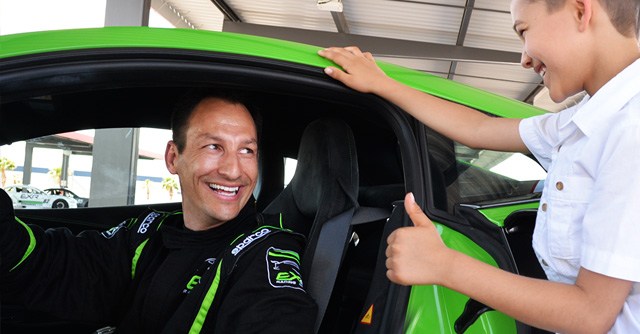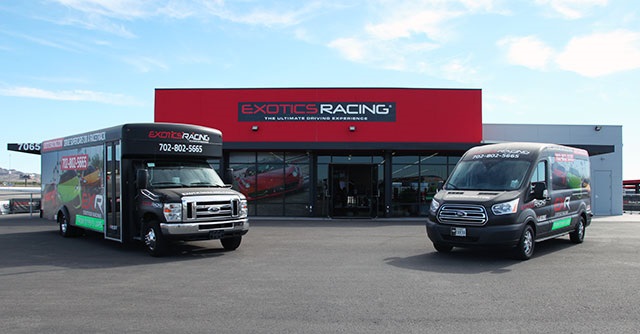 SUPERCAR DRIVING EXPERIENCES
Our Las Vegas location is at SpeedVegas Motorsports Park, just 15 minutes from the world famous Las Vegas Boulevard. Our exclusive 1.3-mile racetrack was designed by professional racing drivers to highlight our supercars performance capabilities. You'll find an example of many turns found on the world's greatest racetracks including hairpins, double apex corners, fast sweepers, chicanes, 90-degree corners and even a banked turns as well as large runoff areas, the latest high-tech safety barriers, and even the only in-ground LED lighting system in the US.
2,000 ft

Main straight away

1.3-mile

track length

7

days open

8

turns

140 mph

top speed

15 min south

Off the las vegas strip
TIME TRIAL WORLD CHALLENGE BY EXOTICS RACING
ONLY at Exotics Racing!
You never know how fast you are until you come to Exotics Racing! Challenge your driving skills on a racetrack behind the wheel of our supercars and take part of the world's largest motorsports competition, exclusively at Exotics Racing Las Vegas.
After each driving experience, whether you want to race against the clock or a friend, our automatic live and online ranking allows you to compare your laptimes and rank against other drivers. There is no exception, every driver is timed on our racetrack and therefore is a competitor of our World Challenge!
Who will be the next fastest driver at Exotics Racing?
805 Reviews
Over 400,000 Happy Customers! We've become a top rated racing attraction in Las Vegas. See what others have to say about their exciting driving experience at Exotics Racing.

novembre 2, 2016
each of the 4 instructors I had did an AMAZING job! huge kudos to ***, ***, ***, and *** also a big thank you to *** at the registration desk for clear instructions of the process!

octobre 25, 2016
The experience was great. My family and I were there for the first time and your staff made the experience so easy. We had never driven cars on a race track before and were a little nervous. Next thing we knew we were turning pretty good lap times and had a great time. Thanks to your great staff and we will definitely be back.

octobre 12, 2016
It was a great time. The instructors and cars were fantastic!

septembre 28, 2016
OMG! What an incredible experience! All staff were so professional, friendly and helpful. Upon completion of the front end safety presentations and considerations around use of the track, the program transitioned to the track with some seriously good mentors. These guys are good!!! Don't kid yourself, they are really good! I asked to be pushed for each of my four cars and each mentor delivered! The cars.... well they truly speak for themselves. Seriously, if you are a even a bit of a speed freak, there is no possible way you want to pass up an opportunity here if you are ever able to attend. I will so be back again!

septembre 26, 2016
Exceeded my high expectations. I drove 7 cars in all and I have to say if I've had more fun elsewhere, I don't remember it. If you're in Vegas, you need to do this. I came to Vegas on a day trip just for this. I will be back again soon.

septembre 14, 2016
Javelin and Steve were excellent instructors. They made the experience remarkable!

septembre 13, 2016
Excellent service and easy to book online. Both instructors I had were very patient and helped me improve lap by lap. Would highly recommend to others as the experience was amazing. Liked the fact I could add laps, cars and the ride along experience when I was there. Facilities and cars both in excellent condition. All staff from the driver who picked us up to the front desk and all instructors were all friendly and professional. Will definitely be back and highly recommended.

septembre 13, 2016
All good, everyone was very pleasant & helpful. Had a great time!!

septembre 9, 2016
I enjoyed every min of the experience and I intend on returning in the future.

septembre 9, 2016
This was a sensational experience. The entire EXR team was very helpful an a pleasure to be around, from my shuttle pick up to drop off everything went smooth. Very professional. The driving and the selection of cars is amazing. I am looking forward to returning to do it all again and highly recommend to others that this is the #1 attraction to come to in Las Vegas.
OUR SUPERCARS
The world's largest fleet of exotic cars with over 50 cars and 19 models to choose from including the hottest cars by Ferrari, Lamborghini, Aston Martin,
Porsche, Corvette, Audi and Mercedes. All cars are equipped with paddle shifters to accommodate all skill levels and board dash
cameras to capture every moment of your Exotics Racing experience.