DRIFTING RIDE-ALONG EXPERIENCE
The most thrilling ride on a racetrack!
The Drifting Ride-Along experience is truly an adrenaline shot! Exotics Racing's professional drifter will take you as a passenger for the Supercar full-speed drifting experience. Onboard the Dodge Charger SRT Hellcat, you will feel the rush of the 707hp V8 like nowhere else. The ride-along experience will amaze you with skillful racing techniques. This supercar is fully mastered by our expert racing drivers and it shows it on the racetrack! Buckle in for the adrenaline-pumping ride of your life!



Drifting Ride-Along
Dodge Charger SRT Hellcat

204 MPH
707 HP
3.4 S
$US65 900
How do you take up to three passengers for a sideways drifting, tire-smoking extravaganza of a thrill ride? Buckle them into a Dodge Charger SRT Hellcat. Why this car? To start, it's a four door sedan, so the two backseat passenger can get in with ease. More importantly, the Charger SRT Hellcat pumps out a whopping 707 horsepower and 650 lb-ft of torque.
SUPERCAR RIDE-ALONG EXPERIENCE
Pick one of three exotic cars below
Exotics Racing's professional drivers will take you as a passenger and show you what a supercar can do on our racetrack. Onboard the Porsche 991 GT3, Ferrari 488 GTB or the Lamborghini Huracan, these ride-along experience will amaze you with skillful racing techniques mastered by our experienced racecar drivers!


Supercar Ride-Along
Lamborghini Huracan

198 MPH
580 HP
3.4 S
$US216 000
It's like a time machine. Only faster. For the speed seekers the Lamborghini Huracan together with our racing drivers will have you at the edge of your seat. With 580 horsepower and our expert racing drivers, hold on tight and enjoy the high speed ride.
Supercar Ride-Along
Ferrari 488

205 MPH
660 HP
3.0 S
$US330 000
Supercar Ride-Along
Porsche 991 GT3

198 MPH
500 HP
3.8 S
$US143 000
One thing is clear already: the new 911 GT3 ride along is going to change the way you think about Porsches. With outstanding performance and offering excellent manageability, our racing drivers will break through the limits to give the Supercar experience.
RIDER ITINERARY
Our team of racing experts will guide you through the entire experience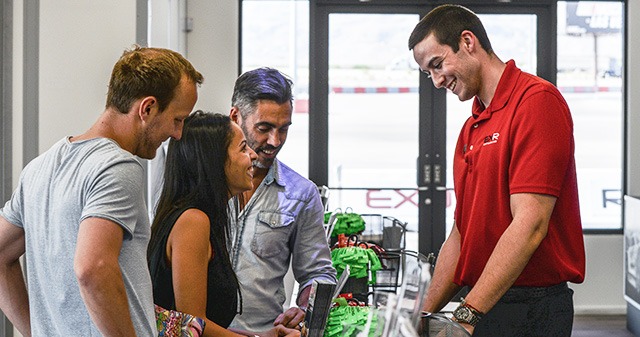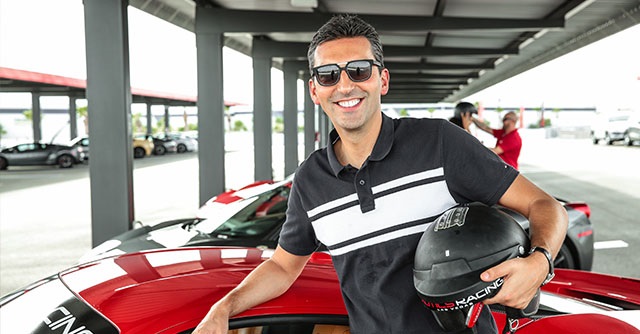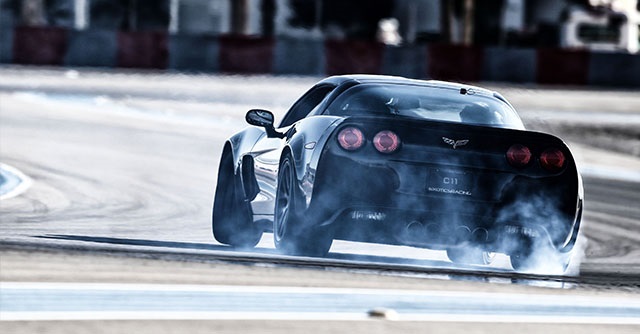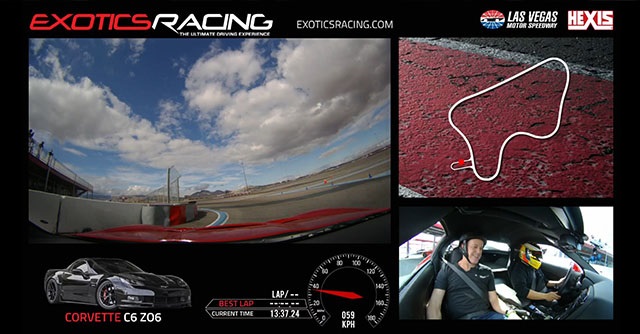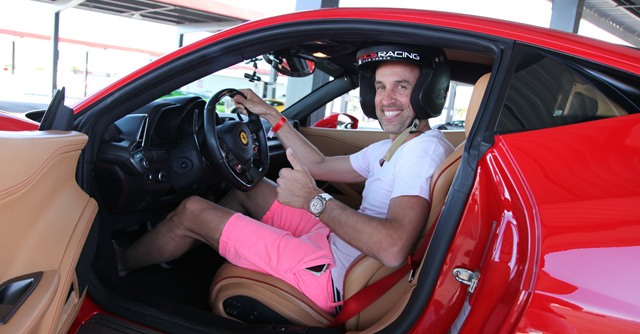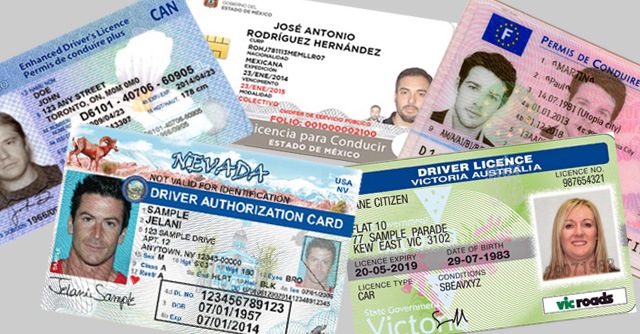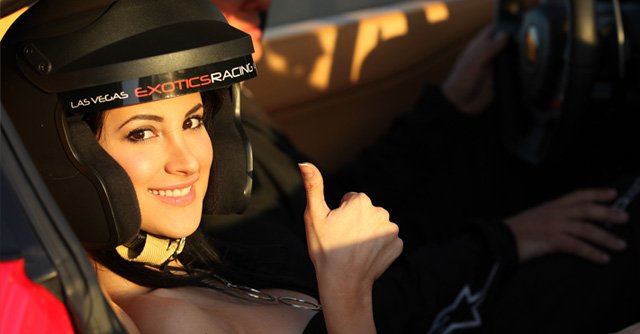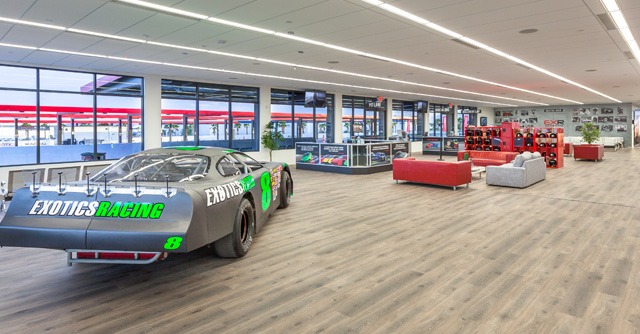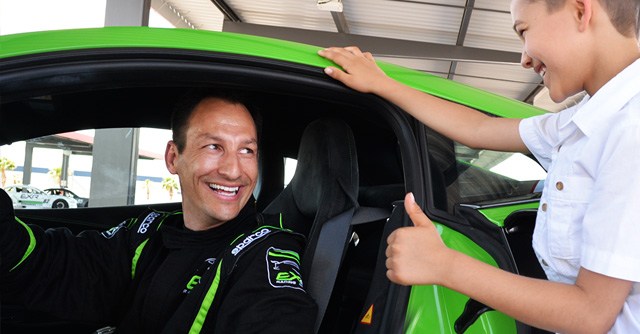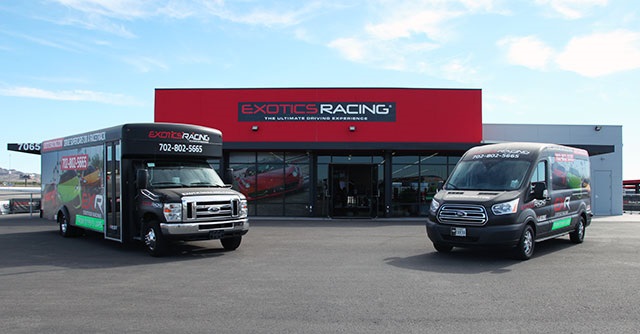 SUPERCAR DRIVING EXPERIENCES
Located on the grounds of the Las Vegas Motor Speedway, our exclusive 1.2-mile racetrack was designed by professional racing drivers to highlight our supercars performance capabilities. You'll find an example of many turns found on the world's greatest racetracks including hairpins, double apex corners, fast sweepers, chicanes, 90-degree corners and even a banked turns as well as large runoff areas, the latest high-tech safety barriers, and even the only in-ground LED lighting system in the US.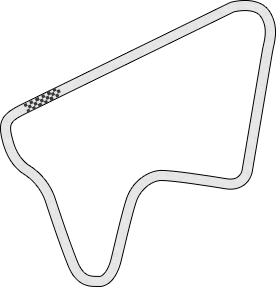 1,800 ft

Main straight away

1.2-mile

track length

7

days open

7

turns

140 mph

top speed

15 min north

Of the las vegas strip
7 587 Reviews
Over 260,000 Happy Customers! We've become a top rated racing attraction in Las Vegas. See what others have to say about their exciting driving experience at Exotics Racing.

avril 6, 2012

avril 6, 2012
Best birthday surprise, a definiate MUST!

avril 6, 2012
I really was impressed with the quality of the whole operation. Your new track has a nice blend of corners and turn 8 is great fun flat out. All the cars we drove were in excellent condition and I'd say your facility was first rate. My sister really liked the idea of driving a Lamborghini and at the end of the day had a pretty big smile. It's on all of our to do lists when we hit Las Vegas again.

avril 6, 2012
This is truly an unforgettable experience! Give yourself or a loved one a "PermaGrin"

avril 6, 2012
Fast cars, great instructors, first class operation. An experience that wIll be remembered the rest of my life.

avril 6, 2012
amazing!! I got the Ferrari 458 Italia and the instructor push you to reach your limit. It was awesome

avril 6, 2012
If its your first time and you like going fast. Take the Video! You´re so stoked on adrenaline you wont remember but bits and pieces afterwards.

avril 6, 2012
Had a blast, I was so excited I showed up 3 hours early & stay after I drove the cars for another 2 hours, one of the best times in my 31 years.

avril 6, 2012
To say that this was a transcending experience is not too much of a stretch, believe it or not. To drive a Ferrari at speed is the best way to clear one's mind of everything but the task at hand and that is a cathartic event in its own way. I haven't had this much fun since I was a kid! Thanks to your excellent service staff, especially my instructor, Paul. Jeff Putt

avril 6, 2012
I am only 12, so my sister and i could not drive, but we go to go for a ride in the yellow covette, Rudy drove so fast the car was side ways the whole time, SOOOOOOo much fun!

avril 5, 2012
I drove the Porsche Turbo S and was thrilled with the experience! The car had such amazing power throughout the RPM range. The instructor was great, let me push the car as far as possible and really made me feel like I was getting the most out of the car. I recommend this to all my friends. This was my second time at Exotics Racing and I will be making a trip back to Vegas just for this!

avril 5, 2012
What an amazing experience, this was truely the best way to experience these machines. You truely are able DRIVE these cars, not just sitting in it while it moves forward.

avril 5, 2012
the driving was great. the instructor were good the 2nd one talked to much as i look back at the video and i though i drove worst with the 2nd one

avril 5, 2012
Incredible experience!! Definitely going back next year!

avril 5, 2012
Clearly my son's best birthday gift ever. Every part of the experience was first rate. If you like cars, this is a must.

avril 5, 2012
Before going i thought 500$ to drive the Lamborghini Avantador was a big high. After i was done i thought it was worth every penny and even gave a good tip.

avril 5, 2012
This is easily one of the top 10 things I have done. Thanks for providing this type of experience. There are few, if any, places where a "novice" can drive those types of quality cars in that manner both legally & safely. My parents live in Vegas and I will make a reservation with Exotic Racing every time I visit them!

avril 4, 2012
My first time to Vegas and to do exotic racing....this was the best birthday present. I was nervous at first but was put at ease by my instructor and had a great time.

avril 4, 2012
Thank you guys for the most accelerating, unbeliavable and breathtaking experience! next time belive me do not settle with 5 or 6 laps you gotta take at least 10 to really enjoy the true power and the extraordinary handling of this beasts! belive me you'll never think the same after you do the exotic racing experience!

avril 4, 2012
First of all, I have never written a review for anything. EVER. This was one of the most amazing experiences I've had. Simply incredible. I drove one of the Lamborghini Gallardo. Pros: ease online booking; confirmation and follow-up emails; friendliness of the entire staff; ability to have my family sit in on the pre-race briefing and watch the whole experience; EXTREMELY well organized; and the instructor was amazing. He talked me through every part of the drive...when to accelerate, how to negotiate the turns, when to upshift and downshift, when to brake, etc. I opted for an additional 2 laps (for a total of 7) at an extra cost of $100. I would highly recommend this as it takes about 4 or 5 laps to get the "feel" of the track. The cost for the few extra laps is definitely worth it. The only "con" I can think of is that the straight-away is fairly short and I wasn't able to get the car past 4th gear. I had a max speed of about 135 mph. It would have been nice to have a longer straight section of track. Overall, this was just incredible and I will definitely be doing it again! Absolutely the highlight of my Las Vegas vacation!!

avril 4, 2012
I found the instructors that rode with me in the car were very easy going and gave me self-confidence throughout my experience driving on the track. Overall I had a great time and would highly recommend it to anyone who enjoys fast, exotic cars. Thanks again for the wonderful experience.

avril 4, 2012
I really enjoyed the day. We plan on coming back!

avril 4, 2012

avril 3, 2012
Worth every penny! Why lose the same amount of money gambling in Vegas when you can give yourself a once in a lifetime experience that you'll remember forever? Too much fun and I'll DEFINITELY be back!!!

avril 3, 2012
Don't give your money to the casinos, go to Exotic Racing and have them give you the ride of your life