DRIFTING RIDE-ALONG EXPERIENCE
The most thrilling ride on a racetrack!
The Drifting Ride-Along experience is truly an adrenaline shot! Exotics Racing's professional drifter will take you as a passenger for the Supercar full-speed drifting experience. Onboard the Dodge Charger SRT Hellcat, you will feel the rush of the 707hp V8 like nowhere else. The ride-along experience will amaze you with skillful racing techniques. This supercar is fully mastered by our expert racing drivers and it shows it on the racetrack! Buckle in for the adrenaline-pumping ride of your life!



Drifting Ride-Along
Dodge Charger SRT Hellcat

204 MPH
707 HP
3.4 S
$US65 900
How do you take up to three passengers for a sideways drifting, tire-smoking extravaganza of a thrill ride? Buckle them into a Dodge Charger SRT Hellcat. Why this car? To start, it's a four door sedan, so the two backseat passenger can get in with ease. More importantly, the Charger SRT Hellcat pumps out a whopping 707 horsepower and 650 lb-ft of torque.
SUPERCAR RIDE-ALONG EXPERIENCE
Pick one of three exotic cars below
Exotics Racing's professional drivers will take you as a passenger and show you what a supercar can do on our racetrack. Onboard the Porsche 991 GT3, Ferrari 488 GTB or the Lamborghini Huracan, these ride-along experience will amaze you with skillful racing techniques mastered by our experienced racecar drivers!


Supercar Ride-Along
Lamborghini Huracan

198 MPH
580 HP
3.4 S
$US216 000
It's like a time machine. Only faster. For the speed seekers the Lamborghini Huracan together with our racing drivers will have you at the edge of your seat. With 580 horsepower and our expert racing drivers, hold on tight and enjoy the high speed ride.
Supercar Ride-Along
Ferrari 488

205 MPH
660 HP
3.0 S
$US330 000
Supercar Ride-Along
Porsche 991 GT3

198 MPH
500 HP
3.8 S
$US143 000
One thing is clear already: the new 911 GT3 ride along is going to change the way you think about Porsches. With outstanding performance and offering excellent manageability, our racing drivers will break through the limits to give the Supercar experience.
RIDER ITINERARY
Our team of racing experts will guide you through the entire experience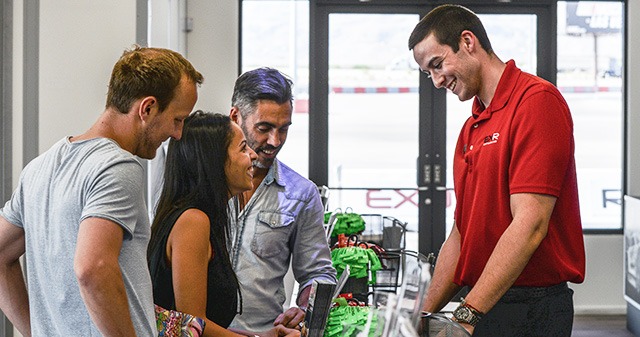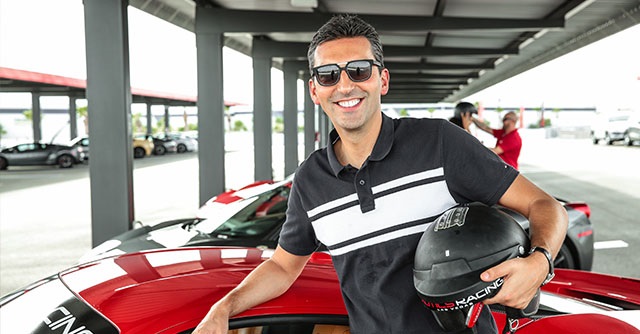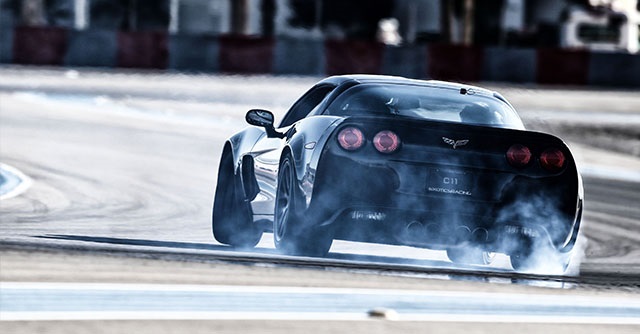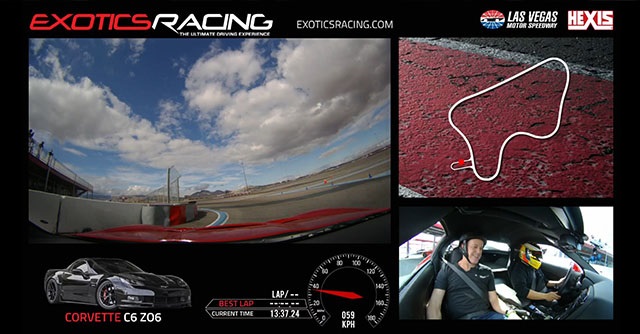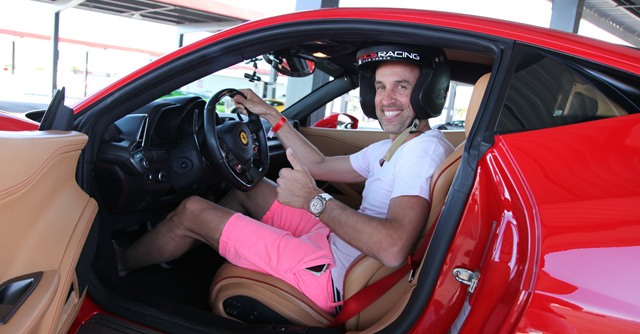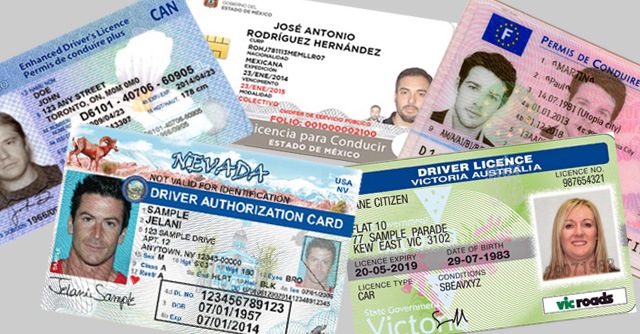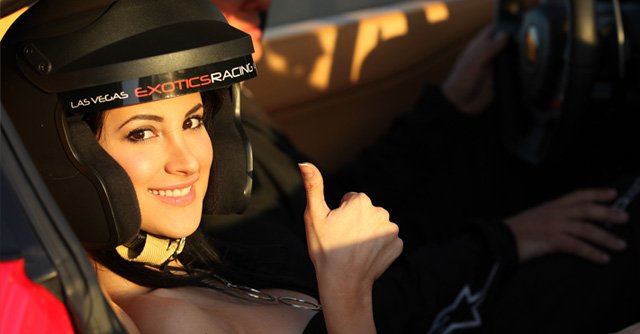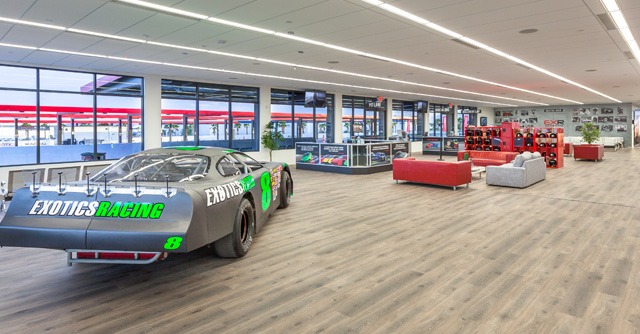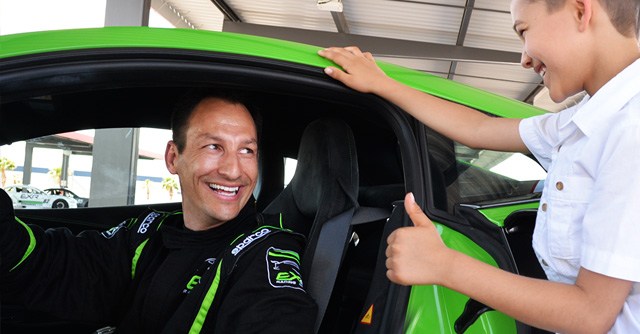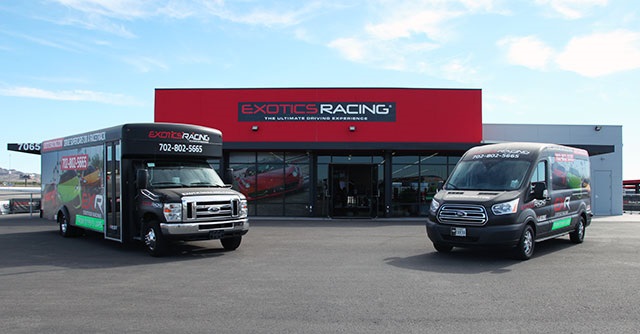 SUPERCAR DRIVING EXPERIENCES
Located on the grounds of the Las Vegas Motor Speedway, our exclusive 1.2-mile racetrack was designed by professional racing drivers to highlight our supercars performance capabilities. You'll find an example of many turns found on the world's greatest racetracks including hairpins, double apex corners, fast sweepers, chicanes, 90-degree corners and even a banked turns as well as large runoff areas, the latest high-tech safety barriers, and even the only in-ground LED lighting system in the US.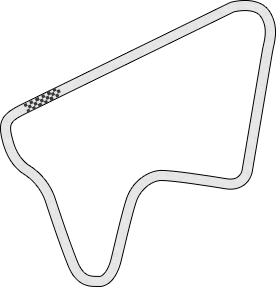 1,800 ft

Main straight away

1.2-mile

track length

7

days open

7

turns

140 mph

top speed

15 min north

Of the las vegas strip
7 587 Reviews
Over 260,000 Happy Customers! We've become a top rated racing attraction in Las Vegas. See what others have to say about their exciting driving experience at Exotics Racing.
octobre 22, 2011
I went to ExoticsRacing during a weekend trip to Vegas and wow, was it worth it! I'm a car nut and I can't think of anything cooler than driving a Lamborghini on a race track and this experience definitely delivered. The staff at the track are really great and went out of their way to accomodate me (I'm 6'5" and we weren't sure which cars would have enough head room...turns out all of them!). They let me sit in the cars to make sure I could drive and offered to switch models if there was an issue. They also let you walk around and get up close for pictures and just to drool over the insane collection they have. The track instructors keep you safe, but let you have fun, and I left the track feeling like I had actually had a chance to drive the car hard. Awesome fun and definitely doing it again!
octobre 22, 2011
The best driving experience I have ever had... Instructors are awesome, thanks again. You guys have to expand to New York
octobre 22, 2011
octobre 22, 2011
This was the perfect bachelor party surprise for my brother. Thanks to Exotic Racing for such an amazing experience! Worth every penny.
octobre 22, 2011
I had an amazing time! Best time I've ever spent in Vegas! Brandon, the thin Brandon, was a great instructor! Thank you!
octobre 22, 2011
Amazing place, and the ride along experience was the best thing ever! Go Ritchie
octobre 22, 2011
Now this was the ultimate surprise birthday present! "Wife of the Year" to my beloved for this one. Marc S
octobre 22, 2011
Great experience. I'll be back.
octobre 21, 2011
I have always wanted to drive and eventually own a Porsche. After being able to drive the 997 SC, I have no doubt I will own one. My driver's coach Pete was awesome. If you have ever dreamed of driving a super car, here's your chance, take it. My only regret, I should have bought more laps... Thanks ER, for a great birthday!
octobre 21, 2011
It is impossible to describe the exhiaration of going full throttle out of the last turn down the front straight away. The power of the car was AWESOME! The staff was incredibly friendly and helpful (and the girls were extremely attractive!) throughout the entire experience. I still can't believe the nerves of steel possessed by my instructor to be able to ride with the varying levels of driving skills he encounters each day, but he was very nice and patient and even-handed in his instruction. When I next make arrangements to visit Vegas, I will first make hotel reservations and immediately reserve my ride in a Ferrari! Thanks to all of you for a great experience!
octobre 21, 2011
What an awesome experience!!!!!!!!!!!!
octobre 19, 2011
I had a blast with great instruction, organiztion, great cars, and a lot of fun driving. Would love to do it again! Thanks!
octobre 19, 2011
I drove a Ferrari 458 Italia around Las Vegas Motor Speedway. One of the best experiences of my life...highly recommended. Chris Campbell - Brisbane, Australia
octobre 19, 2011
Awesome, is the only word I can think of. When picking some new cars I would suggest the corvette ZR1
octobre 19, 2011
Exotics racing experience was exceptional. This experience was the highlight of my trip to Vegas, and has left me an intense desire to experience more.
octobre 19, 2011
Last year I drove a NASCAR at California Speedway. Exotic Racing's experience was better and allowed for a true road racing experience. The cars were fantastic. Can not wait to do it again!
octobre 18, 2011
The experience was great to look at, sit in and drive the exotic cars. The instruction was excellent and the two lap drive was a blast.
octobre 18, 2011
Fantastic program. It was my first time, but not my last. I only wish they had locations near me.
octobre 18, 2011
Thrilling experience with very friendly and professional staff and the most amazing cars!
octobre 18, 2011
Truly awesome experience from the time you get there until you have finished. Everyone treated me and the group I was with wonderfully. Top notch fun and excitement!!!!
octobre 18, 2011
GREAT---CANNOT WAIT TO GO AGAIN
octobre 18, 2011
Fantastic experience. I will definitely do a multiple-car drive next year.
octobre 18, 2011
I have been replaying the experience in my mind for days. It just gets better and better...worth every penny!
octobre 18, 2011
Want to buy an expensive sports car? Not sure which one to go for? Spend a few laps in the ones you might consider at Exotics Racing and you will be impressed with the differences between them!!!
octobre 18, 2011
One of the best days of my life, from sign in to the last lap it was an absolute blast.