DRIFTING RIDE-ALONG EXPERIENCE
The most thrilling ride on a racetrack!
The Drifting Ride-Along experience is truly an adrenaline shot! Exotics Racing's professional drifter will take you as a passenger for the Supercar full-speed drifting experience. Onboard the Dodge Charger SRT Hellcat, you will feel the rush of the 707hp V8 like nowhere else. The ride-along experience will amaze you with skillful racing techniques. This supercar is fully mastered by our expert racing drivers and it shows it on the racetrack! Buckle in for the adrenaline-pumping ride of your life!



Drifting Ride-Along
Dodge Charger SRT Hellcat

204 MPH
707 HP
3.4 S
$US65 900
How do you take up to three passengers for a sideways drifting, tire-smoking extravaganza of a thrill ride? Buckle them into a Dodge Charger SRT Hellcat. Why this car? To start, it's a four door sedan, so the two backseat passenger can get in with ease. More importantly, the Charger SRT Hellcat pumps out a whopping 707 horsepower and 650 lb-ft of torque.
SUPERCAR RIDE-ALONG EXPERIENCE
Pick one of three exotic cars below
Exotics Racing's professional drivers will take you as a passenger and show you what a supercar can do on our racetrack. Onboard the Porsche 991 GT3, Ferrari 488 GTB or the Lamborghini Huracan, these ride-along experience will amaze you with skillful racing techniques mastered by our experienced racecar drivers!


Supercar Ride-Along
Lamborghini Huracan

198 MPH
580 HP
3.4 S
$US216 000
It's like a time machine. Only faster. For the speed seekers the Lamborghini Huracan together with our racing drivers will have you at the edge of your seat. With 580 horsepower and our expert racing drivers, hold on tight and enjoy the high speed ride.
Supercar Ride-Along
Ferrari 488

205 MPH
660 HP
3.0 S
$US330 000
Supercar Ride-Along
Porsche 991 GT3 RS

193 MPH
500 HP
3.4 S
$US195 000
One thing is clear already: the 911 GT3 RS ride along is going to change the way you think about Porsches. With outstanding performance and offering excellent manageability, our racing drivers will break through the limits to give the Supercar experience.

RIDER ITINERARY
Our team of racing experts will guide you through the entire experience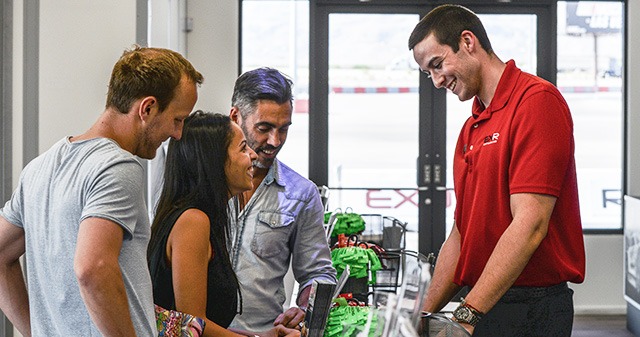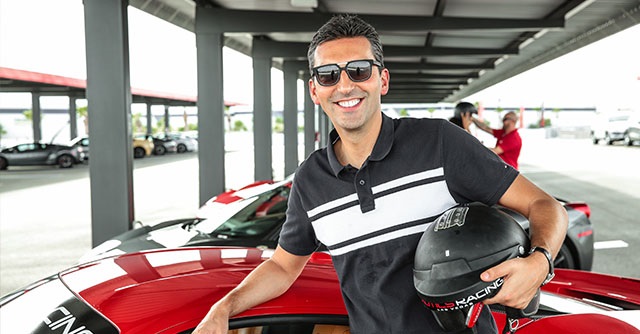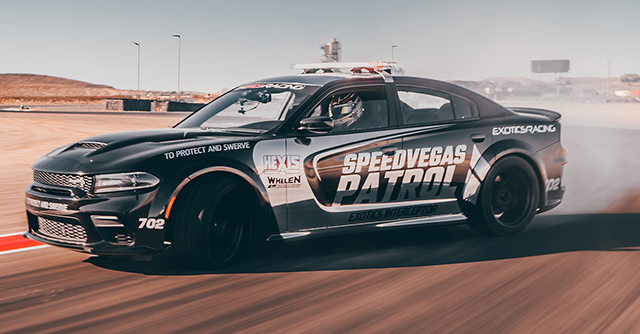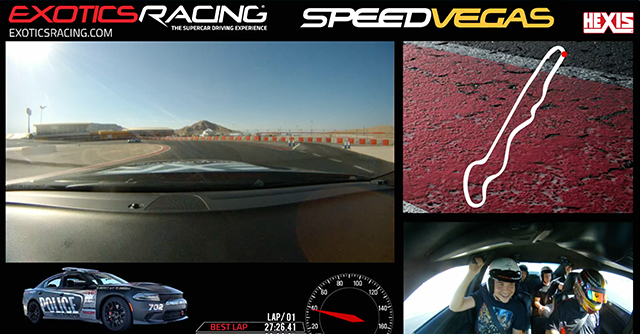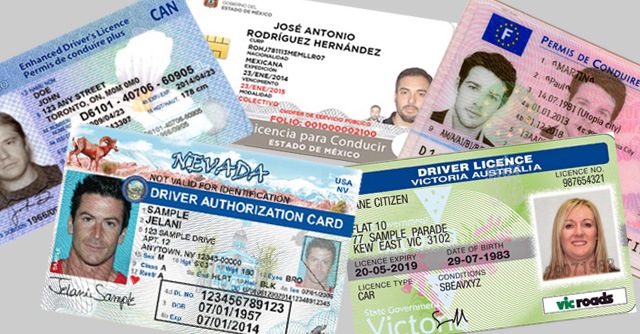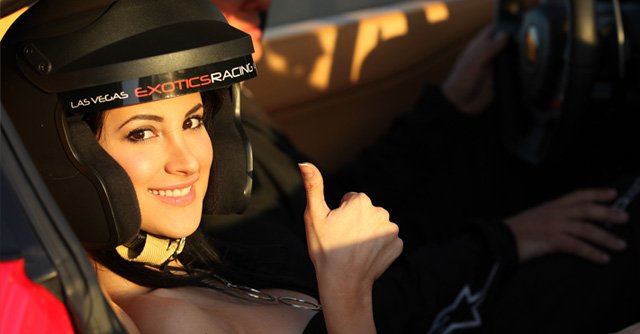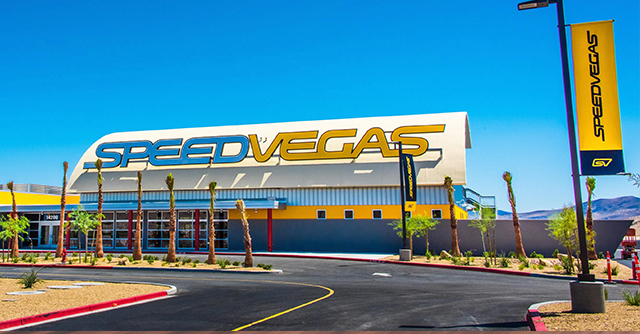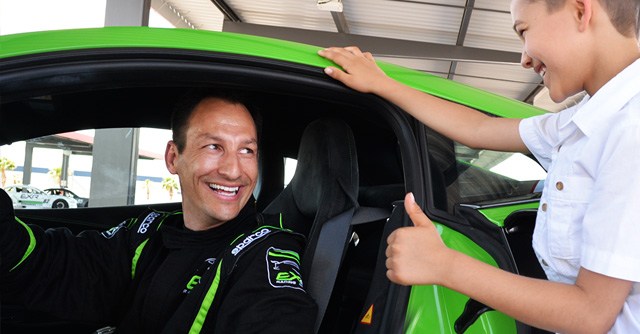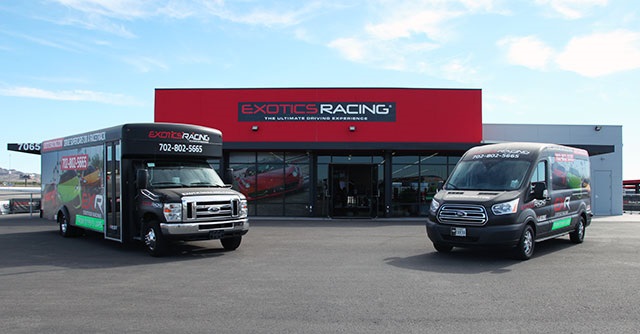 SUPERCAR DRIVING EXPERIENCES
Our Las Vegas location is at SpeedVegas Motorsports Park, just 15 minutes from the world famous Las Vegas Boulevard. Our exclusive 1.3-mile racetrack was designed by professional racing drivers to highlight our supercars performance capabilities. You'll find an example of many turns found on the world's greatest racetracks including hairpins, double apex corners, fast sweepers, chicanes, 90-degree corners and even a banked turns as well as large runoff areas, the latest high-tech safety barriers, and even the only in-ground LED lighting system in the US.
2,000 ft

Main straight away

1.3-mile

track length

7

days open

8

turns

140 mph

top speed

15 min south

Off the las vegas strip
7 244 Reviews
Over 400,000 Happy Customers! We've become a top rated racing attraction in Las Vegas. See what others have to say about their exciting driving experience at Exotics Racing.

janvier 14, 2014
Great experience and I will recommend it to my friends.

janvier 14, 2014
My instructor kind was calm patient and fearless. He could've been a surgeon just like me

janvier 13, 2014
I cannot thank the staff enough at Exotics Racing. I was so nervous but from the moment I stepped into the venue ALL staff were so very friendly and they allayed my fears really quickly. I had an amazing day and would highly recommend the day to anyone contemplating this. I am a 49 year old woman and I had a ball so I ask all you young girls out there thinking about it DO IT. Get out there and have a go !!!! It's awesome

janvier 13, 2014
Always have a great time at Exotics Racing. this was my 3rd time and it gets better every time. Great staff and Great Cars!!!

janvier 13, 2014
Best 60th birthday present anyone can ask for.

janvier 13, 2014
This is the best birthday present you could ask for. It was my first time on a track and I'm still amazed at how fast a performance car can be driven around a track safely.

janvier 13, 2014
Exhilarating, professional and an adrenalin rush you will never forget.. Instructors make sure you get the most out of the cars and push you further than you would normally go.. Best thing I have done in America for sure.. Thanks again

janvier 11, 2014
Ritchie was great. Great experience!

janvier 11, 2014
Purchased this drive for my girlfriend. She ended up not going and we changed it to my daughter. No problems changing. Everyone made us very welcome and comfortable. Got to attend the briefing with her as did her 7 year old daughter. Got pictures of all of us in the car as well. The instructor was awesome and very patient with my daughter and made her experience one she will never forget! We still can't wipe the silly smile off her face and have trouble keeping her from speeding and "hitting the apex" on every turn she makes! Outstanding experience and well worth the money. Everyone should have this much fun!

janvier 10, 2014
I loved it when I was able to watch our videos and see that I beat both of my older brothers!!! A great time was had by all!!

janvier 10, 2014
This was on my bucket list but as long as I can drive I will come back. You guys were super in everyway, thanks!!!

janvier 10, 2014
The most fun you can have with your clothes on

janvier 9, 2014
Thank you, Ian for your patience, technical instruction and help. I must of been the oldest and slowest guy on the track. The track experience required I trust Ian to guide me past my half century of defensive driving training. Each lap was faster and I can't wait to come back in April and bring some of my buddies. I hope to be able to request Ian and resume my training. Thank you for the adrenaline filled experience. 52 days and counting.

janvier 9, 2014
This is must do for anyone that likes fast cars and Vegas style!

janvier 8, 2014
This experience is amazing it lets you drive the cars that you dream about all day long.

janvier 7, 2014

janvier 6, 2014
This is the place to go big or go home. No follow the leader or Sunday drive around the track. Drive the cars you want, the way they were meant to be driven - Wayne and Nick Maggio

janvier 4, 2014
I enjoyed my trip there to the max and would recommend any and everyone try it. A suggestion for cars to the fleet...a Tesla Model S P85+ !!!!!!!! Do it! You won't regret it and outs easier on the pocketbook that a Bugatti!

janvier 4, 2014
This place is awesome! I had a great time. Extremely friendly staff, great looking cars. Overall, a wonderful experience and I look forward to doing it again soon!!

janvier 4, 2014
This was a dream come true, drive a Lamborghini. I hope to do this again in a near future. This is a recommended experience for anyone that come to Las Vegas. Este es un sueño hecho realidad. Conducir un Lamborghini. Espero poder volver a hacerlo en un futuro cercano. Esta es una experiencia recomendada para todos los que vayan a Las Vegas.

janvier 3, 2014
It was a better experience than I expected. Extremely friendly staff. Everyone seemed to love their job and that translated to the customers. I will definitely be returning soon!

janvier 3, 2014
Amazing!!! I recommend at least 7 laps with the same car to get the maximum of your experience.

janvier 3, 2014
This was one of the coolest experiences! The staff was very friendly and the cars are definitely worth the price!

janvier 2, 2014
The best cars to drive where there. But what really make the difference were the instructors. Because they tooke the time to understand the way of driving of each person and based on that it was amazing how a good experience became in an awesome one. Thanks so much.

décembre 30, 2013
For not having driven a super car before, your instructors made it comfortable and easy to comprehend. My in-car instructor, Joe, was very professional, knowledgeable, and encouraging. I look forward to the next lap!