DRIFTING RIDE-ALONG EXPERIENCE
The most thrilling ride on a racetrack!
The Drifting Ride-Along experience is truly an adrenaline shot! Exotics Racing's professional drifter will take you as a passenger for the Supercar full-speed drifting experience. Onboard the Dodge Charger SRT Hellcat, you will feel the rush of the 707hp V8 like nowhere else. The ride-along experience will amaze you with skillful racing techniques. This supercar is fully mastered by our expert racing drivers and it shows it on the racetrack! Buckle in for the adrenaline-pumping ride of your life!



Drifting Ride-Along
Dodge Charger SRT Hellcat

204 MPH
707 HP
3.4 S
$US65 900
How do you take up to three passengers for a sideways drifting, tire-smoking extravaganza of a thrill ride? Buckle them into a Dodge Charger SRT Hellcat. Why this car? To start, it's a four door sedan, so the two backseat passenger can get in with ease. More importantly, the Charger SRT Hellcat pumps out a whopping 707 horsepower and 650 lb-ft of torque.
SUPERCAR RIDE-ALONG EXPERIENCE
Pick one of three exotic cars below
Exotics Racing's professional drivers will take you as a passenger and show you what a supercar can do on our racetrack. Onboard the Porsche 991 GT3, Ferrari 488 GTB or the Lamborghini Huracan, these ride-along experience will amaze you with skillful racing techniques mastered by our experienced racecar drivers!


Supercar Ride-Along
Lamborghini Huracan

198 MPH
580 HP
3.4 S
$US216 000
It's like a time machine. Only faster. For the speed seekers the Lamborghini Huracan together with our racing drivers will have you at the edge of your seat. With 580 horsepower and our expert racing drivers, hold on tight and enjoy the high speed ride.
Supercar Ride-Along
Ferrari 488

205 MPH
660 HP
3.0 S
$US330 000
Supercar Ride-Along
Porsche 991 GT3 RS

193 MPH
500 HP
3.4 S
$US195 000
One thing is clear already: the 911 GT3 RS ride along is going to change the way you think about Porsches. With outstanding performance and offering excellent manageability, our racing drivers will break through the limits to give the Supercar experience.

RIDER ITINERARY
Our team of racing experts will guide you through the entire experience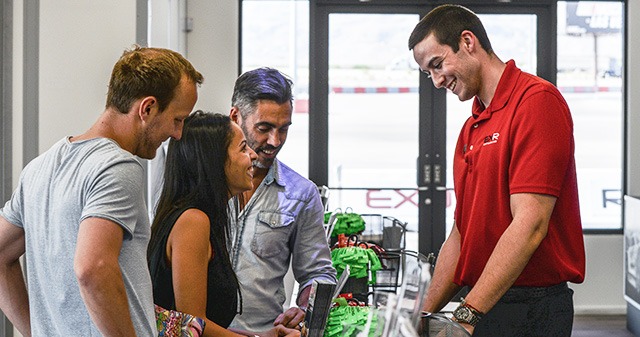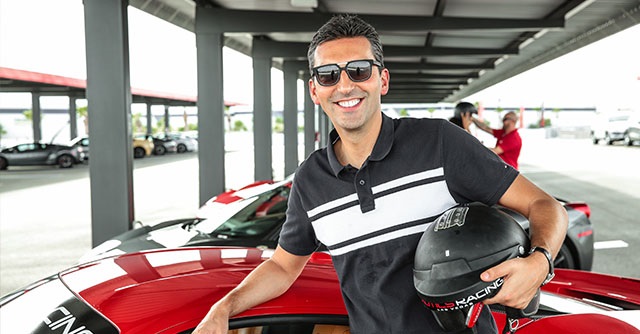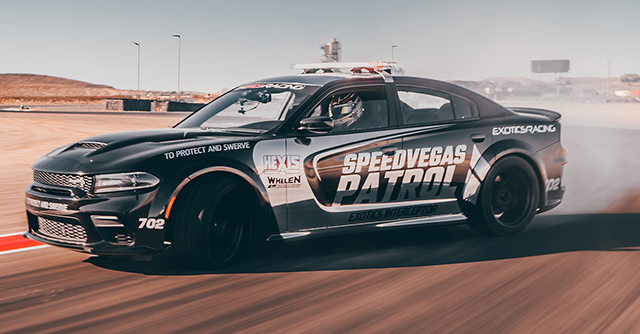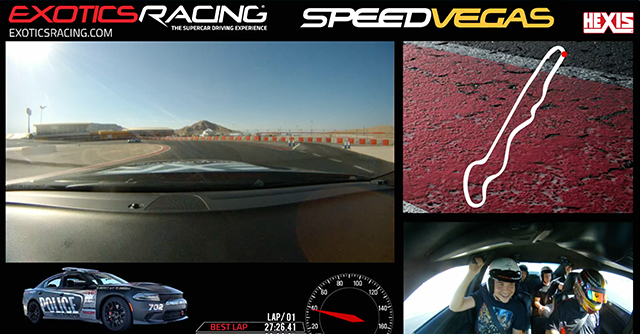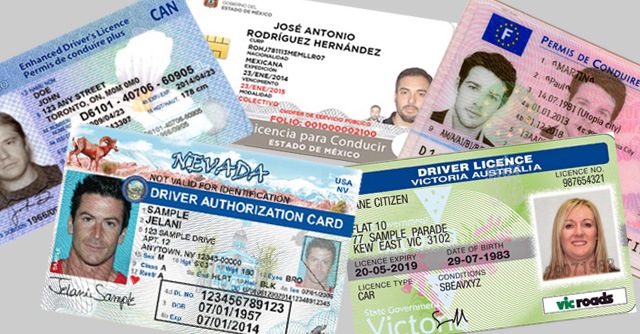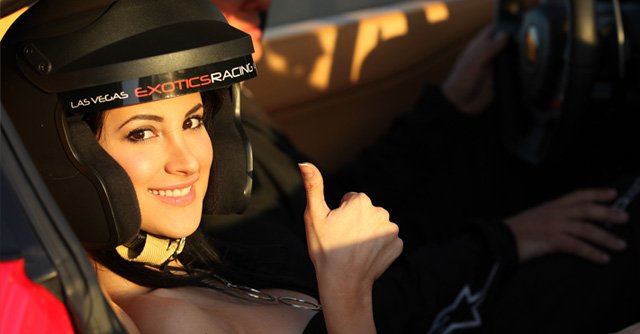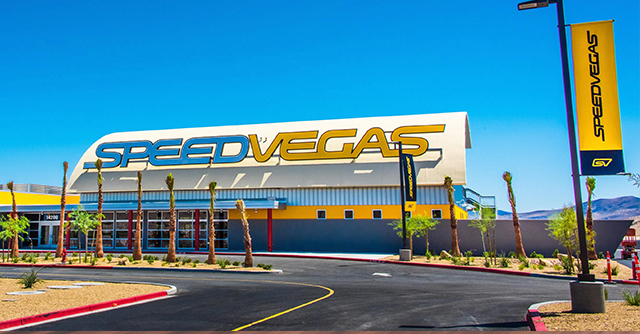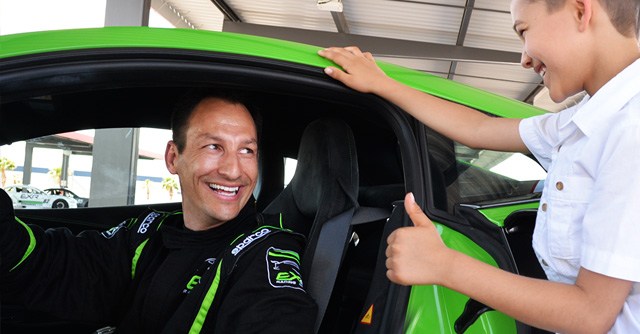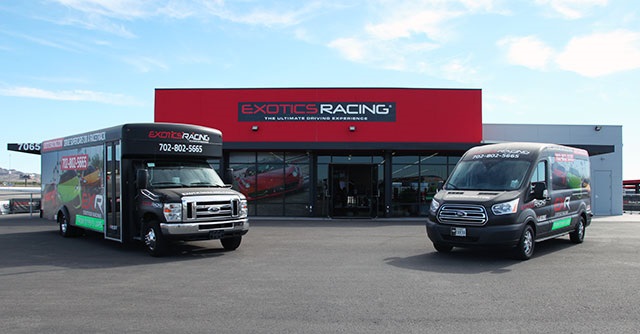 SUPERCAR DRIVING EXPERIENCES
Our Las Vegas location is at SpeedVegas Motorsports Park, just 15 minutes from the world famous Las Vegas Boulevard. Our exclusive 1.3-mile racetrack was designed by professional racing drivers to highlight our supercars performance capabilities. You'll find an example of many turns found on the world's greatest racetracks including hairpins, double apex corners, fast sweepers, chicanes, 90-degree corners and even a banked turns as well as large runoff areas, the latest high-tech safety barriers, and even the only in-ground LED lighting system in the US.

2,000 ft

Main straight away

1.3-mile

track length

7

days open

10

turns

140 mph

top speed

15 min south

Off the las vegas strip
7 507 Reviews
Over 400,000 Happy Customers! We've become a top rated racing attraction in Las Vegas. See what others have to say about their exciting driving experience at Exotics Racing.

mai 17, 2012
This was the most exciting thing ive done coming to Vegas and I come here a lot. I wish I've done this sooner

mai 16, 2012
No better way to spend my 40th birthday!!! It was a once in a lifetime experience, well lets hope not. Hope to do this again in the near future. Thanks again, Ralph Houchins

mai 16, 2012
Had a great time, will return the next time I'm in Vegas.

mai 16, 2012
This was by far the most fun I've had in a long time. The instructors were professional, and "CAR GUYS", and took the time to answer all my questions. Its one thing to have owned a few exotic cars over the years, but its an entirely different experience to be able to actually put one through its paces and race it flat out with expert instruction. Next time I'm in Vegas, I'm coming back! Thank you Exotics Racing!!!

mai 16, 2012
I had Buddy and Robert as my two instructors and they were both friendly, competent and understanding of my driving mistakes. I had a great time for my 64th birthday.

mai 16, 2012
The staff was friendly and courteous! Pro drivers were very helpful and knowledgeable of the race track!

mai 16, 2012
An absolute blast! Drove 6 cars with 6 friendly and helpful instructors. Not only did I get to drive a bunch of my dreams cars, I got to see what it was like to push them and myself on a very good and challenging course. All of the hosts were extremely helpful as well. I will be back as there are still cars I want to try. Oh and add on the drift ride-along to close out your session; it was the perfect wrap up.

mai 16, 2012
The Exotics Racing experience is an absolute must for car lovers and thrill seekers. My instructor driver was great. He really maximized my driving experience. And YES, there is NO speed limit on the track.

mai 15, 2012

mai 15, 2012
Great experience! It doesn't matter what selection you make you will leave wanting more!!7

mai 15, 2012
One of my greatest days driving supercars!! Very friendly guys and hard to improve fleet. I experienced 6 of the greatest modern supercars. A mandatory stop in Las Vegas for every car lover!!

mai 15, 2012
We did a lot of research on renting exotic cars and racing them in Las Vegas. These guys came to the top of the list after weeks of research. I am extremely impressed with how well they treat their customers and taylor their driving experience to each persons skill set and needs. It was by far the best birthday experience I have ever had!! Don't think about going to Exotics Racing...DO IT!

mai 15, 2012
I recommend 10 laps, 2 cars. drive a lesser car the first 5 laps, then on your 2nd car choice choose your favorite high performance car. You will then have a great experience because you already have a feel for the track. I had a fantastic experience, will be back and have already recommended it to several friends.

mai 15, 2012
I loved it! I want Rudy's job!!

mai 13, 2012
Had an absolute blast! Drove 3 cars for a total of 20 laps and could have gone another 20! Will definitely return when if we ever come back to Vegas!

mai 13, 2012
The instructors were phenomenal. They were experienced and provided excellent advice and feedback while letting me run the car as hard as I could. What a blast!

mai 13, 2012
Thanks for a great afternoon. I was disappointed that the Aventador was not available, but the Superleggera and extra laps in the Carrera more than made up for it. Plus it gives me something new to try next time. Thanks Again, Marc Lopez

mai 13, 2012
Oh MY GOD! OH MY GOD! OH MY GOD! What a WONDERFUL experience!!!

mai 13, 2012
I had put driving a Ferrari or Lambo on my bucket list years ago but never thought I would get to do it and WOW, I got to do both, fast, and on a race track. It was a fantastic highlight to my life I will never forget and talk about for years. Dana Johnson

mai 13, 2012
Fantastic experience. I was allowed to drive the 458 as fast as I possibly wanted. The instructor was very helpful and never restrictive. Thank you.

mai 13, 2012
This is a must have experience.

mai 12, 2012
This place is absolutely AMAZING!! If you go to Vegas for no other reason, you need to experience this. The entire crew, every single person was top notch! I will definitely be back my next trip....Exotics Racing ROCKS!!

mai 12, 2012
Had an amazing time. The cars are so easy to control. Staff was very courteous

mai 12, 2012
Truly an experience of a lifetime - there's no good reason to come to Las Vegas and skip this! You'll come here for the awesome cars, but the instructors, schedulers, and everyone else here make the whole thing even better and more memorable!

mai 12, 2012
This was a dream come true!! The staff was incredible and extremely helpful. They pushed you to achieve the maximum of your abilities and made the experience completely enjoyable! HIGHLY RECOMMEND!