Drive a
Ferrari F430 F1

On a Racetrack!
"To say a Ferrari is fast is like saying that water is wet, but the F430 F1 is so much more".
This famous quote from Davide Kluzer, Ferrari's press representative, captures the essence of what makes driving a Ferrari F430 F1 so amazing. From the moment one sits behind the wheel of this pure Italian super pony, they quickly realize the Ferrari F430 F1 is more than just a supercar; the F430 is a work of art. read more >
The Pininfarina-styled aluminum bodywork is reminiscent of the Ferrari racing models of the 1960's, in particular, the Ferrari 156 Grand Prix driven by the late Phil Hill who won the 1961 Formula One World Championship. This exterior design captures Ferrari's extensive racing history down to the smallest details. The front air intakes are considerably larger than those found on the Ferrari F360 (the F430's predecessor). The F430 has raised Enzo-style taillights and a vented rear engine cover, these are only two minute aspects, which contribute to the F430 having a completely different look than the previous F360 model.
The cabin of the F430 blends Ferrari's racing spirit with touches of luxury, suggesting the possibility that this prancing horse could be used as a daily driver. The seats are covered in fine leather that presents an elegant feel with touches of brushed aluminum, which compliment the curves of the dash panel. Large, well-placed paddles mounted on the steering column allow the driver to shift through gears in as little as 150 milliseconds, which is less than half the time it takes for the average human eye to blink.
The driver can customize driving preferences by adjusting the console-mounted manettino, that loosely translates to mean little handle or little manager. This rotary knob has 5 levels; each level alters the stability of the vehicle while also changing the level of aggression. The five positions assist the driver by making adjustments to shock valving, shifting speed and traction-control. In other words, set the level at zero and have full control of the vehicle, or turn the level to 5 and the car practically drives itself.
The engine of the Ferrari F430 is a 4.3L V8, derived from a collaborative effort between Ferrari and Maserati. This new engine took Ferrari in a completely different direction than previous variants of the Dino racing program, first developed in the 1950s. This 60 year development cycle between Dino and Ferrari came to an end with the creation of the 4.3L V8. This motor is expected to replace almost all Dino-derived V12 motors. The 4.3L V8 produces 490 horsepower at an screeching 8,500 rpm, illustrating the F430's high performance pedigree. This allows the F430 to deliver 343 foot pounds of torque, with a top speed of 198 mph. The power plant of the F430 produces a horsepower to liter ratio of 114 bhp per liter. When comparing 0 to 60 times with the F360, Ferrari F430 drops 0 to 60 in just 3.9 seconds, which is 0.4 seconds faster than the F360.
Very seldom in the world of supercars do we get state-of-the-art technology packaged with such an exquisite interior design, superior attention to detail and breathtakingly powerful performance. Fiery Italian supercar passion creates the welds that hold it all together, engendering debate as to whether this is a racecar, a supercar, a luxurious work of art, or just simply the best car ever made. The Ferrari F430 F1 is definitely a vehicle that poses such a question.
less >
Ferrari F430 F1

198 MPH
490 HP
3.9 S
US$200.000
A true racing classic by every stretch of the imagination, the Ferrari 430 F1 delivers 490 horsepower with a 0-60 mph in 3.7 seconds and completes the 1/4 mile in 11.9 seconds. This Formula 1 inspired supercar is easy to drive while delivering enough excitement to last a lifetime.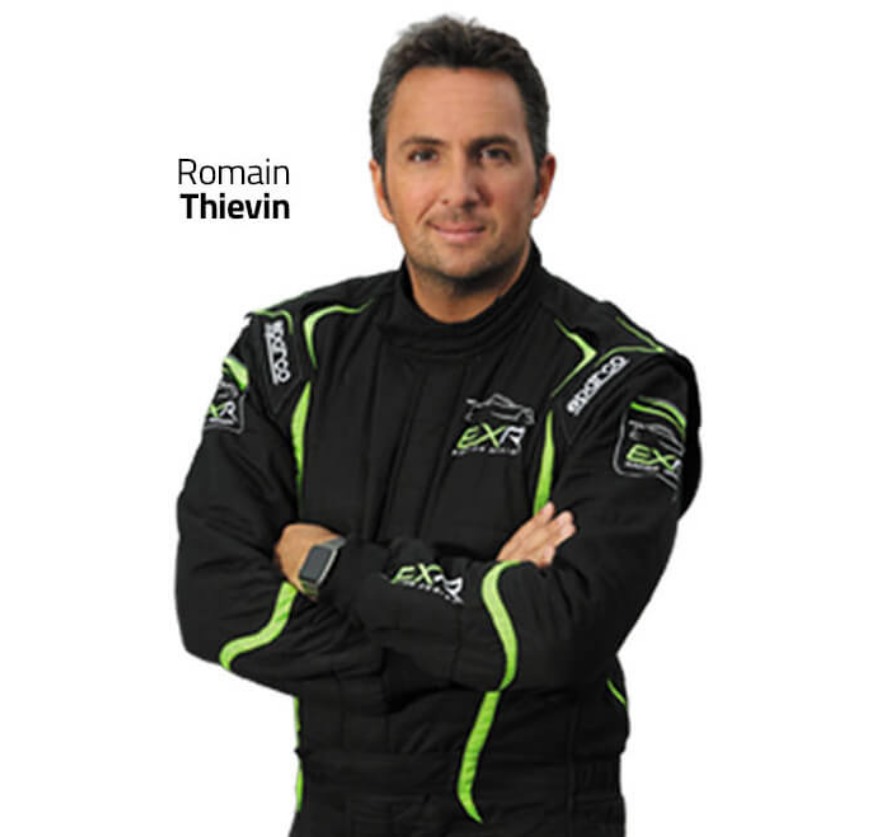 Tips From A Pro
Since I was a child, I have always dreamed about driving a Ferrari. The F430 F1 has a special place in my heart because it was one of the first Ferraris I ever drove on track and it made me a Ferrari lover! The paddles are big and easy to use, the shifts are quick but still very smooth, and the F430 F1 makes a wonderful noise that just rings through the cabin.

DRIVER ITINERARY
Our team of racing experts will guide you through the entire experience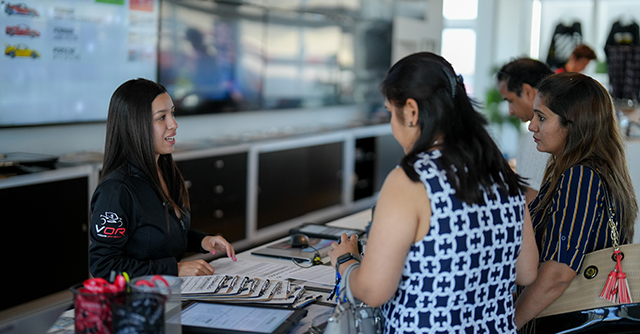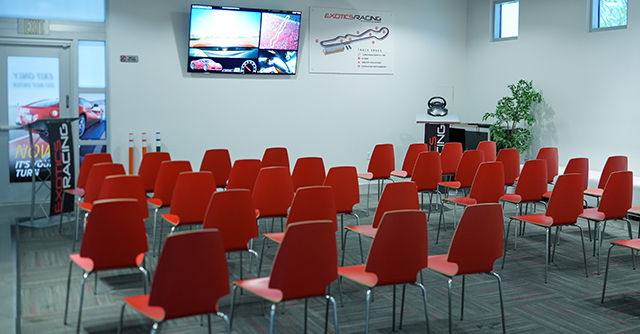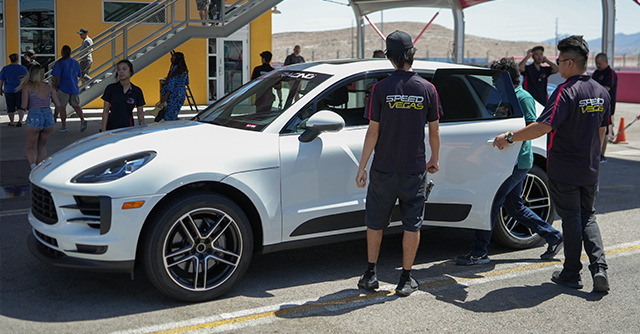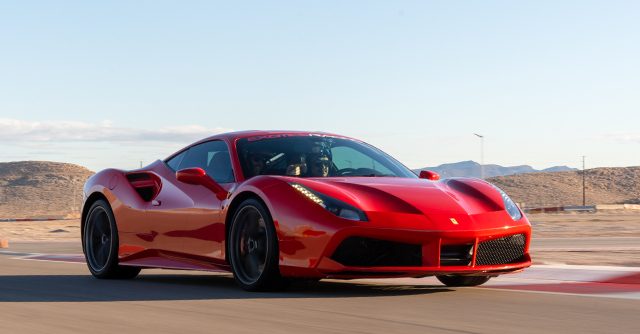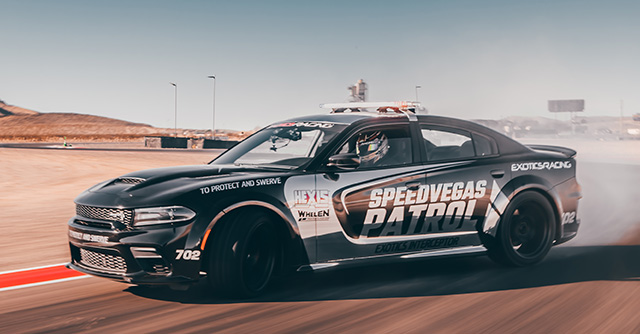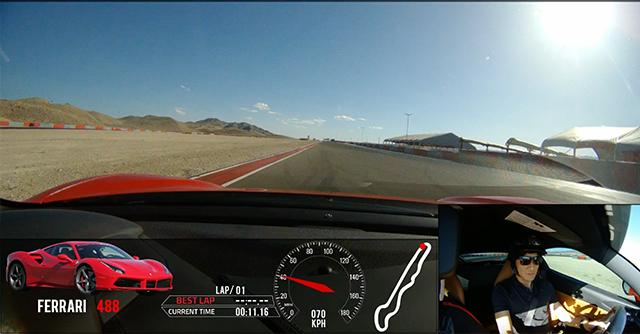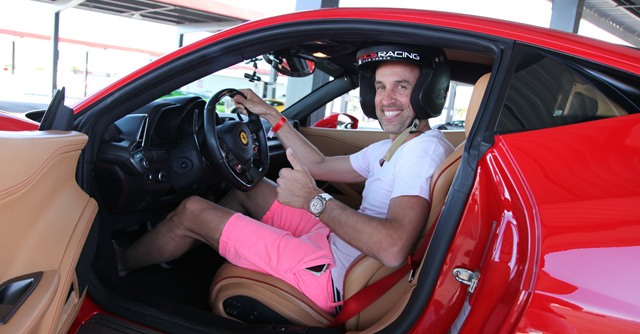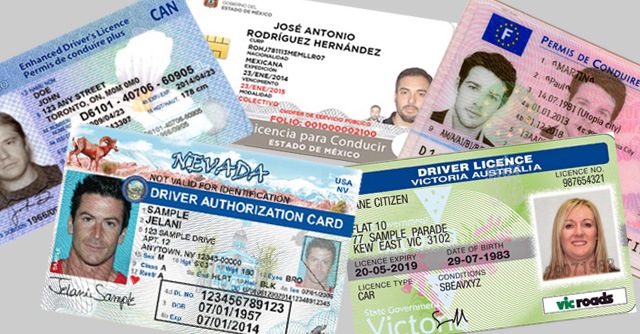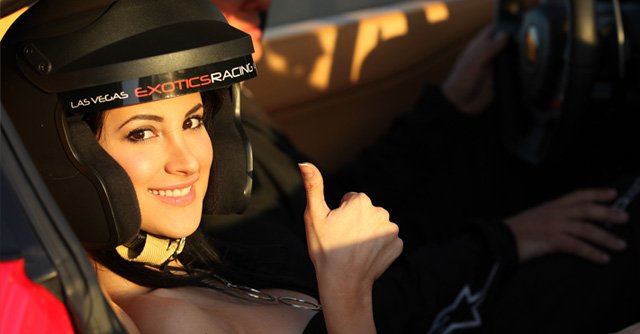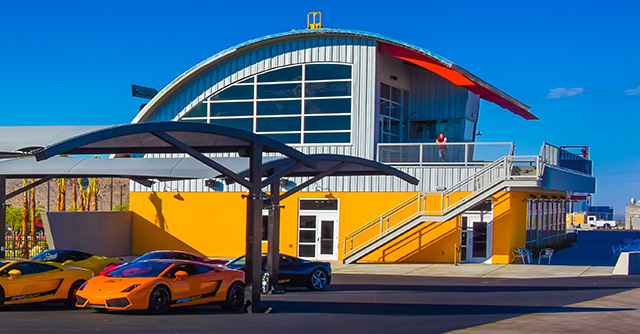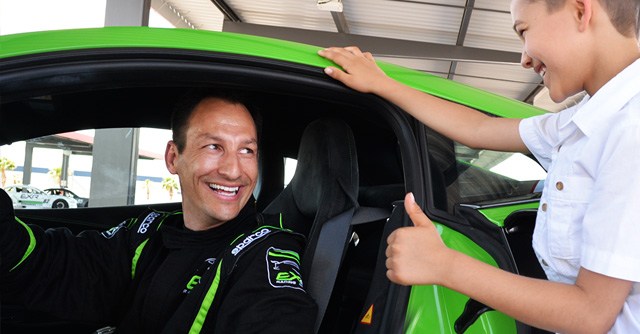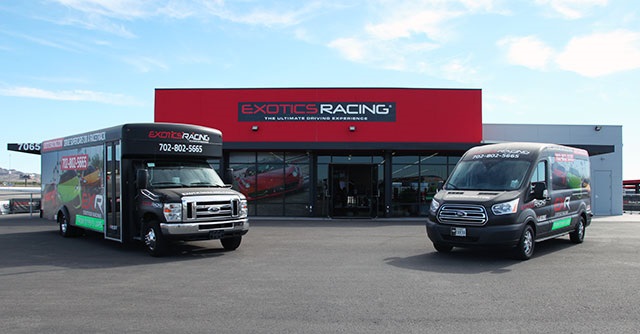 SUPERCAR DRIVING EXPERIENCES
Our Las Vegas location is at SpeedVegas Motorsports Park, just 15 minutes from the world famous Las Vegas Boulevard. Our exclusive 1.3-mile racetrack was designed by professional racing drivers to highlight our supercars performance capabilities. You'll find an example of many turns found on the world's greatest racetracks including hairpins, double apex corners, fast sweepers, chicanes, 90-degree corners and even a banked turns as well as large runoff areas, the latest high-tech safety barriers, and even the only in-ground LED lighting system in the US.

2,000 ft

Main straight away

1.3-mile

track length

7

days open

10

turns

140 mph

top speed

15 min south

Off the las vegas strip
TIME TRIAL WORLD CHALLENGE BY EXOTICS RACING
ONLY at Exotics Racing!
You never know how fast you are until you come to Exotics Racing! Challenge your driving skills on a racetrack behind the wheel of our supercars and take part of the world's largest motorsports competition, exclusively at Exotics Racing Las Vegas.
After each driving experience, whether you want to race against the clock or a friend, our automatic live and online ranking allows you to compare your laptimes and rank against other drivers. There is no exception, every driver is timed on our racetrack and therefore is a competitor of our World Challenge!
Who will be the next fastest driver at Exotics Racing?
1.308 Reviews
Over 400,000 Happy Customers! We've become a top rated racing attraction in Las Vegas. See what others have to say about their exciting driving experience at Exotics Racing.
janeiro 6, 2012
What an awesome experience, truely a thrill!!!! I can't wait to come back!!!
dezembro 6, 2011
If your need is for speed then this is the place for you. F15 jets constantly streaming overhead trying to keep up with the maniac in the yellow Corvette. Amazing cars, great track experience and a thrill a minute. Do it at least once, properly, tick the boxes and move on.... fast.
novembro 15, 2011
It's a great opportunity to get behind the wheel of this kind of supercars. The staff is really friendly and will make your experience even more amazing!!!
novembro 15, 2011
I had a wonderful time driving the Ferrari and Lamborghini, and am looking forward to doing it again soon. My son saw the in-car videos, and he is now saving up his money to join me.
novembro 15, 2011
As a Porsche owner, I thought I understood what it was like to drive a sportscar. I didn't have a clue!! At Exotics racing I drove a Farrari f430, Lamborghini f570 and Porsche 911S, 5 laps each. I would recomend the Ferrari with a minimum of 10 laps,(it takes 5 laps just to get familiar with the course). Pedal to the metal. WOW!!!!
novembro 12, 2011
Fantastic experience!!! So much fun!!! Got to pass cars and drive extremely fast on the track!!!
novembro 5, 2011
Excellent experience and I hope to do it again soon
novembro 5, 2011
It was so awesome. My only wish is that something like this would be offered close to home. I definately will be coming back for more!
novembro 5, 2011
Who else in their right mind is going to hand you the keys to there Exotic's, and say, here, go take it for a test run? and on a race track!!! Las Vegas's Exotic's Racing! that's who!... Your talking about cars that cost's over $200/300K's!!! For any car enthuisast, this is an awesome experience and dream come true.. I highly recommended it.. but it's a better experience if you come with track experience and can push the car into the race line and really feel the brakes and acceleration into and out of the turns... My hat's off to all the instructors.. No way in hell would i sit in the passenger's seat and trust somebody to learn the car and the race line all in a few laps.. LOL... but they did a great job... Awesome event... I will be back soon... I recommened doing at least 3 cars and doing at least 8-10 laps per car.. PF
novembro 5, 2011
This is the greatest gift I have ever received. I had a fantastic experience.
OUR SUPERCARS
The world's largest fleet of exotic cars with over 50 cars and 19 models to choose from including the hottest cars by Ferrari, Lamborghini, Aston Martin,
Porsche, Corvette, Audi and Mercedes. All cars are equipped with paddle shifters to accommodate all skill levels and board dash
cameras to capture every moment of your Exotics Racing experience.