Drive a
Lamborghini Aventador

On a Racetrack!
Intimidating. Extreme. Wild. Absurd. Meet the 2012 Lamborghini Aventador, the most spectacular supercar of the next generation. The Aventador is pure bull-inspired awesomeness. Its 700hp V12 and F1-inspired carbon fiber monocoque provide vicious acceleration, sublime steering, incredible handling, unmatched visual presence. Simply the best supercar in the world. read more >
Keeping in line with the Lamborghini tradition of naming cars after bulls, the Lamborghini Aventador is named after a bull that fought in the ring of Saragossa, Spain in October of 1993. The Aventador displayed such courage that the bull was awarded the "Trofeo de la Pena La Madronera." This display of aggression embodies the very spirit of the new Lamborghini Aventador.
President and CEO of Automobili Lamborghini Stephen Winkelmann claims:
The Aventador is a jump of two generations in the terms of design and technology. It's the result of an entirely new project, but at the same time, it's a direct and subsistent continuation of Lamborghini's brand values. It is extreme in its design and its performance, uncompromising in its standards and technology, and unmistakably Italian in its style and perfection. Overall, the dynamics and technical excellence of the Aventador LP 700-4 makes it unrivaled in the worldwide super sports car arena.
We couldn't agree more. The Aventador is a blend of exterior beauty with mind-blowing acceleration. Improvements made in technology create a ride that handles impeccably. Performance is unmatched with the Aventador reaching a top speed of over 217 miles per hour.
When pulling out of the pit lane in the Superleggera the first thing you will notice is the sound. With absolutely no noise reduction materials inside the car, the roar of the 570 hp V10 is mind blowing. Step down on the accelerator and 570 horses fill the cabin.
Lamborghini set out with the goal to build an engine that is lighter than the previous motor and more powerful, a goal that has plagued engine builders for years. Lamborghini was able to achieve this feat by using an aluminum-silicon alloy to lower the over-all weight. High-temperature parts were still forged in steel to ensure engine reliability. Lamborghini CEO Stephan Winkelmann said, "This new power unit is not only the crowning glory of our product range; it is also part of our enormous investment in the future of the Lamborghini brand." Winkelmann believes that this new engine technology will set Lamborghini apart from other supercars. At Exotics Racing, the Lamborghini Aventador has the fastest top speed of any car in the Exotics Racing fleet.
One of the most underappreciated features of the Aventador is the advanced ESP (Electronic Stability Program); this feature makes losing control almost impossible. This combined with active four-wheel drive; create an extremely forgiving ride that is almost impossible to break loose.
The Independent Shifting Rod is a seven speed single clutch automated manual gearbox system. This allows for very fast shift times from manual shifting, allowing gears to be shifted almost simultaneously. The ISR comes with two modes that deliver 50-millisecond shifts. This is achieved by creating a system that has the second rod ready to shift before the first rod is out of gear. Best-of-all the ISR transmission weighs approximately 175 pounds; this is significantly lighter than any other Direct-Shift Gearbox (DSG) on the market. This helps Lamborghini to accomplish the new lighter, faster, stronger philosophy.
The price tag of almost half a million dollars sounds at first to be crazy talk; however, keep in mind what similar vehicles that produce about the same speed go for in today's economy. The Bugatti Veyron Super Sport for instance, has a top speed of 268 mph with a price tag of $2.4 million! McLaren produced the street legal rocket ship F1 which sat around $1 million dollars with a top speed of 240 mph. The limited edition Ferrari Enzo had a price tag of $700,000 with a top speed of 217 mph, and the Pagani Zonda F which has a top speed of 215 mph carries a price tag of $740,000.
Those looking to buy should get on a waiting list soon. According to Autocar, "the carbon fiber molds that are used to construct the car's monocoque can be used as many as 500 times before they have to be replaced." Lamborghini only produced 8 carbon fiber molds for the Aventador, bringing the total numbers of vehicles that can be made to 4,000.
less >
Lamborghini Aventador LP700

217 MPH
700 HP
2.6 S
US$420.000
The Aventador is Lamborghini's flagship vehicle, equipped with a 6.5-liter V-12 engine that produces an astonishing 700 hp and 509 lb-ft of torque. The Lamborghini Aventador is capable of hitting 0-60 mph in just 2.9 seconds, with a standing quarter mile in just 10.5 seconds and a top speed of 217 mph.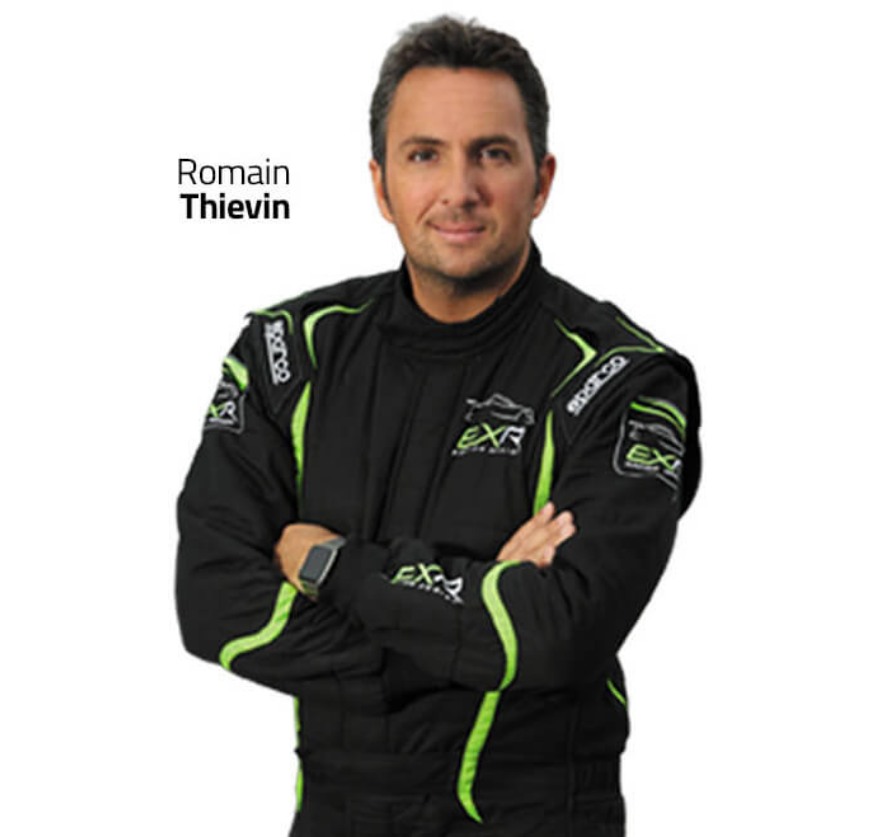 Tips From A Pro
"The Aventador has only one goal in life, to go fast! What else would be the purpose of a car with 700 horsepower? It has a big engine, all-wheel drive, and super wide tires to help it go fast. Like its predecessors the Diablo and the Murcielago, the Aventador is the most powerful car in its lineup. It has a very lightweight chassis equipped with a new, very advanced suspension design that makes it nimble enough for even the tightest racetrack."
DRIVER ITINERARY
Our team of racing experts will guide you through the entire experience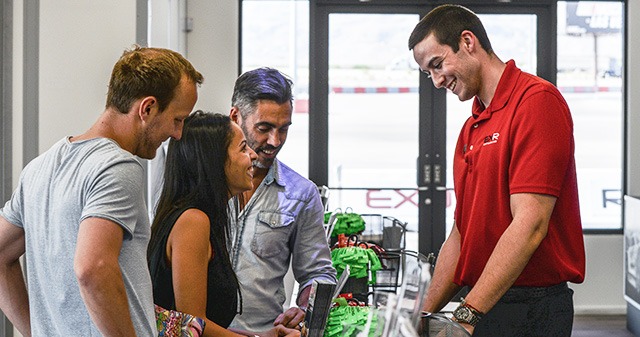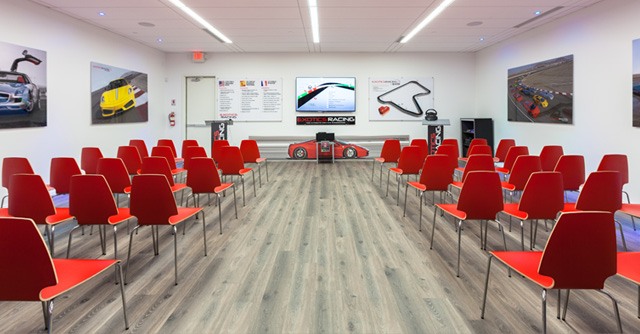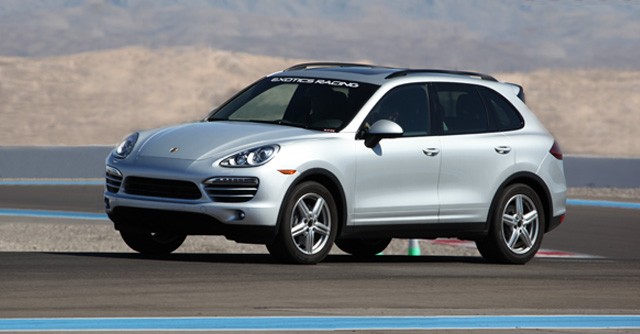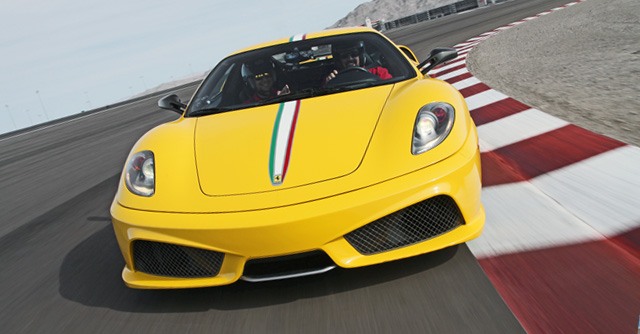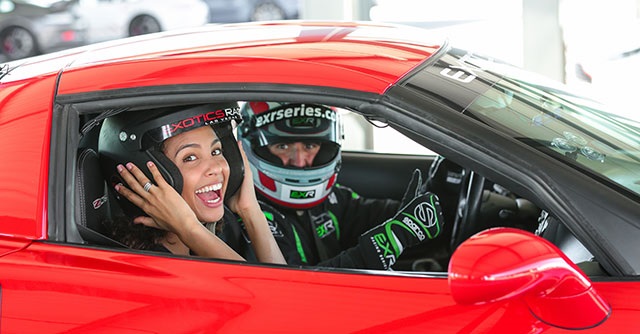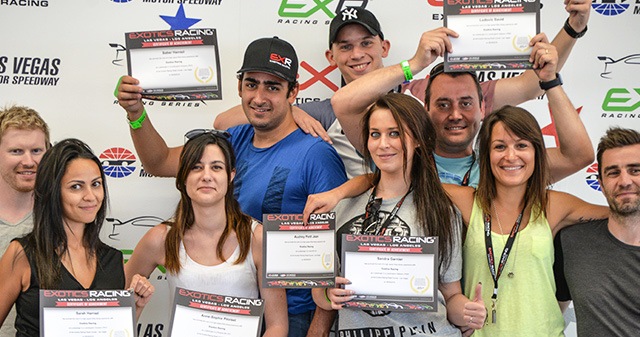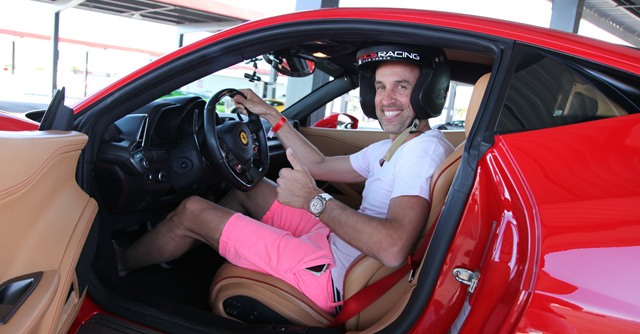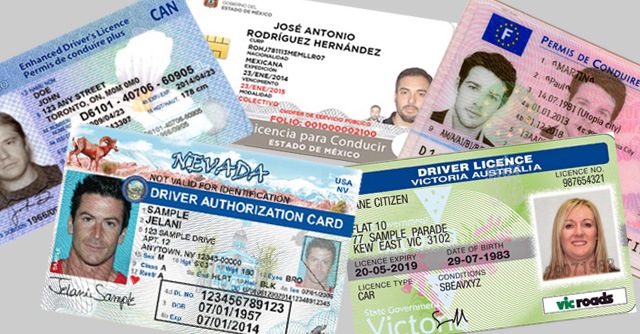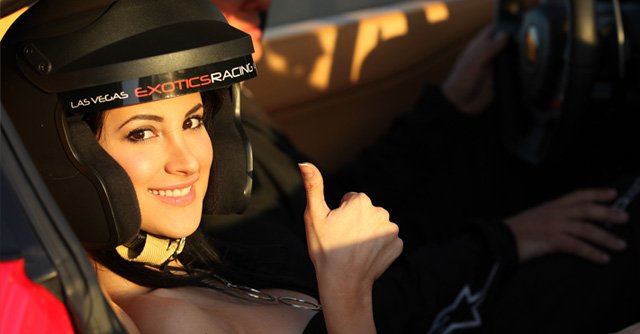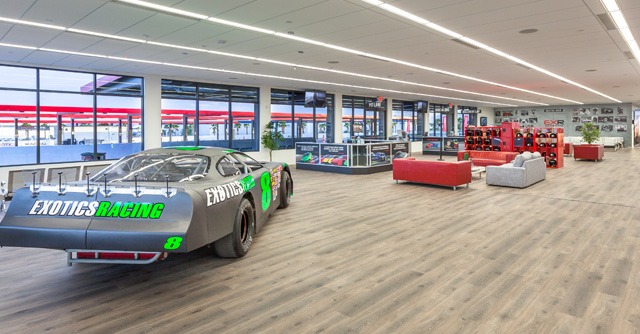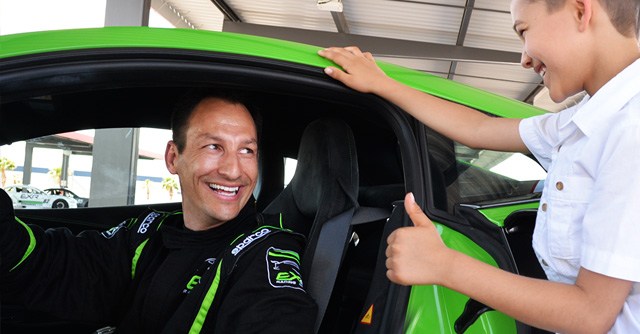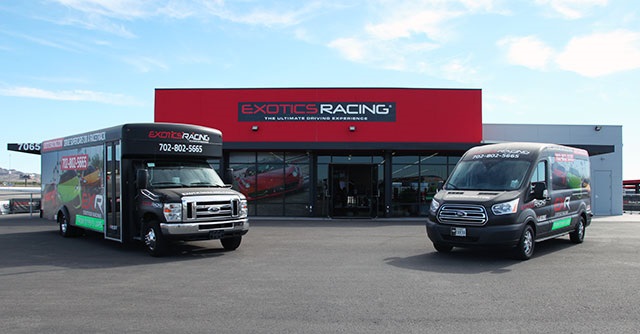 SUPERCAR DRIVING EXPERIENCES
Located on the grounds of the Las Vegas Motor Speedway, our exclusive 1.2-mile racetrack was designed by professional racing drivers to highlight our supercars performance capabilities. You'll find an example of many turns found on the world's greatest racetracks including hairpins, double apex corners, fast sweepers, chicanes, 90-degree corners and even a banked turns as well as large runoff areas, the latest high-tech safety barriers, and even the only in-ground LED lighting system in the US.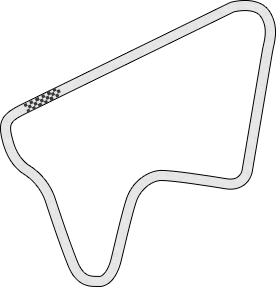 1,800 ft

Main straight away

1.2-mile

track length

7

days open

7

turns

140 mph

top speed

15 min north

Of the las vegas strip
TIME TRIAL WORLD CHALLENGE BY EXOTICS RACING
ONLY at Exotics Racing!
You never know how fast you are until you come to Exotics Racing! Challenge your driving skills on a racetrack behind the wheel of our supercars and take part of the world's largest motorsports competition, exclusively at Exotics Racing Las Vegas.
After each driving experience, whether you want to race against the clock or a friend, our automatic live and online ranking allows you to compare your laptimes and rank against other drivers. There is no exception, every driver is timed on our racetrack and therefore is a competitor of our World Challenge!
Who will be the next fastest driver at Exotics Racing?
Lamborghini Aventador LP700 Video
Lamborghini Aventador LP700 Gallery
589 Reviews
Over 400,000 Happy Customers! We've become a top rated racing attraction in Las Vegas. See what others have to say about their exciting driving experience at Exotics Racing.

janeiro 8, 2014
This experience is amazing it lets you drive the cars that you dream about all day long.

janeiro 6, 2014
This is the place to go big or go home. No follow the leader or Sunday drive around the track. Drive the cars you want, the way they were meant to be driven - Wayne and Nick Maggio

janeiro 3, 2014
Amazing!!! I recommend at least 7 laps with the same car to get the maximum of your experience.

dezembro 30, 2013
AMAZING!!! Cars were incredible, instructors were helpful and friendly, and the freedom to walk around pit lane, sit in the cars and take photos was escellent. 10 out of 10!!!!! Thanks Exotics Racing and see you next time.

dezembro 20, 2013
Husband's 50th birthday was a big surprise and he was very happy with the experience and quality of his experience.

dezembro 19, 2013
My experience at Exotics Racing was amazing from the friendly and highly professional staff to the care and selection of vehicles and the professional guidance by the instructors. Top notch service and a very memorable experience. Thank you so much for everything!

dezembro 11, 2013
This was an experience that every exotic car enthusiast needs to do. Worth every penny. The staff and venue is friendly and professional and the cars and trainers were wonderful. I highly recommend this experience.

novembro 30, 2013
This really is an awesome experience. I drove the Lamborghini Aventador LP700 and the Audi R8. Obviously the Lambo is a rush to drive with 700 horsepower but the Audi has its own virtues as well. My driving instructor, Jimmy, was nothing short of awesome. His instruction from the passenger seat allowed me to push both cars much harder than I would have on my own and made the experience that much more enjoyable. I highly recommend taking the opportunity to drive one, or several, of these exotic cars and definitely recommend you request Jimmy as your instructor. He is an asset to the school.

novembro 30, 2013
Thank you for this experience, the staff were great and very helpful. The ride along experience was amazing, was not expecting such a thrill ride and recommend it to anyone that wants SEROUS DRIVING!! The drivers were very helpful in showing me how to get the most out of my experience. I would defiantly do this experience again. Rating 5/5. Thanks once again Nicholas, Sydney Australia

novembro 29, 2013
Do it!! Just come out here and experience it for yourself. If you aren't grinning from ear to ear, you must be a zombie or something! Very professional staff, very curtious, knowledgeable, the cars are mint, not de-tuned, ready to race. Everything was as stated and seen on the web site. I'll be back!! Piece of advice...buy more than 5 laps; you really start to shine on the 5th. Thanks again to everyone involved in makeing my experience so enjoyable!!
OUR SUPERCARS
The world's largest fleet of exotic cars with over 50 cars and 19 models to choose from including the hottest cars by Ferrari, Lamborghini, Aston Martin,
Porsche, Corvette, Audi and Mercedes. All cars are equipped with paddle shifters to accommodate all skill levels and board dash
cameras to capture every moment of your Exotics Racing experience.