DRIFTING RIDE-ALONG EXPERIENCE
The most thrilling ride on a racetrack!
The Drifting Ride-Along experience is truly an adrenaline shot! Exotics Racing's professional drifter will take you as a passenger for the Supercar full-speed drifting experience. Onboard the Dodge Charger SRT Hellcat, you will feel the rush of the 707hp V8 like nowhere else. The ride-along experience will amaze you with skillful racing techniques. This supercar is fully mastered by our expert racing drivers and it shows it on the racetrack! Buckle in for the adrenaline-pumping ride of your life!



Drifting Ride-Along
Dodge Charger SRT Hellcat

204 MPH
707 HP
3.4 S
US$65.900
How do you take up to three passengers for a sideways drifting, tire-smoking extravaganza of a thrill ride? Buckle them into a Dodge Charger SRT Hellcat. Why this car? To start, it's a four door sedan, so the two backseat passenger can get in with ease. More importantly, the Charger SRT Hellcat pumps out a whopping 707 horsepower and 650 lb-ft of torque.
SUPERCAR RIDE-ALONG EXPERIENCE
Pick one of three exotic cars below
Exotics Racing's professional drivers will take you as a passenger and show you what a supercar can do on our racetrack. Onboard the Porsche 991 GT3, Ferrari 488 GTB or the Lamborghini Huracan, these ride-along experience will amaze you with skillful racing techniques mastered by our experienced racecar drivers!


Supercar Ride-Along
Lamborghini Huracan

198 MPH
580 HP
3.4 S
US$216.000
It's like a time machine. Only faster. For the speed seekers the Lamborghini Huracan together with our racing drivers will have you at the edge of your seat. With 580 horsepower and our expert racing drivers, hold on tight and enjoy the high speed ride.
Supercar Ride-Along
Ferrari 488

205 MPH
660 HP
3.0 S
US$330.000
Supercar Ride-Along
Porsche 991 GT3 RS

193 MPH
500 HP
3.4 S
US$195.000
One thing is clear already: the 911 GT3 RS ride along is going to change the way you think about Porsches. With outstanding performance and offering excellent manageability, our racing drivers will break through the limits to give the Supercar experience.

RIDER ITINERARY
Our team of racing experts will guide you through the entire experience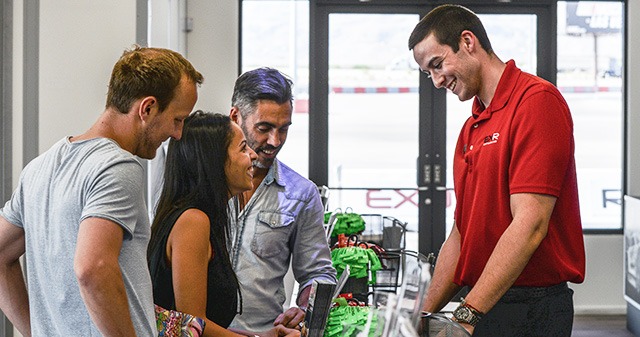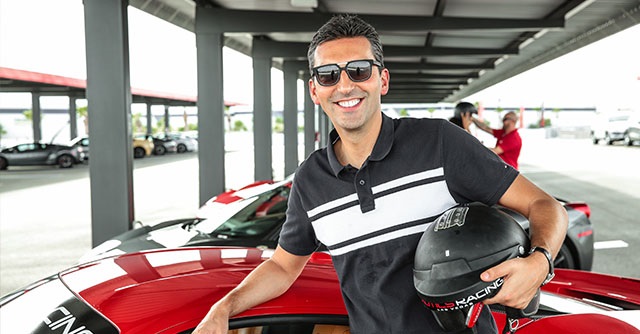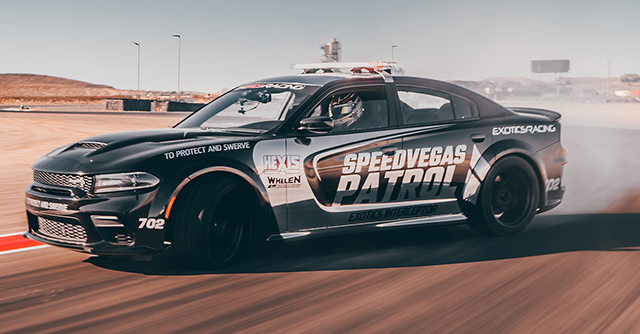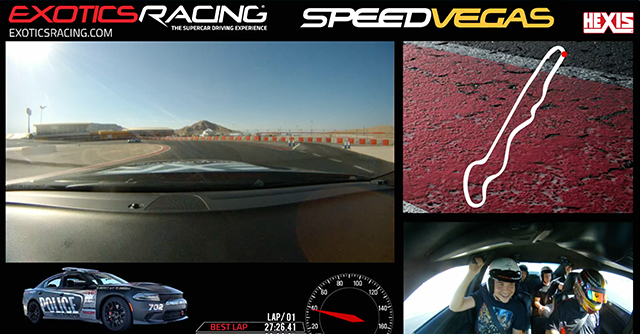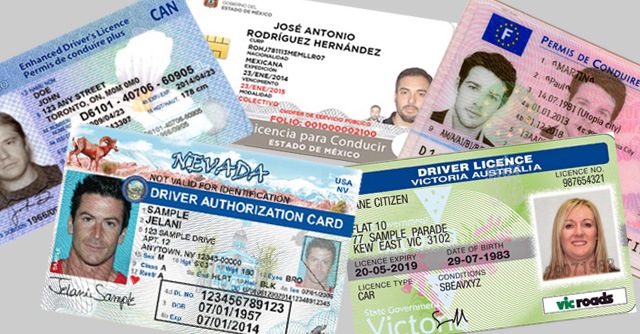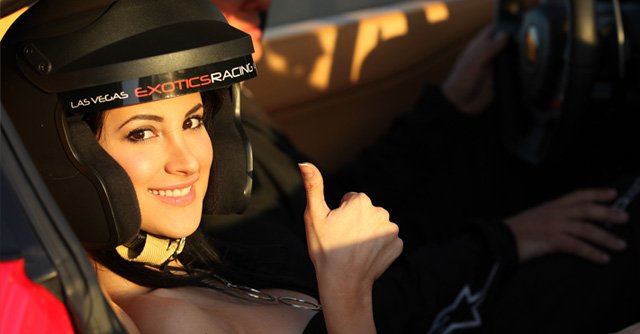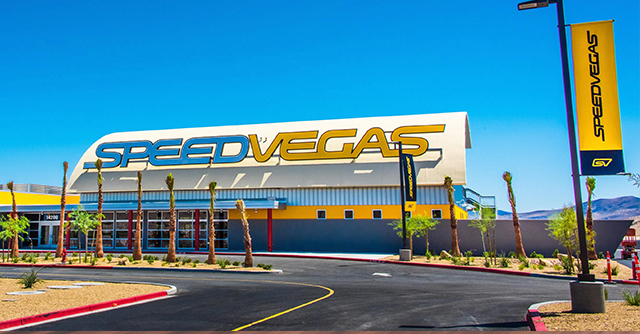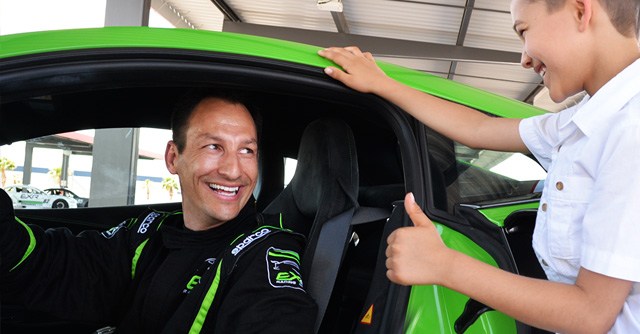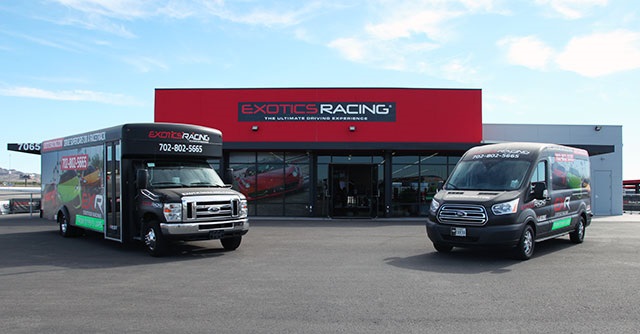 SUPERCAR DRIVING EXPERIENCES
Our Las Vegas location is at SpeedVegas Motorsports Park, just 15 minutes from the world famous Las Vegas Boulevard. Our exclusive 1.3-mile racetrack was designed by professional racing drivers to highlight our supercars performance capabilities. You'll find an example of many turns found on the world's greatest racetracks including hairpins, double apex corners, fast sweepers, chicanes, 90-degree corners and even a banked turns as well as large runoff areas, the latest high-tech safety barriers, and even the only in-ground LED lighting system in the US.

2,000 ft

Main straight away

1.3-mile

track length

7

days open

8

turns

140 mph

top speed

15 min south

Off the las vegas strip
7.445 Reviews
Over 400,000 Happy Customers! We've become a top rated racing attraction in Las Vegas. See what others have to say about their exciting driving experience at Exotics Racing.
janeiro 6, 2010
I want to come to LA one of the next two times. C'est Magnifique I raced the Lambo. Everyone was so helpful and friendly. It was a true Experience! This was one of the few the best experiences of my life. Learned so much. I can't wait to race again at Exotics Racing. This is a must do event!
janeiro 6, 2010
We are now back to work. During our meeting at Samsung to discuss about our trip to Las Vegas, one point was absolutely commented at most. Our unbelievable and unforgettable experience at the ExoticsRacing Program. As it is my solely responsibility to choose the programming at CES, I was afraid this program could not be exactly as I was reading in the ads. But it was a lot more impressive than any of us could think. The clients didn't stop talking about during the rest of the trip. They were laughing like teenagers driving a regular car by the first time. During the dinner that night, they forgot about any other subject, even being surrounded by the most important executives of Samsung. They were so grateful to Samsung for the chance they just had. Our VP of Marketing already guaranteed me we are going to repeat this program every year, because it's something that you don't get tired of. It was more than just driving a car like Ferrari. Even if they owned one, they could never learn the driving techniques and accelerate so deeply with all safety possible. Where else in the world could they do it without getting a speed ticket not to mention the safety? It was a wonderful chance for client-company relationship as they are going to remember that forever. Please, send all my compliments to the staff at ExoticsRacing as they were so lovely with my people and please, already reserve the same for 2011. On behalf of Samsung, thank you for this incredible experience. David, Samsung Travel & Events Leader
janeiro 6, 2010
Thank you for having us out. It was an absolute blast!
janeiro 6, 2010
THANK YOU! We had a blast and the ride along was FANTASTIC! Thanks again and I look forward to seeing you soon.
janeiro 2, 2010
Great fun, and can't wait to do it again!
janeiro 2, 2010
Awesome experience. One of the Top 10 things to do in life.
janeiro 2, 2010
A must for any Petrol Head visiting Vegas.....1st class service and Hyper Cars that feel just that, not stripped out for the track just as you'd buy them...loved it...'Preciate it
dezembro 19, 2009
Fantastic experience! Rare chance for me (anyone?) to drive a Lambo, Ferrari, Porche & Aston Martin, pedal to the floor :-D !!!
dezembro 19, 2009
The experience far exceeded my expectations. The staff and instructors actually aid and encourage you to push the envelope. I'm definitely going back!
dezembro 12, 2009
Thanks so much for the great time this past Saturday. I definitely lived out a dream on the track that day. I'll definitely be recommending you all to anyone I talk to because it was definitely worth it. If you all get the 458 italia i'll probably have to make another trip up there. Thanks again, the whole experience was fantastic.
dezembro 12, 2009
I purchased a "ride along" for my 13 year old son. We live in CA, but were visiting Las Vegas during xmas break. He is an avid exotic car fan, so just standing next to the Ferrari F430 was enough. He had a wonderful time/experience and I will definatly do it for him again. Thank you!
dezembro 12, 2009
Exceptional service on and off the track. Amazing staff and top notch instructors. Cant wait to do it again!
dezembro 12, 2009
What a way to spend a morning!! Well thought out and highly technical road course(Las Vegas)and superb vehicles with which to test your skills. I drove the Aston Martin, the Lamborghini, and the Ferrari and was in heaven the entire time. If you just want to drive an exotic car, or put your race craft to the test - this is the place to do it. The instructors and personnel were fabulous. I can't wait until I make it back!
novembro 28, 2009
These pictures are AWESOME... thank you so much! It was such a cool experience...
novembro 28, 2009
We had a fabulous time on Saturday. The ride with Romain was unbelievable. If you're available on Tuesday night or Wednesday during the day, we would be honored to have you visit. I have a few friends that would like to meet you and perhaps attend the course.
novembro 28, 2009
Driving at the track this past Saturday was the best, but riding in the Corvette was without a doubt the thrill of a lifetime! I will be sure to let all [my clients] know of your product and the outstanding experience their VIP's will have attending...
novembro 21, 2009
I wanted to thank you and your staff for showing us a wonderful time a few weeks ago on the track! We had a fantastic experience and will be sending a ton of business your way!
novembro 21, 2009
Mark and I had a great time on Saturday. It was everything I was hoping for and more. Really enjoyed running the Lambo. May have to buy one of my own now. If you took any photos of us racing the track would you pls forward them to me. Especially any in the Ferrari and Lambo. Best regrads, Rick
novembro 21, 2009
Had a great time. Need to bring the experience to the east coast!
novembro 21, 2009
It was one of the most memorable experiences of the year for me. I will be back, and I have recommended it to quite a few friends!