Stay updated with news, favorite photos, and terrific videos about our Supercar Driving Experiences in Las Vegas. Exotics Racing have been featured in some of the most prestigious publications and automotive websites including Road & Track, Car and Driver, DuPont Registry, Racer Magazine, Popular Mechanics, LA Times, US Today, Hollywood Reporter, Vegas Magazine, Luxury Magazine, Robb Report, and Autoweek just to name a few. Our Communication and PR team is dedicated to provide every media with information about our activity such as new supercar deliveries on track or racing events. Contact us for more information about Exotics Racing Group or to schedule your next visit at one of our racetrack: experience@exoticsracing.com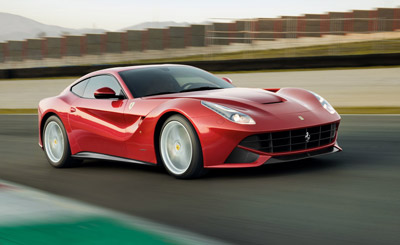 The new Ferrari F12 Berlinetta is now available for bookings in Las Vegas
Exotics Racings newest addition to their fleet the Ferrari F12 Berlinetta is now available for bookings in Las Vegas.
The Ferrari F12 Berlinetta is the most powerful and highest performance front-engine Ferrari ever made. That's quite a statement when considering the long, and legendary, list of front-engine V12 cars to come from Ferrari.
The direct injection, 6.3-liter V12 pumps out 731 horsepower at 8,250 RPM and 509 lb-ft of torque. That's enough to move its 3,586 pound mass to 60 MPH from a standing start in 3.1 seconds. Top speed doesn't come until you're hurtling along at 211 MPH.
Shorter, lower and narrower than its predecessor, the 599 GTB Fiorano, the new F12 Berlinetta is more than a design success, it's a performance virtuoso and that is no accident. At 20 percent more torsionally rigid than its predecessor, the major focus in structural design is placing the major masses in the best locations. This improves the chassis' dynamic behavior at speed, in corners and under braking; no easy feat. The engine is lower in the chassis, netting a lower center of gravity. A new rear suspension / gearbox unit enables a smaller rear end. Weight distribution is therefore optimized for a slight rear weight bias, at 46 percent front / 54 percent rear.
The F12 Berlinetta also uses innovative materials and technologies new to the automotive industry. A spaceframe chassis and bodyshell employs more than twelve alloys to shave off 154 pounds when compared to the 599 GTB Fiorano.
Front-engine sports cars are often regarded as long-distance grand tourers suitable for a gentleman in his tuxedo and a lady in her stilettos. While this is no less true of the F12, it is also no less true that this car loves the racetrack, so much so that a tux can easily be traded for a nomex driver suit, the stilettos for thin-soled driving shoes and nothing else about the car need change.
Luigi Chinetti, Piero Taruffi, Olivier Gendebien and Phil Hill all piloted front-engine V12 Ferraris around a racetrack. Add your name to the list.
Pre-book your experience inside the Ferrari F12 Berlinetta today at Exoticsracing.com
{{sharing}}
OTHER NEWS