Stay updated with news, favorite photos, and terrific videos about our Supercar Driving Experiences in Las Vegas. Exotics Racing have been featured in some of the most prestigious publications and automotive websites including Road & Track, Car and Driver, DuPont Registry, Racer Magazine, Popular Mechanics, LA Times, US Today, Hollywood Reporter, Vegas Magazine, Luxury Magazine, Robb Report, and Autoweek just to name a few. Our Communication and PR team is dedicated to provide every media with information about our activity such as new supercar deliveries on track or racing events. Contact us for more information about Exotics Racing Group or to schedule your next visit at one of our racetrack: experience@exoticsracing.com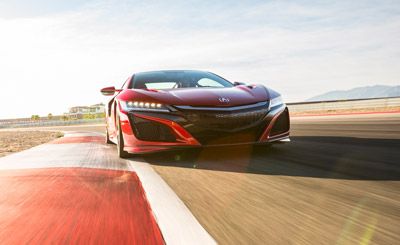 Drive the all new Acura NSX at Exotics Racing in Las Vegas
Drive the all new Acura NSX at Exotics Racing in Las Vegas
We are proud to welcome the incredible Acura NSX to our supercar fleet. The only place to drive it on track in Las Vegas is at Exotics Racing starting December 19th. It's back. After more than 10 years since the first generation, the Acura NSX has returned with all new, state-of-the-art supercar technology – and performance. That Acura chose to release the road car and a GT3 racecar version at the same time is an enormous statement of intent and confidence in the new NSX platform.
With hybrid electric power to all four wheels upping the twin-turbo V6 to 573 total horsepower, the new NSX leaps to 60 MPH in just 2.7 seconds, and keeps going to a 191 MPH top speed. Managing all that power is a 9-speed, dual clutch gearbox with steering wheel-mounted paddles that changes gears seamlessly and with amazing swiftness.
The styling is beautiful to behold and in this car, beauty is more than skin-deep. The NSX's designers thought about how the design affects the driving experience. Small, but important details include the front wheel arches that are visible from the driver seat in the same way the front wheels are visible to a Formula 1 driver. As a result, the corner apex's are easily aligned with the inside front tire. The slender A-pillars offer a near wrap-around view from the cockpit. In fact, Acura states that there was one unassailable design rule; every aspect of the car must serve a purpose. So while NSX aesthetics are unmistakable, they're not simply a matter of allure. Every character line, body panel, shape and crease; every air flow intake and outlet; every proportion and ratio is optimized to support its dynamic performance.
With the bulk of its weight near the middle, the NSX displays neutral balance through the apex. Then, thanks to, "torque vectoring," you can feed the power confidently from apex all the way to corner exit with a touch of oversteer before its mind-bending acceleration takes over. When the next corner arrives, braking is a matter of pressing hard on the pedal and letting the systems dial in the fine modulation for you. As a result, you can shorten the brake zone by a few a precious yards. Other cars may be more wild and raucous, but the NSX wasn't made to be loud. It was made to achieve automotive perfection, and let you find driving perfection.
The Acura NSX is back and you can pre-book it now at Exoticsracing.com
{{sharing}}
OTHER NEWS