Stay updated with news, favorite photos, and terrific videos about our Supercar Driving Experiences in Las Vegas. Exotics Racing have been featured in some of the most prestigious publications and automotive websites including Road & Track, Car and Driver, DuPont Registry, Racer Magazine, Popular Mechanics, LA Times, US Today, Hollywood Reporter, Vegas Magazine, Luxury Magazine, Robb Report, and Autoweek just to name a few. Our Communication and PR team is dedicated to provide every media with information about our activity such as new supercar deliveries on track or racing events. Contact us for more information about Exotics Racing Group or to schedule your next visit at one of our racetrack: experience@exoticsracing.com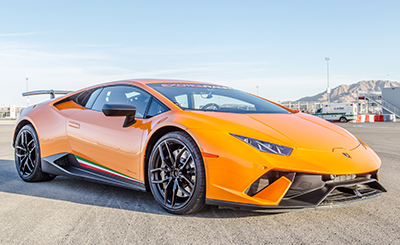 Drive the all new Lamborghini Huracan Performante at Exotics Racing in Las Vegas
DRIVE THE ALL NEW LAMBORGHINI HURACAN PERFORMANTE AT EXOTICS RACING IN LAS VEGAS
Lamborghini has never been a company to hold back. Why stop at the mightily fast Huracán when they could go one better with the Huracán Performante?

As the name implies, this Huracán is about performance, meaning that everything has been lightened, strengthened and spooled up. This makes the Performante the track version of the standard Huracán or the road-going version of the Huracán Super Trofeo. Either way, it makes for the quickest, most nimble and enthralling Huracán to date. To back up this claim, the Huracán Performante broke the lap record for a production car on the Nürburging's Nordscheife circuit in March of 2017.
So now the car is more aero, stiffer and lighter. Why stop there? Benefitting from all of Lamborghini's GT3 motorsports experience, the normally aspirated, 5.0 liter V10 engine has been improved from the crankcase to the heads. Fluid dynamics have optimized both the intake and exhaust to improve responsiveness across the rev and torque range. The result is 640 horsepower at 8,000 RPM that enables a 0-62 MPH time in a neck-stretching 2.9 seconds. In six more seconds, your speed has doubled to 124 MPH. This also makes the Huracán Performante the most powerful Lamborghini ever made.

So how does all of that translate to the driving experience on an Exotics Racing track? Well much of the magic resides in front/rear weight bias that only just weights the back end, which when coupled with the mechanical self-locking rear diff means that you can use all that power and all four wheels to downshift and brake deep into the apex, and then squeeze the power to rotate the rear end for a delicious four-wheel drift corner exit. As soon as that rear diff locks, the front wheels bite to straighten the car out and launch you down the next straight.
{{sharing}}
OTHER NEWS