Stay updated with news, favorite photos, and terrific videos about our Supercar Driving Experiences in Las Vegas. Exotics Racing have been featured in some of the most prestigious publications and automotive websites including Road & Track, Car and Driver, DuPont Registry, Racer Magazine, Popular Mechanics, LA Times, US Today, Hollywood Reporter, Vegas Magazine, Luxury Magazine, Robb Report, and Autoweek just to name a few. Our Communication and PR team is dedicated to provide every media with information about our activity such as new supercar deliveries on track or racing events. Contact us for more information about Exotics Racing Group or to schedule your next visit at one of our racetrack: experience@exoticsracing.com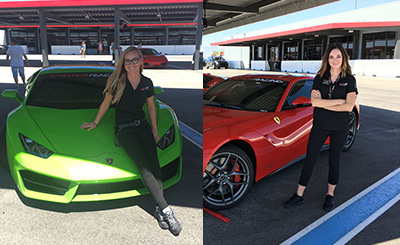 Exotics Racing welcomes its newest racing instructors to Las Vegas
EXOTICS RACING WELCOMES ITS NEWEST RACING INSTRUCTORS TO LAS VEGAS
Welcome Ashley and Bree to our Racing Instructor Team! We are very excited to have them both teaching our customers how to best drive supercars on our racetrack. Both girls have tremendous backgrounds in racing; Ashley races the Lamborghini Super Tropheo Series and Ashley is an intense motorcycle racer, they are a great addition to our fantastic team of experts. Make sure you meet them when you visit Exotics Racing in Las Vegas, they might reveal you some precious tips on how to become faster on track!
Ashley – Lamborghini racer
Ashley Freiberg is 25 years old and is currently racing in the Lamborghini Super Trofeo series. "So far this season I have scored 5 top 3 finishes in Super Trofeo out of 6 races, and am also the first woman globally to finish on the podium in Super Trofeo.My goal with students here is to number one make sure they are having fun! Driving is my passion and I love to see the smiles on everyone's faces just like I get when I'm behind the wheel. I also want to make sure they leave here with new skills to not only apply to the track, but also to the road like how important eye usage is and looking ahead." My favorite car: Lamborghini Aventador - I want to own one someday!
Bree – Two wheels racer
"I was given the chance to come to Exotics Racing after meeting some of the guys through motorcycle riding. I've been riding motorcycles on track for years, and I'm really excited that my love for two wheels is expanding to four now!My main focus with my students -second to safety- is that they have a great time getting a firsthand experience on what these amazing supercars are capable of. I want them to gain confidence in their chosen car, in me as their driving instructor, and in themselves as the driver. When they get out smiling, I take it as a job well done!"My favorite car: Porsche 991 Turbo - the power combined with the all-wheel drive is incredible on our racetrack.
{{sharing}}
OTHER NEWS