Stay updated with news, favorite photos, and terrific videos about our Supercar Driving Experiences in Las Vegas. Exotics Racing have been featured in some of the most prestigious publications and automotive websites including Road & Track, Car and Driver, DuPont Registry, Racer Magazine, Popular Mechanics, LA Times, US Today, Hollywood Reporter, Vegas Magazine, Luxury Magazine, Robb Report, and Autoweek just to name a few. Our Communication and PR team is dedicated to provide every media with information about our activity such as new supercar deliveries on track or racing events. Contact us for more information about Exotics Racing Group or to schedule your next visit at one of our racetrack: experience@exoticsracing.com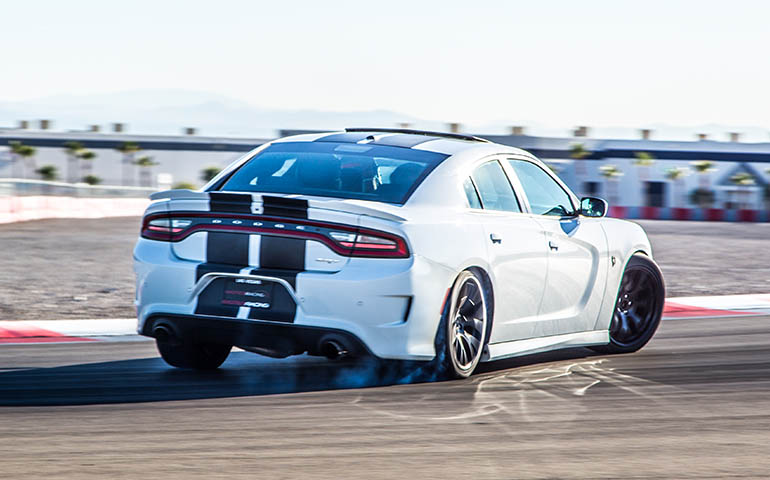 New Drifting Ride-Along Dodge Charger SRT Hellcat
NEW DRIFTING RIDE-ALONG DODGE CHARGER SRT HELLCAT
How do you take up to three passengers for a sideways drifting, tire-smoking extravaganza of a thrill ride? Buckle them into a Dodge Charger SRT Hellcat. Why this car? To start, it's a four door sedan, so the two backseat passenger can get in with ease. More importantly, the Charger SRT Hellcat pumps out a whopping 707 horsepower and 650 lb-ft of torque.

When afour door sedan with rear wheel drive puts out that much power and torque, it induces enough tail-wagging to match a dog with a bone. In the hands of a pro Exotics Racing driver, the Dodge SRT Hellcat is a power-sliding phenomenon. Just remember that if you want to look at where you're going, you'll need to use the side windows!
Up to 3 passengers (available for kids from 11 years old, 4'9" tall and 80 pounds min)
$99 / 2 laps for 1 passenger, $149 for 2, $199 for 3 passengers.
{{sharing}}
OTHER NEWS