Stay updated with news, favorite photos, and terrific videos about our Supercar Driving Experiences in Las Vegas. Exotics Racing have been featured in some of the most prestigious publications and automotive websites including Road & Track, Car and Driver, DuPont Registry, Racer Magazine, Popular Mechanics, LA Times, US Today, Hollywood Reporter, Vegas Magazine, Luxury Magazine, Robb Report, and Autoweek just to name a few. Our Communication and PR team is dedicated to provide every media with information about our activity such as new supercar deliveries on track or racing events. Contact us for more information about Exotics Racing Group or to schedule your next visit at one of our racetrack: experience@exoticsracing.com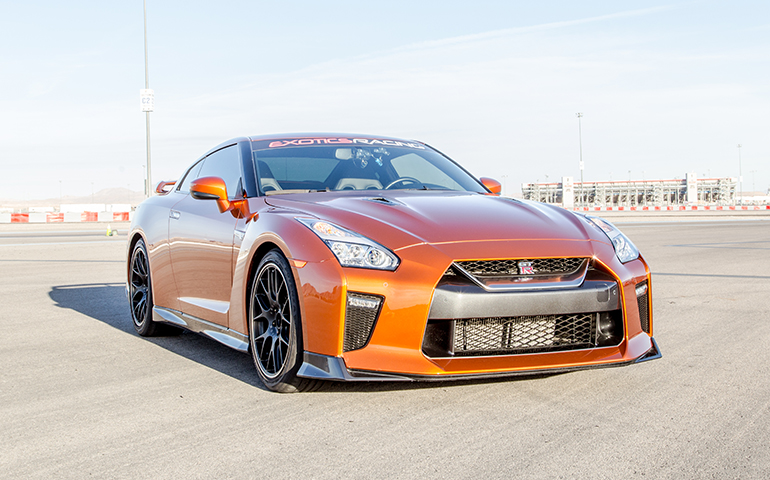 The 2017 Nissan GT-R Premium is now available for bookings in Las Vegas
THE 2017 NISSAN GT-R PREMIUM IS NOW AVAILABLE FOR BOOKINGS IN LAS VEGAS
Since Nissan first announced the GT-R in 2007, the car that turned the supercar world on its head has been carefully evolved and tuned, and now in 2017 comes the third evolution. The basic spec hasn't changed radically since it was launched. The 2+2 coupe configuration remains as does the 4.8-liter, twin-turbo, 24-valve V6. Every engine is assembled start-to-finish by the hand of one master technician in a clean room. The aluminum cylinder block features high endurance / low friction plasma sprayed bores through which aluminum pistons cycle to a maximum crank speed of 7,100 RPM. As a result, you get 565 horsepower at 6,800 RPM and 467 lb-ft of torque from 3,330 to 5,800 RPM through the fly-by-wire throttle beneath your right foot.

Evidence of Nissan's incremental improvement is seen in the horsepower and torque increases since its debut. In 2009, the numbers were 480 and 430 respectively. From a standing start the car accelerated to 60 mph in 3.5 seconds in 2009. Today, it needs only 2.9 seconds. Drive still goes through an all-wheel drive system with an independent, rear-mounted transaxle and differential. Control comes through a dual-clutch 6-speed sequential gearbox with three drive modes, normal, save and R-Mode for maximum performance.
From behind the wheel, the Nissan GT-R ticks all the right boxes. The engine sits mostly behind the front axle line and the gearbox mostly in front of the rear axle. They are connected by a carbon-fiber prop-shaft. Moreover, the chassis is made up of front and rear subassemblies that are assembled in high-precision jigs with six mounting points. So, it may be a front engine coupe, but it feels more like a mid-engine GT.

On track, the dual intake, low-back pressure exhaust system plays a delicious harmony and when in R-Mode, the gearbox is able to pre-select the next gear to produce lightning fast upshifts that urge you to drive harder from corner to corner. Thanks to its construction, the Nissan GT-R retuned suspension offers plenty of mechanical grip from turn-in to mid-corner. Squeeze the power at the apex and the rear will slide with tire squealing delight, yet always in control. This car barks, but never bites. The new Nissan GT-R Premium edition is a driver's delight that deserves your attention.
{{sharing}}
OTHER NEWS