Stay updated with news, favorite photos, and terrific videos about our Supercar Driving Experiences in Las Vegas. Exotics Racing have been featured in some of the most prestigious publications and automotive websites including Road & Track, Car and Driver, DuPont Registry, Racer Magazine, Popular Mechanics, LA Times, US Today, Hollywood Reporter, Vegas Magazine, Luxury Magazine, Robb Report, and Autoweek just to name a few. Our Communication and PR team is dedicated to provide every media with information about our activity such as new supercar deliveries on track or racing events. Contact us for more information about Exotics Racing Group or to schedule your next visit at one of our racetrack: experience@exoticsracing.com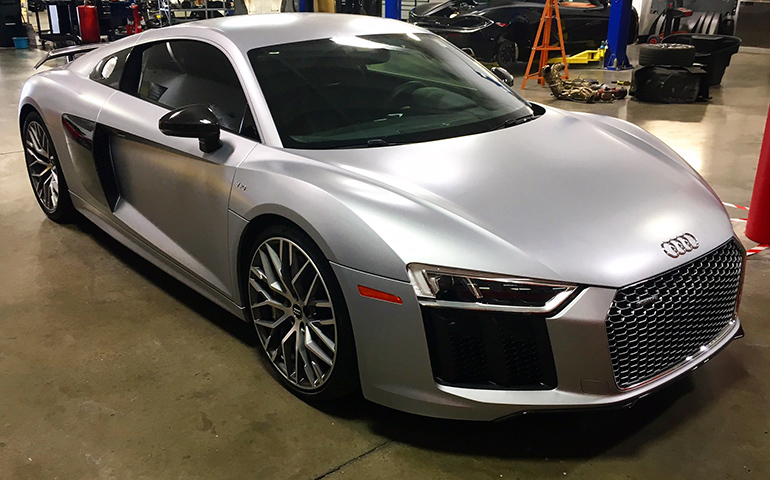 The Audi R8 V10 Plus is the latest supercar to join the Exotics Racing line-up.
THE AUDI R8 V10 PLUS IS THE LATEST SUPERCAR TO JOIN THE EXOTICS RACING LINE UP
Full of racing technology, Audi has produced a car that's as comfortable on the track as it is on the road. That means you won't have a problem getting up to speed quickly and confidently. But, don't let all that cool precision and technology fool you into thinking that the Audi R8 V10 Plus doesn't like to cut loose and have fun. Quite the opposite, it was built for it.

While other supercars shout with their look-at-me designs, the R8's style is beautiful in its minimalism. Such is the knowledge of aero and chassis dynamics gleaned from thousands of laps at Le Mans that the R8 needs little more than its sleek shape to grip the track. Beneath the subtle exterior lies an abundance of technology that enables the R8 to leap from a standing start to 60 MPH in just 3.2 seconds, corner with the agility of a humming bird and continue up to a top speed of 205 MPH. Because this car shares almost half of its parts with its racecar sibling, the R8 GT3 LMS, it's completely at home on a racetrack where it can really exploit all the engineering within.
As its full name implies, the R8 has a 5.2-liter V10 FSI engine that pumps out 610 horsepower at 8,250 RPM along with 413 ft-lb of torque at 6,500 revs. The R8 channels power to four wheels through its famed quattro® all-wheel drive system while the driver keeps it all under control via a paddle actuated 7-speed S-tronic dual clutch gearbox. At the end of the straights, carbon-ceramic brakes enable you to hang onto the throttle a bit longer and still control the speed before turn in.

In the corners, magnetically charged dampers further keep the car planted by making thousands of adjustments per second to control body roll and grip. At turn in, the Audi R8 V10 Plus grips at the front through mid-corner with a touch of rear wheel drift at the exit that demands only the slightest steering input to correct. Like all great sports cars, the Audi R8 V10 Plus encourages the driver to push harder, rewarding with more confidence-inspiring feedback.
{{sharing}}
OTHER NEWS