DRIFTING RIDE-ALONG EXPERIENCE
The most thrilling ride on a racetrack!
The Drifting Ride-Along experience is truly an adrenaline shot! Exotics Racing's professional drifter will take you as a passenger for the Supercar full-speed drifting experience. Onboard the Dodge Charger SRT Hellcat, you will feel the rush of the 707hp V8 like nowhere else. The ride-along experience will amaze you with skillful racing techniques. This supercar is fully mastered by our expert racing drivers and it shows it on the racetrack! Buckle in for the adrenaline-pumping ride of your life!



Drifting Ride-Along
Dodge Charger SRT Hellcat

204 MPH
707 HP
3.4 S
$65,900
How do you take up to three passengers for a sideways drifting, tire-smoking extravaganza of a thrill ride? Buckle them into a Dodge Charger SRT Hellcat. Why this car? To start, it's a four door sedan, so the two backseat passenger can get in with ease. More importantly, the Charger SRT Hellcat pumps out a whopping 707 horsepower and 650 lb-ft of torque.
SUPERCAR RIDE-ALONG EXPERIENCE
Pick one of three exotic cars below
Exotics Racing's professional drivers will take you as a passenger and show you what a supercar can do on our racetrack. Onboard the Porsche 991 GT3, Ferrari 488 GTB or the Lamborghini Huracan, these ride-along experience will amaze you with skillful racing techniques mastered by our experienced racecar drivers!


Supercar Ride-Along
Lamborghini Huracan

198 MPH
580 HP
3.4 S
$216,000
It's like a time machine. Only faster. For the speed seekers the Lamborghini Huracan together with our racing drivers will have you at the edge of your seat. With 580 horsepower and our expert racing drivers, hold on tight and enjoy the high speed ride.
Supercar Ride-Along
Ferrari 488

205 MPH
660 HP
3.0 S
$330,000
Supercar Ride-Along
Porsche 991 GT3 RS

193 MPH
500 HP
3.4 S
$195,000
One thing is clear already: the 911 GT3 RS ride along is going to change the way you think about Porsches. With outstanding performance and offering excellent manageability, our racing drivers will break through the limits to give the Supercar experience.

RIDER ITINERARY
Our team of racing experts will guide you through the entire experience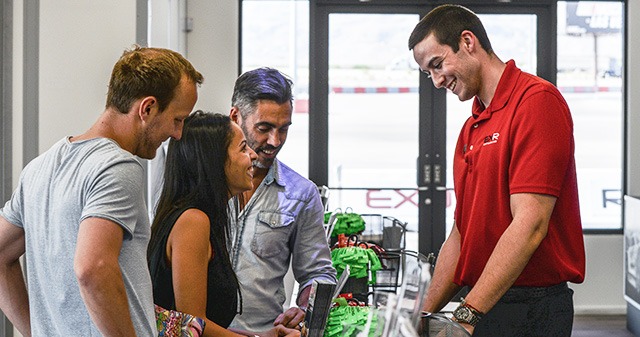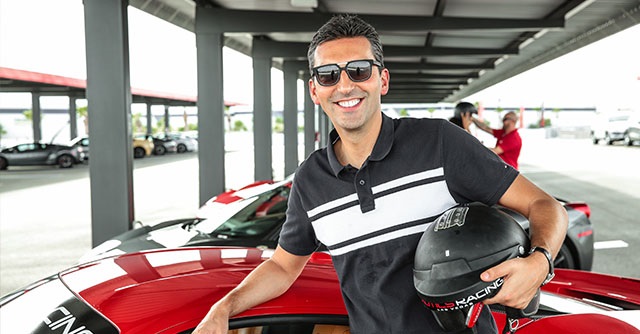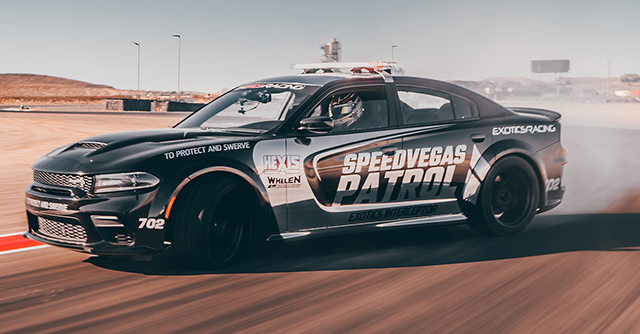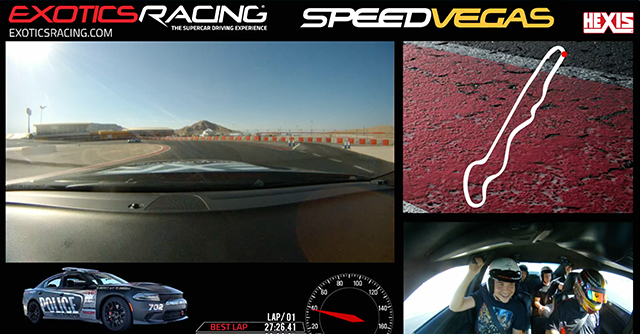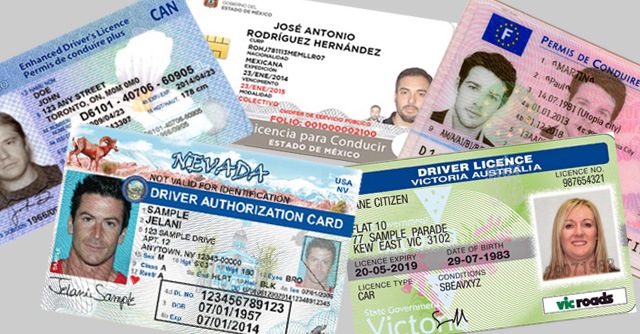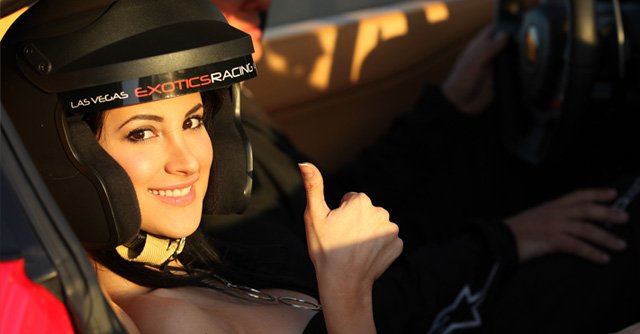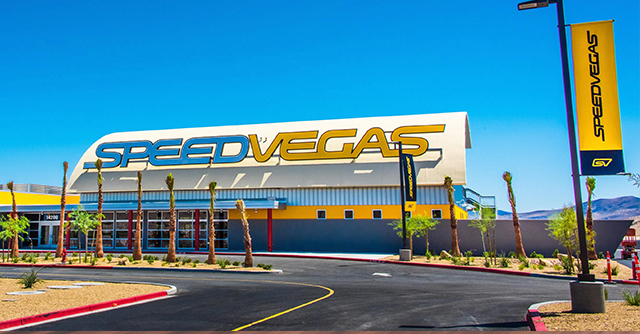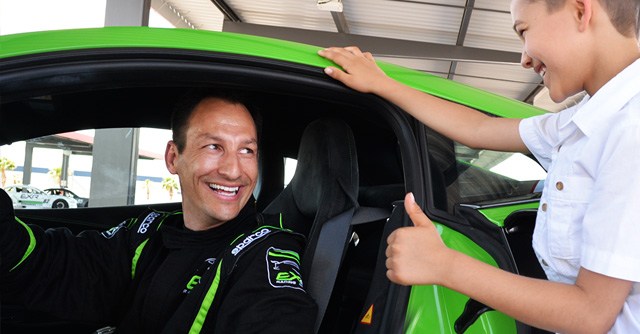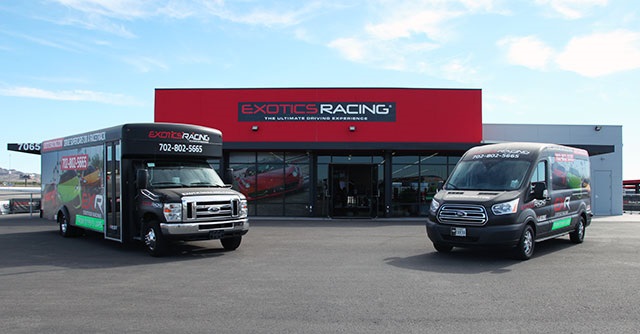 SUPERCAR DRIVING EXPERIENCES
Our Las Vegas location is at SpeedVegas Motorsports Park, just 15 minutes from the world famous Las Vegas Boulevard. Our exclusive 1.3-mile racetrack was designed by professional racing drivers to highlight our supercars performance capabilities. You'll find an example of many turns found on the world's greatest racetracks including hairpins, double apex corners, fast sweepers, chicanes, 90-degree corners and even a banked turns as well as large runoff areas, the latest high-tech safety barriers, and even the only in-ground LED lighting system in the US.
2,000 ft

Main straight away

1.3-mile

track length

7

days open

8

turns

140 mph

top speed

15 min south

Off the las vegas strip
7,393 Reviews
Over 400,000 Happy Customers! We've become a top rated racing attraction in Las Vegas. See what others have to say about their exciting driving experience at Exotics Racing.

November 14, 2012
The entire experience was extremely well managed and professional. 10 laps is the minimum I'd suggest, as it takes at least 5 laps to learn the car and course. My instructor allowed me to push my limits with the car and have a great time and I'm already planning for my next visit. Thanks Exotics Racing!

November 13, 2012
Awesome experience, it is unimaginable go to Vegas and don't go to Exotic cars. Next time in Vegas I'll be back there

November 13, 2012
You can really run these cars hard, while still working on the best lines for the track.

November 13, 2012
As former jet pilot and instructor I can say that Exotics Racing delivers the safest and the best racing experience in the world. If you are looking for adrenaline while driving fancy cars, Exotitcs Racing is the placing you are looking for.
November 11, 2012
Utterly spectacular experience! The instructors taught me many skills I did not have in the past. Since this was my first track experience, they were very patient, and gave me good advice! Well worth the money, if you can afford to drive all the cars and love fast exotic cars, don't hesitate, it'll be the best decision you'll ever make! No regrets on my part!!!!
November 11, 2012
Fantastic experience. The instructors are awesome and the cars are unbelievable. This was easily the highlight of the weekend and I can't wait to get back to Vegas to drive some of the other cars.
November 11, 2012
For me, a real car enthusiast, this was an early 40th birthday present. Getting to scream around a road course at Las Vegas Speedway in $1 million worth of supercars was a once in a lifetime experience. Thank you so much to everyone at Exoticsracing for making this day so fun and unforgettable for me. The polish of this entire experience is outstanding. If you're contemplating this then you're likely an enthusiast like me. So just do it. You won't be disappointed.
November 10, 2012
What an awesome experience.....I would reccommend for anyone going to Vegas to check it out. Once in a lifetime chance for some poeple!!! You will not be sorry!
November 10, 2012
This experience was one of the most fun experiences of my life!! To get to ride some of the fastest cars built on this planet is unforgettable and everyone should experience this at least once!! Best 30th bday present EVER!!
November 10, 2012
This was a amazing experience. Good way to enjoy driving cars with that power.
November 10, 2012
A cracking day out! Still tingling from residual adrenaline. For boys who love seriously grown up toys, this has to be done!!
November 10, 2012
This was an unbelievable experience.
November 10, 2012
awesome experience start to finish. my instructor - paul - was nice, helpful, and just seemed like the kind of guy you would want in the car with you to keep you out of trouble but have the most fun.
November 10, 2012
The day was great. I drove the Audi R8 and had a blast. The setup was good and well organized and the staff was great. The corvette drift laps are well worth the $$. Overall it was a great way to spend the day.
November 10, 2012
Awesome time. Definitely wants to do the driving experience again.
November 9, 2012
if you only dont drink a lot, this is the best experience in Vegas!
November 9, 2012
this was the best experience I have ever had. It makes me wanna do it again and invite all of my friends and family (who are jealous now) to drive any of these awesome cars.

November 8, 2012
I strongly recommend Exotics Racing to anyone interested in experiencing these awesome sports cars in a fun and safe environment. The staff is superb and totally focused on making your day turn out perfect. The cars are in perfect shape and it's an out-of-this-world feeling to get to drive them as hard as you can, pedal to the metal, around a track. You even get to pass other cars to the sound of a howling V8. The price is totally worth it when you consider how special these cars are, the personalized attention you get on and off the track, and the friendliness of the staff. Highly recommended!

November 8, 2012
I was extremely concerned about the slower drives on the course and the impant to my experience. I passed two during my laps, but it does take away from the experience. I am paying (or in my case got a gift) a good chunk of money to enjoy your product, and having it impacted by another is somewhat difficult to swallow gracefully. I would suggest that you allow your pro's to know the minimum purchase of the number of laps and allow them to make the judgement as to when the time for completion is truly at an end. If someone gets let down by a slow driver, or several kick in that extra lap. Just an idea. Again, I was thrilled and it was intense for me. I was shocked when my 6 laps were up it went so fast, but then again, I was going pretty damn fast too.

November 7, 2012
Thank you so much for providing this experience. It was great fun and I would not hesitate to recommend it to all.

November 7, 2012
A fantastic experience! The selection of cars was amazing, the staff was extremely knowledgeable and helpful, ensuring I got the most of out the experience. a absolute must for any Vegas trip!

November 7, 2012

November 6, 2012
Ask for Scott. He is a great instructor.

November 6, 2012
What a blast. A worth while- safe driving experience-Instructors where Calm controlled and informative-awesome.

November 6, 2012
Exotic Racing makes for the experience of driving fast, super exotic cars accessible and most importantly of all, safe! The organization is professionally organized and extremely friendly! I highly recommend paying them a visit for an experience of a lifetime!