Stay updated with news, favorite photos, and terrific videos about our Supercar Driving Experiences in Las Vegas. Exotics Racing have been featured in some of the most prestigious publications and automotive websites including Road & Track, Car and Driver, DuPont Registry, Racer Magazine, Popular Mechanics, LA Times, US Today, Hollywood Reporter, Vegas Magazine, Luxury Magazine, Robb Report, and Autoweek just to name a few. Our Communication and PR team is dedicated to provide every media with information about our activity such as new supercar deliveries on track or racing events. Contact us for more information about Exotics Racing Group or to schedule your next visit at one of our racetrack: experience@exoticsracing.com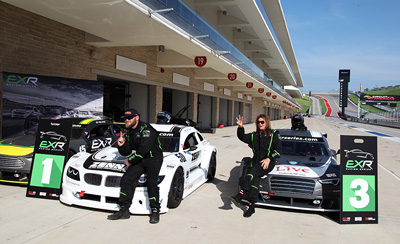 Burt and Caitlyn Jenner race together in the EXR Racing Series
Burt and Caitlyn Jenner on podium at COTA
(Burt and Caitlyn Jenner after their first EXR Racing Series race at COTA)
The EXR Racing Series began a new era in arrive and drive racing at Circuit of The Americas in Austin, Texas on April 29 through May 1, 2016. Using our LV02, tube frame race cars, 10 drivers participated in two separate, 10-lap sprint races. The field included celebrity driver Caitlyn Jenner and son Burt Jenner. Both came with a strong background in racing. Most recently Burt Jenner has driven in the Stadium Super Truck series and Caitlyn Jenner raced in the IMSA GT Championship series during 80s and 90s. Suffice it to say, we expected a lot from them and they both delivered.
Race one on Saturday saw Burt Jenner win after starting in first position, falling back, and fighting back to first. Making the win even more special was the fact the Caitlyn Jenner also made the podium, taking third and joining Burt in the winners circle. Race two on Sunday was similar; however, Romain Thievin won after battling Burt then entire race. Burt Jenner took second and Caitlyn fought her way to third once again. In between on races, both drivers had access to premium trackside hospitality complete with DJ, not bad.
Before racing with us at COTA in the EXR Racing Series, Caitlyn Jenner visited Exotics Racing in Las Vegas to drive our new Porsche GT3. She was interested in test driving it while she wanted to take delivery of her Porsche GT3 RS (we are a bit jealous). Caitlyn tore up the track in our GT3, our first indication that she was a serious track day driver.
(Caitlyn Jenner leading the field through the s-curves at Circuit of The Americas)
(Burt Jenner racing his EXR LV02 at Circuit of The Americas)
(Caitlyn Jenner before taking our blue Porsche GT3 out for some fun on track)
{{sharing}}
OTHER NEWS