Stay updated with news, favorite photos, and terrific videos about our Supercar Driving Experiences in Las Vegas. Exotics Racing have been featured in some of the most prestigious publications and automotive websites including Road & Track, Car and Driver, DuPont Registry, Racer Magazine, Popular Mechanics, LA Times, US Today, Hollywood Reporter, Vegas Magazine, Luxury Magazine, Robb Report, and Autoweek just to name a few. Our Communication and PR team is dedicated to provide every media with information about our activity such as new supercar deliveries on track or racing events. Contact us for more information about Exotics Racing Group or to schedule your next visit at one of our racetrack: experience@exoticsracing.com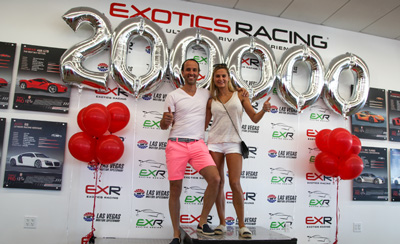 Exotics Racing celebrates 200,000 customers served
Exotics Racing celebrates 200,000 customers served
(Bastien and Lucie were the 200,000 and 200,001 guests served, congratulations!)
We hit an important milestone this week, warmly receiving our 200,000th customer since opening in 2009. We are the original driving experience in Las Vegas, with over 60 supercars and 179 employees our operation is more than an attraction, it's become a staple for those traveling to Las Vegas or Los Angeles.
"We call this place a smile factory," said series co-founder Romain Thievin. "We founded our business on a passion for cars and driving and to know that we've already helped 200,000 people to realize their dreams is a great feeling."
Co-founded by racing driver Thievin and investment banker David Perisset in 2009, and inspired by their racing school model from France, the company has undergone tremendous growth. It now serves more than 45,000 customers annually at two locations: a newly expanded Las Vegas facility that has recently undergone a multi-million dollar new construction, as well as its new Los Angeles-area location at Auto Club Speedway.
Customers have driven more than 2.4 million miles in Exotics Racing vehicles since the company launched in 2009 – that's 96 times around the circumference of the earth.
We provide customers the chance to drive rare exotic cars on our private racetracks, designed to safely show the capabilities of the world's most exclusive vehicles. With the latest models from McLaren, Porsche, Ferrari, Lamborghini and more, the Exotics Racing supercar driving experience has the largest fleet of its kind in the world. The combined purchase price of the 60 supercars in the Exotics Racing fleet is $9.3 million.
"We're incredibly proud to announce this milestone," said Perisset who, like Thievin, originally hails from France and now lives in Las Vegas. "Building this business in the United States has been a great adventure so far and we're grateful to the partners, community and customers who have helped us make it happen. We look forward to continued growth and expansion in the years to come."
{{sharing}}
OTHER NEWS