Stay updated with news, favorite photos, and terrific videos about our Supercar Driving Experiences in Las Vegas. Exotics Racing have been featured in some of the most prestigious publications and automotive websites including Road & Track, Car and Driver, DuPont Registry, Racer Magazine, Popular Mechanics, LA Times, US Today, Hollywood Reporter, Vegas Magazine, Luxury Magazine, Robb Report, and Autoweek just to name a few. Our Communication and PR team is dedicated to provide every media with information about our activity such as new supercar deliveries on track or racing events. Contact us for more information about Exotics Racing Group or to schedule your next visit at one of our racetrack: experience@exoticsracing.com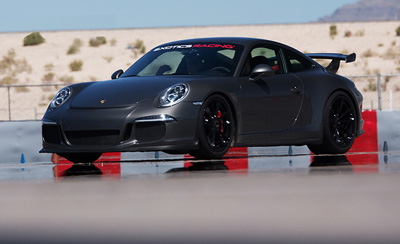 Exotics Racing to introduce a High Performance Driving package
Exotics Racing to introduce a High Performance Driving package
At Exotics Racing we are always looking to provide our guests with the experiences they desire, so we are proud to introduce our High Performance Driving package. Guests who seek more speed and have a desire to learn advanced driving techniques will greatly benefit from this program.
Drivers will have a chance to learn how to maneuver a Porsche GT3 through a technical course that replicates different hazards and challenges one would encounter driving at speed. This program blends aspects of a Hollywood stunt driver with techniques that will make you a better driver on track or the highway.
Our program was developed in our Racing School by professional drivers, Alex Premat and Romain Thievin. Both drivers have extensive experience maneuvering cars at high speeds. Alex racers in V8 Supercars and World Endurance Challenge while Romain is 5 time French National Champion driver who also won a Taurus World Stunt Award for his stunt driving in the Bourne Identity.
{{sharing}}
OTHER NEWS