Stay updated with news, favorite photos, and terrific videos about our Supercar Driving Experiences in Las Vegas. Exotics Racing have been featured in some of the most prestigious publications and automotive websites including Road & Track, Car and Driver, DuPont Registry, Racer Magazine, Popular Mechanics, LA Times, US Today, Hollywood Reporter, Vegas Magazine, Luxury Magazine, Robb Report, and Autoweek just to name a few. Our Communication and PR team is dedicated to provide every media with information about our activity such as new supercar deliveries on track or racing events. Contact us for more information about Exotics Racing Group or to schedule your next visit at one of our racetrack: experience@exoticsracing.com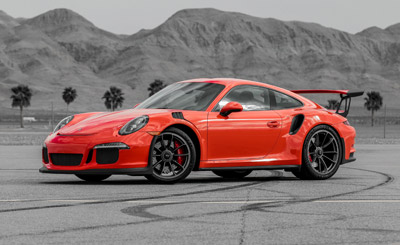 We are excited to announce the arrival of the new Porsche 911 GT3 RS
We are excited to announce the arrival of the new Porsche 911 GT3 RS
Now available for bookings, the GT3 RS is Porsche's most extreme 911. It begs to be driven hard and rewards the driver with exceptional confidence. Driving any Porsche is a special experience, but the new 911 GT3 RS takes it to another level. "We're very pleased to be the only multi-brand supercar driving experience in the U.S. to have the new 911 GT3 RS," says Exotics Racing Co-Founder, David Perisset. For any Porsche fan, this is the ultimate 911, and to drive it on our world-class Las Vegas racetrack is an experience that shouldn't be missed.
The sculpted aerodynamics. The wider body, lower stance and beefy brakes don't even pretend to hide its purity of purpose. The 911 GT3 RS was built to be nothing more than the driver's car.
The 4.0 liter engine in classic 911, flat-six configuration pumps out 500 horsepower and 381 lb.-ft. of torque that will bring you to 60 miles per hour from a standing start in just 3.1 seconds and a top speed of 193 miles per hour.
But Porsche didn't build this car for the numbers. It's all about how it gets there. Porsche's PDK gearbox has been even further refined with gearshifts that take place in milliseconds and with no interruption to the flow of power, providing faster acceleration thanks to a shift throw that is 50% shorter than on previous PDK gearboxes.
Porsche Torque Vectoring Plus (PVT Plus) and Porsche Active Suspension Management (PASM) make sure that all that power is not wasted, but put directly to work in getting the car slicing through corners and launching down the straights. If that sounds like the car is nannying you, don't be fooled. These systems are there solely to deliver the most precise and dynamic driving experience possible.
Great drivers know the secret to a fast lap is in the brakes. Used to perfection they can slow the car just enough and induce the polar rotation necessary to get a car into a corner with a minimum loss of momentum. For the 911 GT3 RS, Porsche fitted six-piston front and four-piston rear calipers that have been lightened to reduce unsprung weight. Fitted within each caliper are Porsche Ceramic Composite Brakes featuring cross-drilled, vented rotors that dissipate heat with extreme efficiency to eliminate fade even under the hardest braking circumstances.
This is a car that feels alive and let's you know it, yet it never feels strained, even at the limit. That makes the new Porsche 911 GT3 RS a true driver's car that encourages you to perform at your very best, and will reward you for it when you do.
{{sharing}}
OTHER NEWS