Stay updated with news, favorite photos, and terrific videos about our Supercar Driving Experiences in Las Vegas. Exotics Racing have been featured in some of the most prestigious publications and automotive websites including Road & Track, Car and Driver, DuPont Registry, Racer Magazine, Popular Mechanics, LA Times, US Today, Hollywood Reporter, Vegas Magazine, Luxury Magazine, Robb Report, and Autoweek just to name a few. Our Communication and PR team is dedicated to provide every media with information about our activity such as new supercar deliveries on track or racing events. Contact us for more information about Exotics Racing Group or to schedule your next visit at one of our racetrack: experience@exoticsracing.com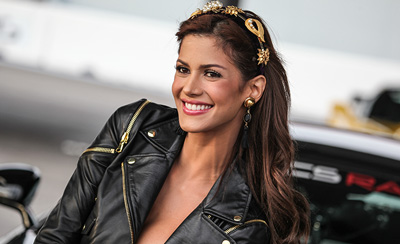 Miss Universe 2015 at Exotics Racing Las Vegas
Miss Universe 2015 at Exotics Racing Las Vegas
(Miss Universe 2015, Paulina Vega, Miss France 2009, Chloe Mortaud, Exotics Racing owners Romain Thievin & David Perisset)
The 2015 Miss Universe contestants came to Exotics Racing at the Las Vegas Motor Speedway to get a feel for the original driving experience in Las Vegas. With only a couple days away from MISS UNIVERSE® 2015, the contestants had the chance to have some fun and "relax" in our exotic cars before starting rehearsals for the show.
The ladies enjoyed riding along in Audi, Ferrari, Porsche and Lamborghini with an Exotics Racing professional driver at the controls darting through each turn of the 1.2-mile racetrack at 120 mph. "This was the best experience ever" smiled Miss Universe France Flora Coquerel.
Confidently Beautiful
This is the first visit of the Miss Universe at Exotics Racing, but not the first time the company has hosted former title. "I will definitely come back again" added Miss Universe Montenegro Maja Cukic.
Miss Nevada 2011, Sarah Chapman, Miss France 2010 Malika Menard and Miss France 2013 Marine Lorphelin all had the chance to drive exotics cars at the driving center.
(Miss Universe Venezuela 2015)
{{sharing}}
OTHER NEWS