Stay updated with news, favorite photos, and terrific videos about our Supercar Driving Experiences in Las Vegas. Exotics Racing have been featured in some of the most prestigious publications and automotive websites including Road & Track, Car and Driver, DuPont Registry, Racer Magazine, Popular Mechanics, LA Times, US Today, Hollywood Reporter, Vegas Magazine, Luxury Magazine, Robb Report, and Autoweek just to name a few. Our Communication and PR team is dedicated to provide every media with information about our activity such as new supercar deliveries on track or racing events. Contact us for more information about Exotics Racing Group or to schedule your next visit at one of our racetrack: experience@exoticsracing.com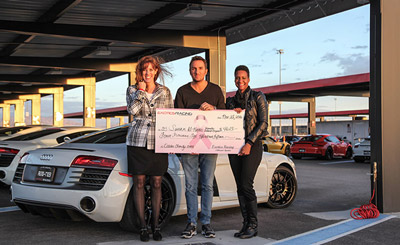 Racing for Breast Cancer Awareness
Racing for Breast Cancer Awareness
Exotics Racing is proud to announce that on November 28th a donation of $4,615.00 was presented to the Susan G. Komen Foundation. The check represents the amount raised during the month of October, where Exotics Racing donated a percentage of sales from every driving or ride-along experience booked online and all the proceeds from the pink ribbon lanyards sold on track. In addition, EXR placed pink ribbons on all of their vehicles to show support and raise awareness. "We would like to thank everyone that booked their experience online and helped us reach our goal to raise awareness for breast cancer in hopes to beat this terrible disease." Says Exotics Racing Co-Founder David Perisset.
Driving Experiences put participants of any skill level behind the wheel of some of the world's fastest and most desirable cars to drive around Exotics Racing's state-of-the-art racetracks. Available cars include the 660 horsepower Ferrari 488 GTB, the 700 horsepower Lamborghini Aventador and so many others from Aston Martin, Porsche, McLaren and more. Driving Experiences start at $199.
The Susan G. Komen Foundation works to raise awareness and improve access to routine mammograms as well as other treatments to reduce the number of late-stage diagnosis. Their efforts, which include local and national cultural outreach, have helped to lessen the burden of breast cancer treatment for afflicted women and their families. "We are so pleased to be working with the Susan G. Komen Foundation of Nevada and California," says Exotics Racing Co-Founder Romain Thievin.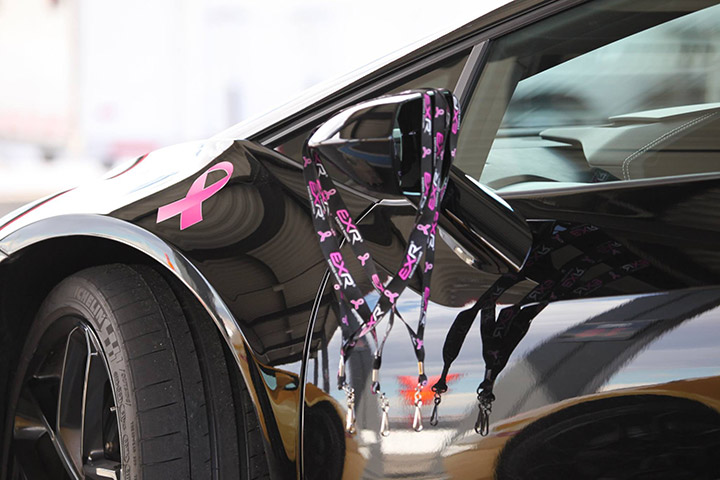 {{sharing}}
OTHER NEWS