Stay updated with news, favorite photos, and terrific videos about our Supercar Driving Experiences in Las Vegas. Exotics Racing have been featured in some of the most prestigious publications and automotive websites including Road & Track, Car and Driver, DuPont Registry, Racer Magazine, Popular Mechanics, LA Times, US Today, Hollywood Reporter, Vegas Magazine, Luxury Magazine, Robb Report, and Autoweek just to name a few. Our Communication and PR team is dedicated to provide every media with information about our activity such as new supercar deliveries on track or racing events. Contact us for more information about Exotics Racing Group or to schedule your next visit at one of our racetrack: experience@exoticsracing.com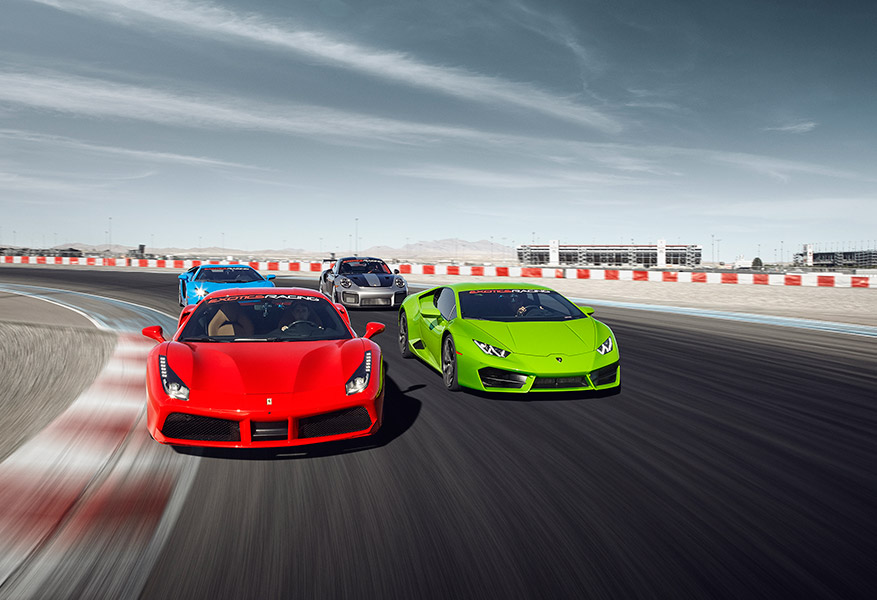 10 Year Anniversary
Co-founders Romain Thievin and David Perisset began their business endeavor in 2005 by creating the world's first supercar and stunt experience, CascadEvents in France, before launching Exotics Racing in the United States in 2009. They opened their doors in Las Vegas on November 21, 2009 with only a handful of employees and 6 vehicles. It was the very first operation of its kind, allowing all types of drivers the opportunity to get behind the wheel of the coolest cars on the planet! Among their original supercar fleet were 2 Ferrari F430's, 1 Lamborghini Gallardo, 1 Corvette Z06, 1 Aston Martin V8 Vintage and a Porsche 997 Carrera S. The business has since exploded, now boasting more than 60 supercars, custom built racetracks, 150 employees and Vegas Superkarts – the fastest and longest go-kart track in Las Vegas.
Although Exotics Racing has experienced remarkable growth and success over the years, the company remains unwavering in their commitment to provide exceptional experiences to all. David Perisset, co-founder of Exotics Racing says: "I remember one of our first customers was a young man from Brooklyn, New York. He mentioned how his dream was to drive a Ferrari. He had limited financial resources but had saved for a long time to be able to afford it. When it was his turn to drive, we could not find him. We later found him crying behind the building because the thought of accomplishing this dream had him very emotional. It was this experience that really made us understand we had something special."
At Exotics Racing, adrenaline junkies have the exclusive opportunity of competing in the Michelin Time Trial Challenge, the world's largest motorsports competition. Hop behind the wheel of these high-performance machines and compare your speediest lap times to those of over 200 celebrities and professional drivers including Jamie Foxx, Zac Efron, Gordon Ramsay, Lebron James, Michelle Rodriguez, Charles Leclerc, Juan Pablo Montoya, Rubens Barrichello, Mario Andretti and Las Vegas local Kyle Bush!
You can find some of the best racing instructors at Exotics Racing who deliver professional one-on-one coaching on track like nowhere else in the world. Among these seasoned experts is Rudy Ibanez, senior drifter and lead instructor. Ibanez drifted competitively in Japan for years before he began working as a stunt coordinator on a few films you may have heard of – Fast & Furious: Tokyo Drift, Iron Man and the Dukes of Hazzard movie! He has given over 165,000 ride-alongs since the opening of Exotics Racing. Talk about a legend!
A quick look at the details:
Since opening in 2009, Exotics Racing has…
Torn through over 20,000 tires
Performed 2,000 oil changes
Used over 650,000 gallons of fuel
Spent $50 million on purchasing supercars
Hosted more than 350,000 satisfied drivers
Driven 3,200,000 laps around the track, equaling about 4,000,000 miles! (that's 160 times the circumference of the earth)
Come race with us today!
OTHER NEWS