Stay updated with news, favorite photos, and terrific videos about our Supercar Driving Experiences in Las Vegas. Exotics Racing have been featured in some of the most prestigious publications and automotive websites including Road & Track, Car and Driver, DuPont Registry, Racer Magazine, Popular Mechanics, LA Times, US Today, Hollywood Reporter, Vegas Magazine, Luxury Magazine, Robb Report, and Autoweek just to name a few. Our Communication and PR team is dedicated to provide every media with information about our activity such as new supercar deliveries on track or racing events. Contact us for more information about Exotics Racing Group or to schedule your next visit at one of our racetrack: experience@exoticsracing.com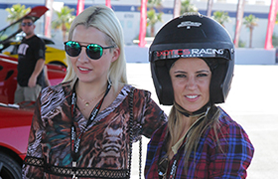 Clara Aguilar and Leticia Bufoni on track in Las Vegas
Superstars Clara Aguilar and Leticia Bufoni AT EXR
Clara Aguilar is not only a successful musician but a TV star too. In 2014 she was a finalist on the popular reality show, Big Brother Brasil. She visits Las Vegas often and always takes time away from the Las Vegas Strip to enjoy some time on our exclusive race track.
Superstars in Supercars
For her 4th visit to Exotics Racing, Clara brought along professional skateboarder Leticia Bufoni. Leticia is a 4x World Cup Skate Female Street Skateboard Champion. Among other distinctions, Leticia has also earned a gold medal 3x at the X Games. However on this day she traded in her skateboard for a Ferrari and showed no fear as she lapped our track.
{{sharing}}
OTHER NEWS