DRIFTING RIDE-ALONG EXPERIENCE
The most thrilling ride on a racetrack!
The Drifting Ride-Along experience is truly an adrenaline shot! Exotics Racing's professional drifter will take you as a passenger for the Supercar full-speed drifting experience. Onboard the Dodge Charger SRT Hellcat, you will feel the rush of the 707hp V8 like nowhere else. The ride-along experience will amaze you with skillful racing techniques. This supercar is fully mastered by our expert racing drivers and it shows it on the racetrack! Buckle in for the adrenaline-pumping ride of your life!



Drifting Ride-Along
Dodge Charger SRT Hellcat

204 MPH
707 HP
3.4 S
$US65 900
How do you take up to three passengers for a sideways drifting, tire-smoking extravaganza of a thrill ride? Buckle them into a Dodge Charger SRT Hellcat. Why this car? To start, it's a four door sedan, so the two backseat passenger can get in with ease. More importantly, the Charger SRT Hellcat pumps out a whopping 707 horsepower and 650 lb-ft of torque.
SUPERCAR RIDE-ALONG EXPERIENCE
Pick one of three exotic cars below
Exotics Racing's professional drivers will take you as a passenger and show you what a supercar can do on our racetrack. Onboard the Porsche 991 GT3, Ferrari 488 GTB or the Lamborghini Huracan, these ride-along experience will amaze you with skillful racing techniques mastered by our experienced racecar drivers!


Supercar Ride-Along
Lamborghini Huracan

198 MPH
580 HP
3.4 S
$US216 000
It's like a time machine. Only faster. For the speed seekers the Lamborghini Huracan together with our racing drivers will have you at the edge of your seat. With 580 horsepower and our expert racing drivers, hold on tight and enjoy the high speed ride.
Supercar Ride-Along
Ferrari 488

205 MPH
660 HP
3.0 S
$US330 000
Supercar Ride-Along
Porsche 991 GT3

198 MPH
500 HP
3.8 S
$US143 000
One thing is clear already: the new 911 GT3 ride along is going to change the way you think about Porsches. With outstanding performance and offering excellent manageability, our racing drivers will break through the limits to give the Supercar experience.
RIDER ITINERARY
Our team of racing experts will guide you through the entire experience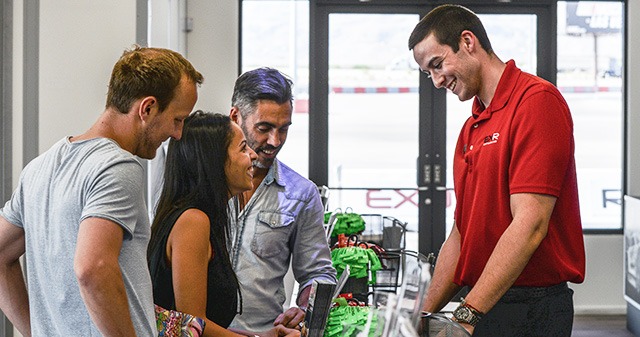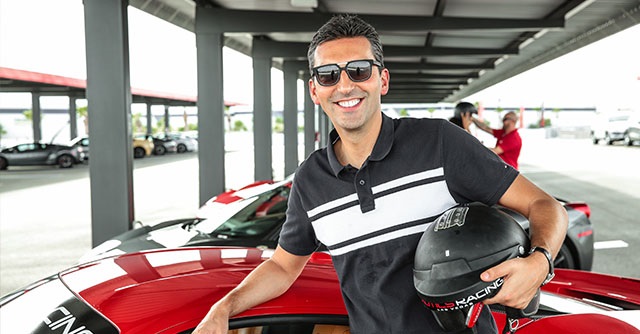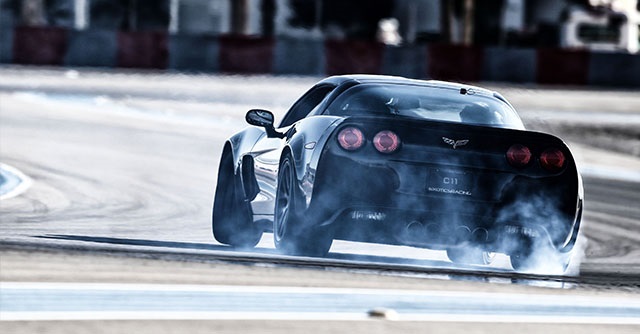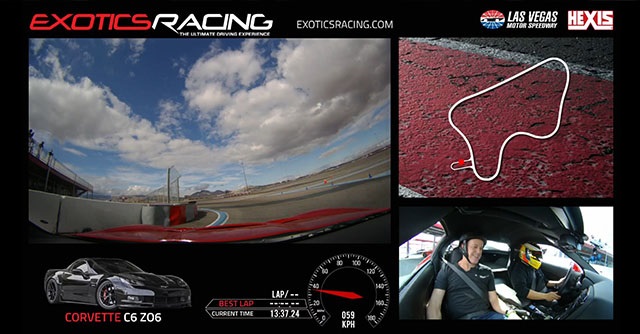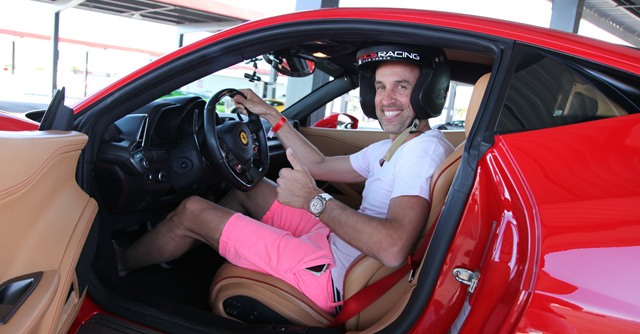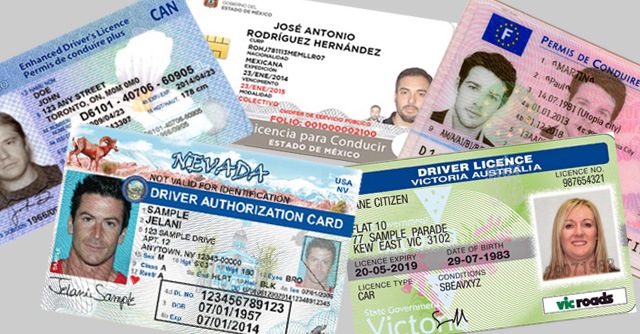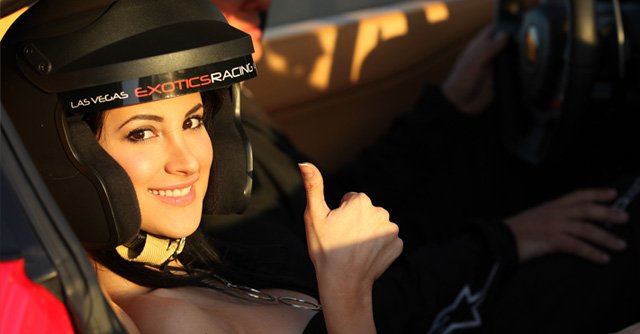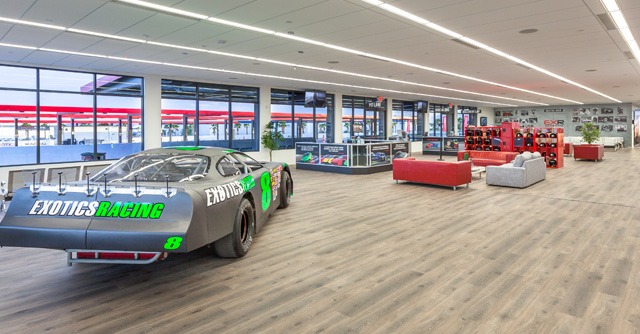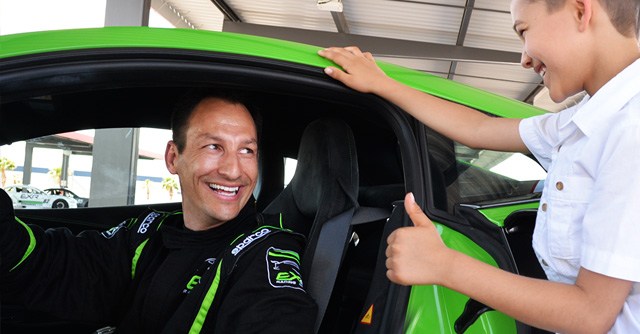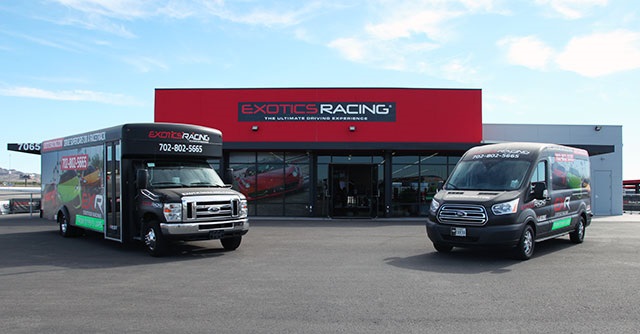 SUPERCAR DRIVING EXPERIENCES
Located on the grounds of the Las Vegas Motor Speedway, our exclusive 1.2-mile racetrack was designed by professional racing drivers to highlight our supercars performance capabilities. You'll find an example of many turns found on the world's greatest racetracks including hairpins, double apex corners, fast sweepers, chicanes, 90-degree corners and even a banked turns as well as large runoff areas, the latest high-tech safety barriers, and even the only in-ground LED lighting system in the US.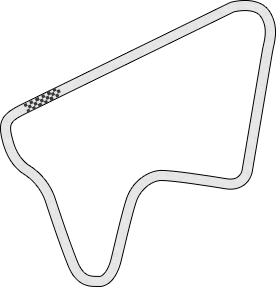 1,800 ft

Main straight away

1.2-mile

track length

7

days open

7

turns

140 mph

top speed

15 min north

Of the las vegas strip
7 584 Reviews
Over 230,000 Happy Customers! We've become a top rated racing attraction in Las Vegas and Los Angeles. See what others have to say about their exciting driving experience at Exotics Racing.

mars 16, 2014
If this isn't on your bucketlist it should be!

mars 16, 2014
The resulting adrenaline rush lasted the rest of the day...

mars 16, 2014
Big frustration was that I have booked a car that was not avaliable. Credit was generated, I used part of it and the rest was refunded to my very quickly.

mars 16, 2014
I can't wait for my next visit. What a fantastic experience. The instructors were great, and they gently, or not-so-gently pushed me out of my comfort zone, which I appreciated. My only problem with the whole experience is that now, I may end up with a ticket driving my own car on the freeway.

mars 15, 2014
Really was shocked that the in-car instructor was actually encouraging you to get the car to "perform". Still felt in control and safe, but while also felt like I got a lot out of the car and experience. It wasn't a watered-down performance racing experience, like at other tracks.

mars 15, 2014
will definetly do again next time in vegas wish i would have ridden with bomack

mars 15, 2014
Put more miles on the track today than my own Ferrari last year!

mars 15, 2014

mars 15, 2014
An awesome experience driving a Ferrari F430. Instructor Chris was great - very helpful and encouraging in the car, even challenging me to go get the car in front of us! Buy as many laps as you can, it's an experience you will never forget.

mars 15, 2014
This is a must when visiting Vegas and driving the cars isn't the best part, the staff and instructors really make this experience second to none. Great atmosphere and they really go out of their way to maximize your driving experience.

mars 14, 2014
Exhilarating! Buying extra laps is well worth the money

mars 14, 2014
Everyone was extremely helpful and friendly we had an awesome time and look forward to driving the Ferraris next time The limo that picked us up was the start to an awesome day. We look forward to driving with you again. Respectfully Brett Fenimore

mars 14, 2014
Absolutely the best thing I've ever done in my life next to the birth of my daughter. This was the best rush I've ever had. I would love to live in Las Vegas just so I could race every weekend! What an experience!

mars 14, 2014
We were in Vegas celebrating out 25th wedding anniversary, and this was a gift for my husband. He had a great time and the video was nicely done. It was a little pricey but worth every penny. He already talks about doing it again. The staff was perfect, very helpful and professional.

mars 13, 2014

mars 13, 2014
I booked this experience as a birthday gift for my husband. We were planning on going to Vegas and this was a perfect surprise for him. I booked online and there were no complications with our registration. It was the best time we had while in Vegas. My husband drove the Corvette Stingray and Ferrari Italia. The instructors he drove with were professional and friendly and did not make him fell nervous (even though he was driving a $300,000 vehicle). I also purchased the on board video; make sure you spend the extra money to do this! The quality of the video is excellent. This birthday gift is going to be hard to top next year...we will have to come back soon!

mars 13, 2014
No guy's week in Vegas is complete without a trip to Exotics. Dave & Jason were great in the classroom, and Kai was fantastic as the ride along instructor. 11/10!

mars 13, 2014
If driving fast cars is on your bucket list, do it now! Take your pick. Fabulous experience. The instructors made it safe and easy.

mars 12, 2014
I am a very happy returning customer, I come every time I'm in Vegas, I will definitely come again and again and already sent a few friends. I love the cars, the track and the staff. Keep up the great work in providing so much fun.

mars 12, 2014
A great time, and very helpful testing out the prospects for my future car.

mars 12, 2014
Bloody awesome, all the fun was over all too soon!

mars 12, 2014
I have 38 years old and I'm from Brasil. I love fast cars! Exotics racing gave me the biggest oportunity of my life with fast cars! I thank you and the 2 instructors, Porsche Cayman and Lamborguini Gallardo for the patience during my laps at 03/12/2014 10 am. My name is Alexandre SouzaVieira. For sure that my next stay in LV we meet us again! Regards.

mars 12, 2014
William Kunz brought my Daughter and me to Exotic's today. We all had a screaming good time and were blown away with all the super cars available for racing. We live in Alaska but will be back as soon as my work time allows. Many thanks EVENS STIEVENHART.

mars 12, 2014
I have raced at Exotic's five time before and I have always wanted to return as soon as possible. This time I brought my Son and my Grandaughter. They were thrilled and were screaming with excitement during their rides. Between the three of us we're rode in eight super cars. Greatest value considering the millions of dollars of cars available for racing. Again a big thank you to EVENS STIEVENART.

mars 12, 2014
This was absolutely one of the best experiences of my life ! I took out the Ferrari F430 Scuderia - awesome car ! The instructions/briefing and in-car coaching were world class, and the whole team were the nicest, most helpful and knowledgeable people imaginable. The facilities were also fantastic ! Incredible experience, very highly recommended !!!