DRIFTING RIDE-ALONG EXPERIENCE
The most thrilling ride on a racetrack!
The Drifting Ride-Along experience is truly an adrenaline shot! Exotics Racing's professional drifter will take you as a passenger for the Supercar full-speed drifting experience. Onboard the Dodge Charger SRT Hellcat, you will feel the rush of the 707hp V8 like nowhere else. The ride-along experience will amaze you with skillful racing techniques. This supercar is fully mastered by our expert racing drivers and it shows it on the racetrack! Buckle in for the adrenaline-pumping ride of your life!



Drifting Ride-Along
Dodge Charger SRT Hellcat

204 MPH
707 HP
3.4 S
$US65 900
How do you take up to three passengers for a sideways drifting, tire-smoking extravaganza of a thrill ride? Buckle them into a Dodge Charger SRT Hellcat. Why this car? To start, it's a four door sedan, so the two backseat passenger can get in with ease. More importantly, the Charger SRT Hellcat pumps out a whopping 707 horsepower and 650 lb-ft of torque.
SUPERCAR RIDE-ALONG EXPERIENCE
Pick one of three exotic cars below
Exotics Racing's professional drivers will take you as a passenger and show you what a supercar can do on our racetrack. Onboard the Porsche 991 GT3, Ferrari 488 GTB or the Lamborghini Huracan, these ride-along experience will amaze you with skillful racing techniques mastered by our experienced racecar drivers!


Supercar Ride-Along
Lamborghini Huracan

198 MPH
580 HP
3.4 S
$US216 000
It's like a time machine. Only faster. For the speed seekers the Lamborghini Huracan together with our racing drivers will have you at the edge of your seat. With 580 horsepower and our expert racing drivers, hold on tight and enjoy the high speed ride.
Supercar Ride-Along
Ferrari 488

205 MPH
660 HP
3.0 S
$US330 000
Supercar Ride-Along
Porsche 991 GT3

198 MPH
500 HP
3.8 S
$US143 000
One thing is clear already: the new 911 GT3 ride along is going to change the way you think about Porsches. With outstanding performance and offering excellent manageability, our racing drivers will break through the limits to give the Supercar experience.
RIDER ITINERARY
Our team of racing experts will guide you through the entire experience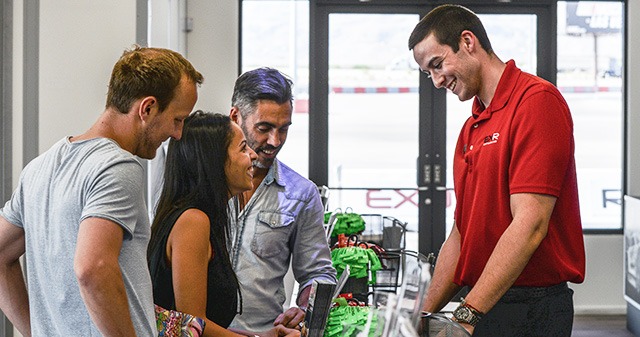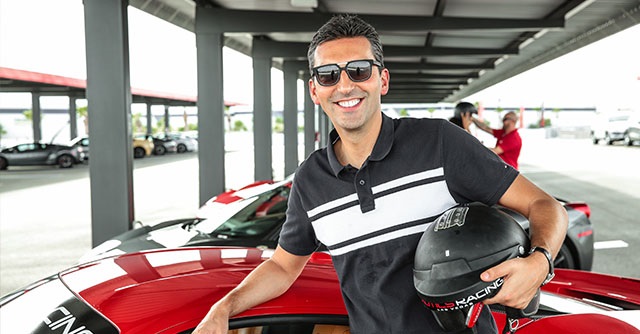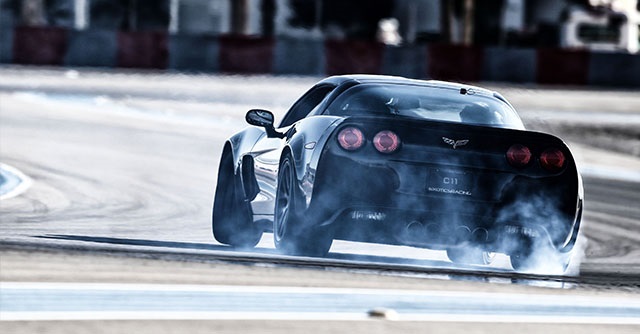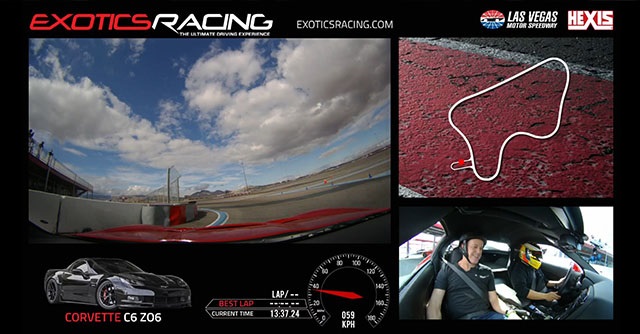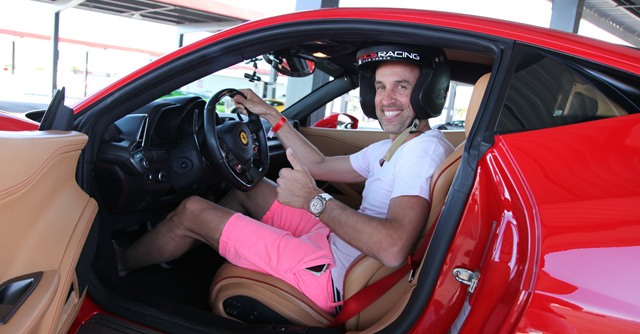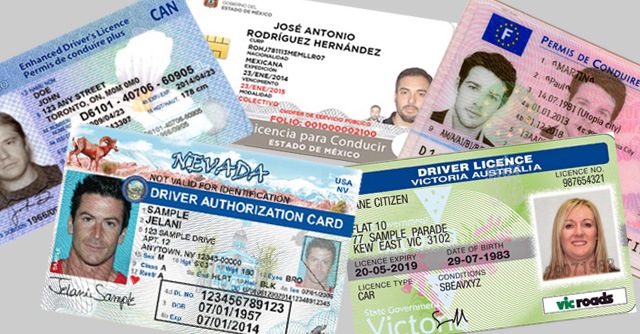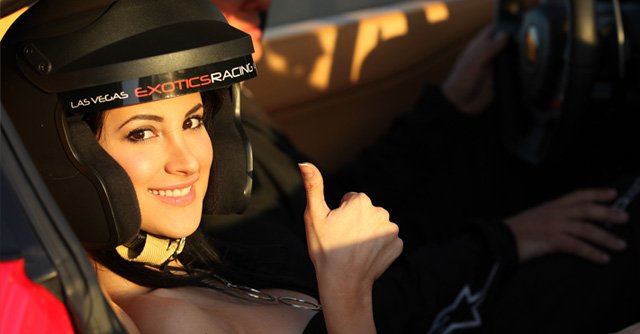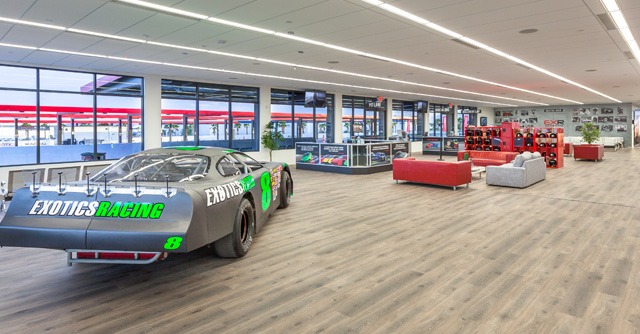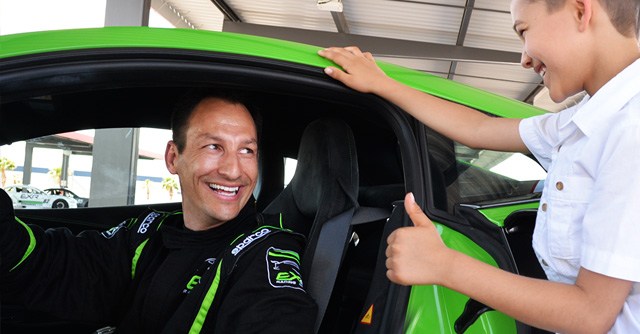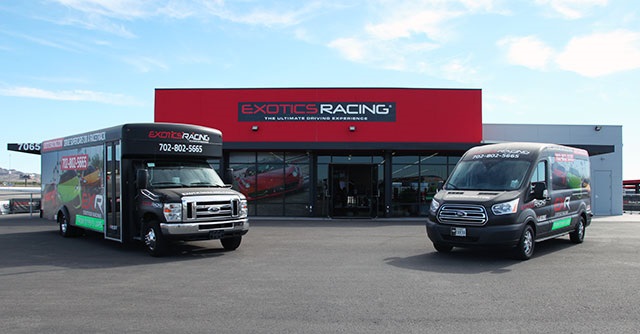 SUPERCAR DRIVING EXPERIENCES
Located on the grounds of the Las Vegas Motor Speedway, our exclusive 1.2-mile racetrack was designed by professional racing drivers to highlight our supercars performance capabilities. You'll find an example of many turns found on the world's greatest racetracks including hairpins, double apex corners, fast sweepers, chicanes, 90-degree corners and even a banked turns as well as large runoff areas, the latest high-tech safety barriers, and even the only in-ground LED lighting system in the US.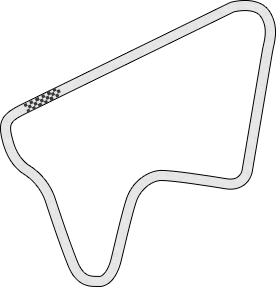 1,800 ft

Main straight away

1.2-mile

track length

7

days open

7

turns

140 mph

top speed

15 min north

Of the las vegas strip
7 083 Reviews
Over 260,000 Happy Customers! We've become a top rated racing attraction in Las Vegas. See what others have to say about their exciting driving experience at Exotics Racing.

novembre 30, 2013
They need a Frequent Flyer Card program---so many purchased laps earns free laps in the Drifting Ride-along. No words to describe how fun it was to drive (really drive/drive hard) a Ferrari and a Lamborghini---what an experience! The Drifting Ride-along has had us laughing ever since seeing that Corvette launch out of the tent the first time. That is just pure crazy $#&! fun. I haven't smiled/laughed that hard and that long for years.

novembre 30, 2013
Thank you for this experience, the staff were great and very helpful. The ride along experience was amazing, was not expecting such a thrill ride and recommend it to anyone that wants SEROUS DRIVING!! The drivers were very helpful in showing me how to get the most out of my experience. I would defiantly do this experience again. Rating 5/5. Thanks once again Nicholas, Sydney Australia

novembre 30, 2013
The team at Exotics Racing has made possible what one can only dream off. It was an unique experience I simply will never forget; better I will do it again and again and again! Thank you so much!

novembre 29, 2013
Wife enjoyed the track time, and said it will be a must action plan whenever we go to Vegas.

novembre 29, 2013
Do it!! Just come out here and experience it for yourself. If you aren't grinning from ear to ear, you must be a zombie or something! Very professional staff, very curtious, knowledgeable, the cars are mint, not de-tuned, ready to race. Everything was as stated and seen on the web site. I'll be back!! Piece of advice...buy more than 5 laps; you really start to shine on the 5th. Thanks again to everyone involved in makeing my experience so enjoyable!!

novembre 29, 2013
Exotics Racing has now become a new must on my future Las Vegas trips. I had a fantastic experience. The facilities, inventory, and overall quality of the cars is impressive. All of the Exotics Racing staff were very friendly and they made sure that I enjoyed the experience. I also can't say enough about the professional drivers on my drives (Kai and Dave). Both were excellent encouraging coaches, who helped me get more out of the experience by helping me improve with each lap. I have already recommended Exotics Racing to my friends that will be making trips to Las Vegas in the future. Regards, Michael Ibarra Houston, Texas

novembre 29, 2013
This was hands down one of the greatest experiences in my life! Exotic Racing made it affordable!

novembre 29, 2013
A wonderful experience. All car enthusiasts should definitely visit you for a drive

novembre 29, 2013
Adrenaline rush! Oh my. As an automobile enthusiast, I was eager to drive and drift...and the drifting was the highlight of my experience. My heart is still pounding from the experience!

novembre 29, 2013
Great experience everyone should have this kind of experience at least once in a lifetime...

novembre 28, 2013
Awesome experience. The access to the cars prior to the drive was a wonderful opportunity to take pictures and take a closer look at fantastic machines. Thank you for allowing us to do so.

novembre 28, 2013
It is a very unique experience to JUST be at the Exotics Racing track and observe the professional drivers do the " car drifts ".The 2 hrs. of participation has made me a better driver and I have more of an appreciation for the skill of pro. drivers.

novembre 28, 2013
I booked this experience for my father who has owned over 13 corvettes in his lifetime...he did the ride along and he absolutely had the best experience...

novembre 28, 2013
The sounds of the engines as you get onto the straight gives you goosebumps for days!!

novembre 27, 2013
Worth every penny. An adrenaline rush I will never forget.

novembre 26, 2013
Its been a life long dream to drive an exotic car and exotic racing made it come true. The service , people and advice were great but to sit behind the wheel of a super car im speechless. The whole experience will bring me back next year and probably many years after. Thanks exotic racing for making my dream come true!

novembre 26, 2013
You have made my dream come true. I raced a Ferrari 458 Italia and was left without words. Feel it's like a big dream. It's actually true it did race a Ferrari anf loved it.

novembre 26, 2013
I was amazed at the encouragement to go faster in cars that already GO FAST! Great service and amazing cars make this a must have experience for any car guy or gal!

novembre 26, 2013
This was a dream come true experience. I drove 2 super cars and the instructors are very good at making sure you get a great time out of it. I will go back.

novembre 25, 2013
Awesome cars, great instructors, super track. If you like to drive and go fast, check it out.

novembre 25, 2013
Had a fantastic time at Exotics Racing, from start to finish! We'll definitely be back...with friends! Thank you for a memorable experience :)

novembre 25, 2013
No comments. You must to be there to enjoy

novembre 25, 2013
It was an experience I will never forget! What a way to spend my 21st birthday!

novembre 24, 2013

novembre 24, 2013
This was awesome and the staff was even better? The weather was bad when we scheduled but one of the staff asked about our schedule and when we were leaving and worked with us to reschedule the same car at a time that fit for us. Came back two days later, weather was great, staff was great, the total experience was completely worth it. I will DEFINITELY be back next time we are in Vegas. Experiences that are this good are worth doing again. Driving the cars was great but the facility, the staff, and the atmosphere made it even better!--Rob MAc