Drive a
Lamborghini Gallardo

On a Racetrack!
Named after the famous breed of fighting bull, the Gallardo 550 hp machine has a top speed of 200 mph and rockets from 0-60 in 3.9 seconds!. Named 2006 Top Gear Dream Car of the Year and 2009 Top Gear Car of the Year, the Lamborghini Gallardo remains a top pick among car experts around the world. Listen to the Lamborghini's V10 engine roar through the track while our pro instructors coach you to drive it to its limit! read more >
The Gallardo LP550-2 is the first series-production rear-wheel-drive to come out of the house of Lamborghini since the Diablo. There is a lot to be said about a rear wheel, 550 horsepower supercar that pushes 398 lb-ft of torque. Not to mention the removal of the front drive shafts lightens the Gallardo by over 65 pounds making it even lighter than the stripped-down Lamborghini LP570-4 Superleggera. Less weight with the same horsepower makes it faster and nimbler than the Gallardo LP550-4. Removing the front drive shafts also means that the weight distribution is now rear-biased making the Gallardo feel lighter and more agile.
Steering comes to life when you really push it hard. It's in third gear that the rush becomes amazing as the wide powerband of the engine revs from 3500 rpm all the way up to 8200 rpm providing a sustained, truly startling thrust. Don't worry about the corners. There is still plenty of grip from the rear tires to provide support.
Being able to open up this V10 and feel the ferocity of almost 400 lb-ft of torque thrusting down the back stretch will make you feel the ultimate rush of adrenaline! One thousand eight hundred feet shrink fast when smashing down toward the apex in a Lamborghini Gallardo LP550-2. All-in-all, the Lamborghini Gallardo LP550-2 is a perfectly balanced good time that delivers beauty, power, passion, and agility.
less >
Lamborghini Gallardo LP550-2

200 MPH
550 HP
3.9 S
$US200 000
Gallardo holds the distinction of being Lamborghini's top selling vehicle of all time. It packs a powerful V-10 engine with 550 horsepower and a top speed of 200 mph with a 0-60 in 3.9 seconds. Named 2006 Top Gear Dream Car of the Year and 2009 Top Gear Car of the Year, the Gallardo remains a top pick among visitors to both of our tracks.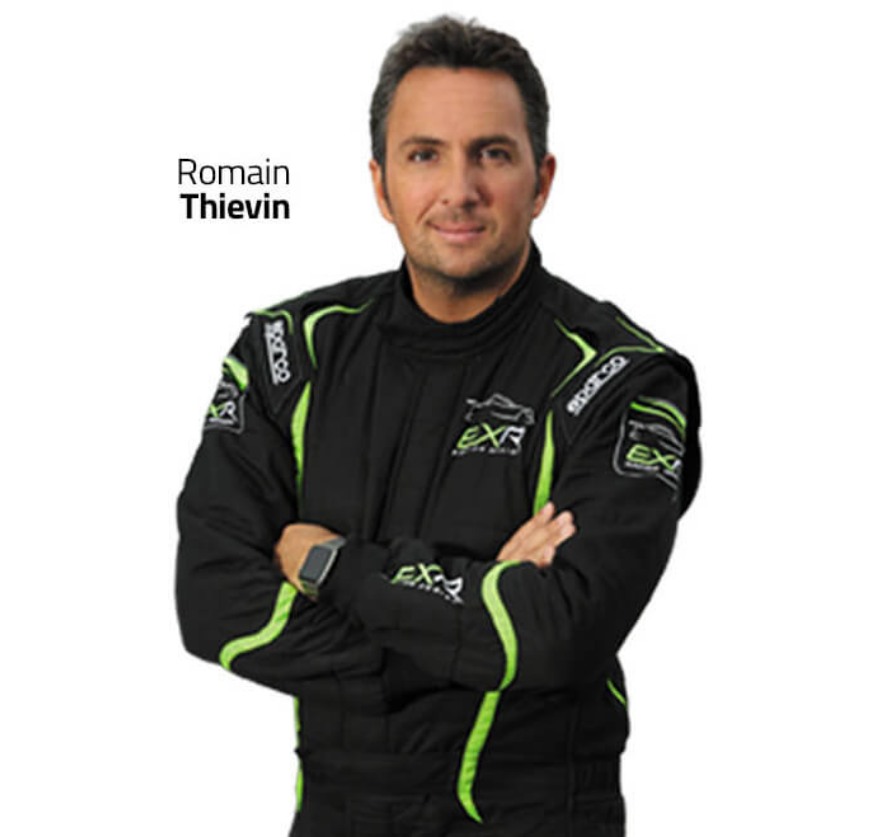 Tips From A Pro
Lamborghinis have a lot of power and very aggressive personalities, and it all starts with the Gallardo LP550. This car is defined by its use of classic sports car technology: rear wheel drive and an exceptionally powerful engine. This exotic throws you back in the seat with its 550 hp V10 and will hold you there until you surrender by taking your foot off the throttle.

DRIVER ITINERARY
Our team of racing experts will guide you through the entire experience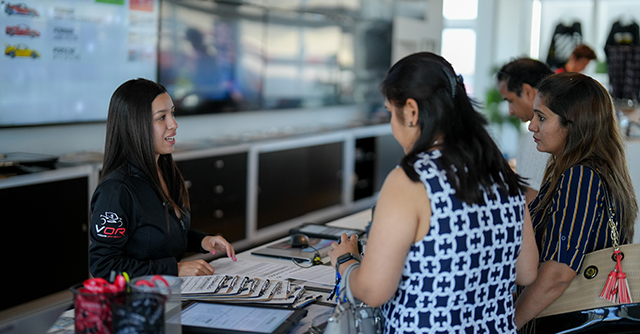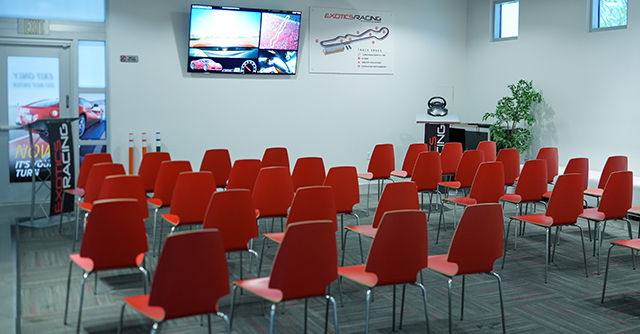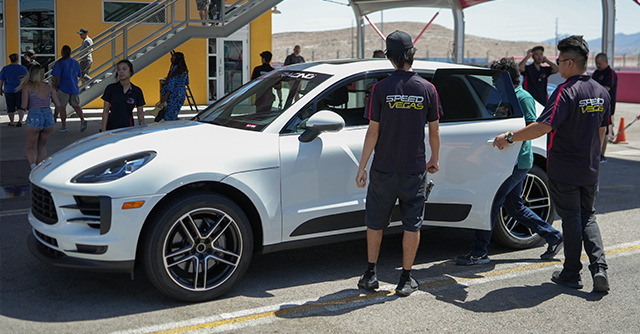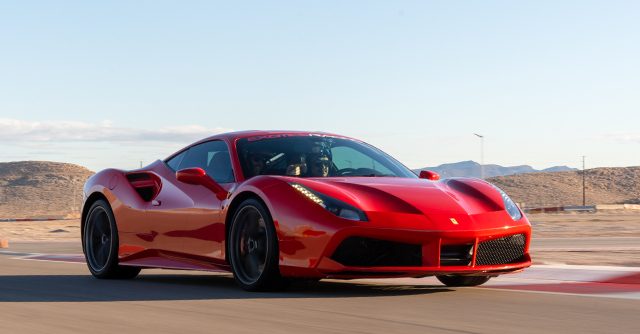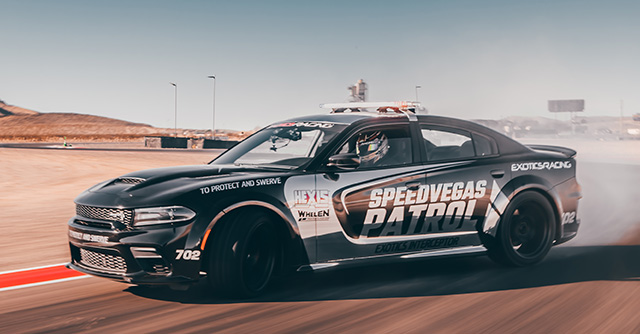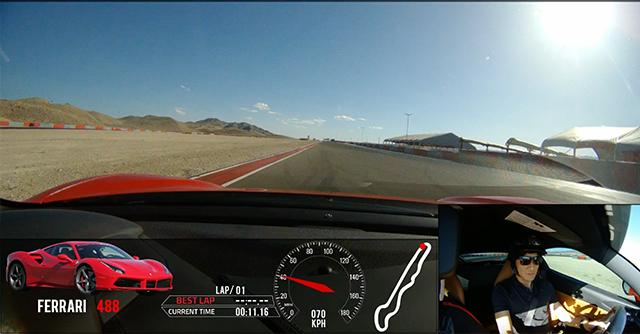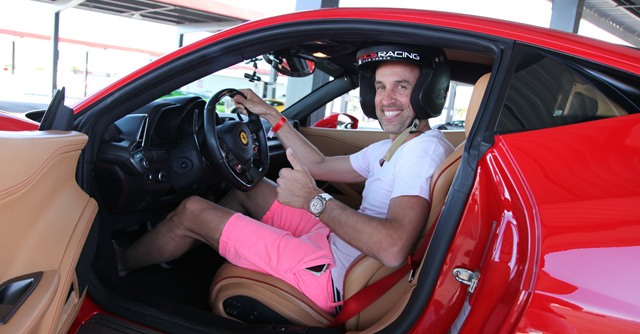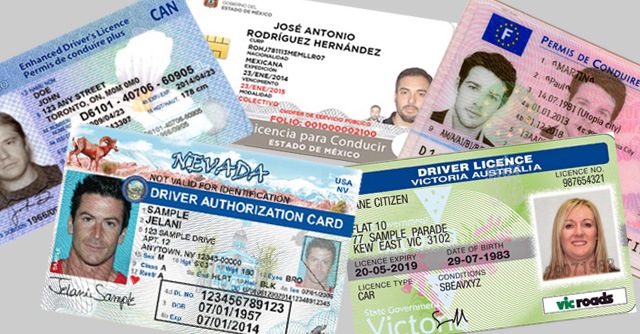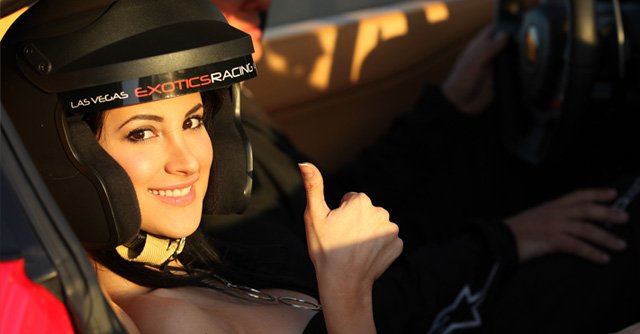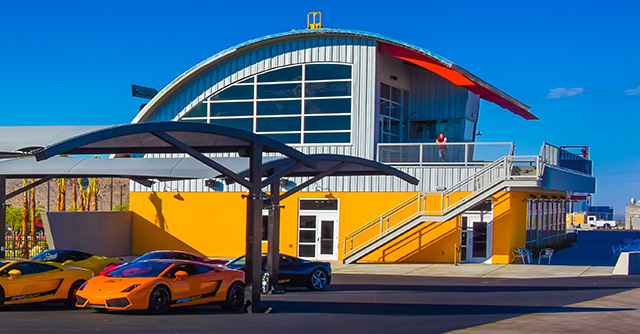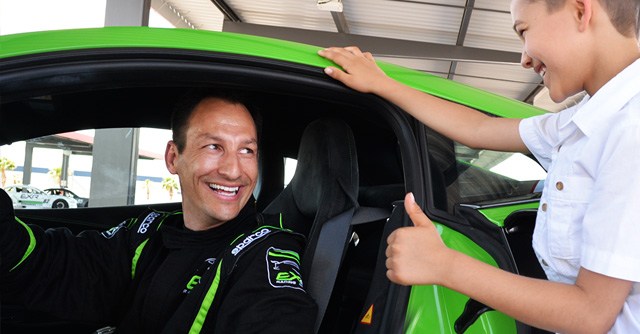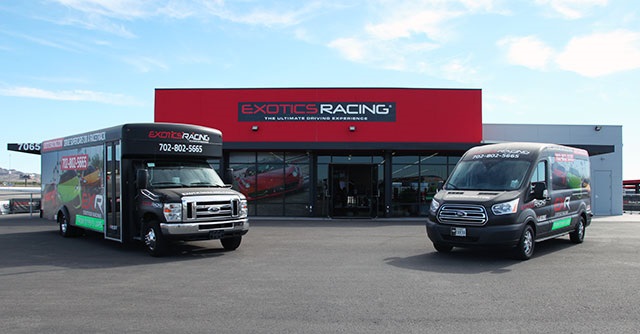 SUPERCAR DRIVING EXPERIENCES
Our Las Vegas location is at SpeedVegas Motorsports Park, just 15 minutes from the world famous Las Vegas Boulevard. Our exclusive 1.3-mile racetrack was designed by professional racing drivers to highlight our supercars performance capabilities. You'll find an example of many turns found on the world's greatest racetracks including hairpins, double apex corners, fast sweepers, chicanes, 90-degree corners and even a banked turns as well as large runoff areas, the latest high-tech safety barriers, and even the only in-ground LED lighting system in the US.

2,000 ft

Main straight away

1.3-mile

track length

7

days open

8

turns

140 mph

top speed

15 min south

Off the las vegas strip
TIME TRIAL WORLD CHALLENGE BY EXOTICS RACING
ONLY at Exotics Racing!
You never know how fast you are until you come to Exotics Racing! Challenge your driving skills on a racetrack behind the wheel of our supercars and take part of the world's largest motorsports competition, exclusively at Exotics Racing Las Vegas.
After each driving experience, whether you want to race against the clock or a friend, our automatic live and online ranking allows you to compare your laptimes and rank against other drivers. There is no exception, every driver is timed on our racetrack and therefore is a competitor of our World Challenge!
Who will be the next fastest driver at Exotics Racing?
Lamborghini Gallardo LP550-2 Video
Lamborghini Gallardo LP550-2 Gallery
1 335 Reviews
Over 400,000 Happy Customers! We've become a top rated racing attraction in Las Vegas. See what others have to say about their exciting driving experience at Exotics Racing.
juin 18, 2011
this is quoted directly from my Yelp review "My very first experience with a supercar and driving around a race track, and I am definitely hooked! I drove the Lamborghini Gallardo LP560 for 7 laps, which cost $399. Now that may seem like a very steep price to pay to drive a car around for 7 laps, which realistically is around 10 minutes or less. But consider these points: -You are driving cars that range from just under $100k (GT-R) to $400k+ (Murcielago LP640), and they're adding the Aventador LP700 and the McLaren MP4-12C to their lineup as well. -These cars are fully insured so you don't take the risk of damaging or totaling the cars. -You are also not responsible for gas, maintenance, replacing tires (with how hard they are driven, they go through tires very fast and they are not cheap). -The professionals do a GREAT job of coaching the inexperienced (from my perspective at least!) -And seriously, these are the cars of almost every little kid's dreams, and you are able to drive them on a track, without worrying about speed limits! They first take you to a classroom where an instructor tells you all the stuff you need to know, such as how to approach turns, when to break, when to accelerate, etc. They also do a great job marking the actual track on where to start your break, where the apex of the turns are, where to start the turn, and where to end the turn. After that they take you around the course twice on a Porsche Cayenne to familiarize you with the track and show you the intricacies of all the turns. Finally they introduce you to your professional driver who will sit along side you and coach you through your own laps. And from my experience, the professional I got wasn't trying to hold me back. They seem very competitive even when they are not driving and constantly push you harder and faster. Overall it was a perfect experience for me and I had so much fun!"
juin 18, 2011
Great experience! The instruction and service at Exotics Racing were top notch. The cars were amazing and it was hard to leave. Thank you for an overall great experience, I hope to be back!
juin 7, 2011
A must stop place if your out in Vegas. Instead of only dreaming about driving a Ferrari, book a trip to come out and actually take one out for a few laps. And don't worry about Driving Miss Daisy..here they want you to put the pedal to the medal and drive these cars how they were meant to be driven. One speed - FAST!!!
mai 31, 2011
I had a great day, I loved the F 430 Scuderia, it's the best car to have on the track! Good work guys!
mai 31, 2011
We all have dreams. We've also come to realize that few ever come true. Booking a session with Exotics Racing is a notable exception. Considering only the privileged few can ever own one (or more) of these exotic vehicles for themselves, the chance to strap in, grab the wheel, open the throttle and clip a perfect apex with any of these fire breathing, four-wheeled demons was one of my dreams come true. The team did a great job making it feel a singular experience for both the car lover and car curious alike. Can't wait to do it again.
mai 31, 2011
if you love high performance cars this is the place to go. learning to drive a road course is the best. wish i could have done it all day!!
mai 31, 2011
Don't sell yourself short with just 5 laps, go all in and get a really amazing experience! We did 25 laps which is about enough time to get comfortable in the cars and on the track.
février 26, 2011
My husband had an AMAZING time!!! He thinks it was one of his BEST birthday gifts EVER!! He drove the Nissan, Audi, Lamborghini Gallardo and the Ferrari 458. He just kept saying that I REALLY OUTDID myself!! Thank you SO Much!! He had a FANTASTIC time! and we even met some people and made some new friends! It was a truly once-in-a-lifetime experience.... that he wants to do again, EVERY year!
février 26, 2011
Most fun you can have with your clothes on! No predjudice encountered against Girl drivers, like @ some other tracks.I'm STILL smillin'. Heart rate STILL up!
février 26, 2011
What a blast! Definitely worth every penny! The people are great, the cars are absolutely awesome and they really let you drive which was one of my original concerns. But instead of telling you to slow down all the time they tell you to go faster! Really great experience that I will definitely repeat again whenever I can.
OUR SUPERCARS
The world's largest fleet of exotic cars with over 50 cars and 19 models to choose from including the hottest cars by Ferrari, Lamborghini, Aston Martin,
Porsche, Corvette, Audi and Mercedes. All cars are equipped with paddle shifters to accommodate all skill levels and board dash
cameras to capture every moment of your Exotics Racing experience.