Stay updated with news, favorite photos, and terrific videos about our Supercar Driving Experiences in Las Vegas. Exotics Racing have been featured in some of the most prestigious publications and automotive websites including Road & Track, Car and Driver, DuPont Registry, Racer Magazine, Popular Mechanics, LA Times, US Today, Hollywood Reporter, Vegas Magazine, Luxury Magazine, Robb Report, and Autoweek just to name a few. Our Communication and PR team is dedicated to provide every media with information about our activity such as new supercar deliveries on track or racing events. Contact us for more information about Exotics Racing Group or to schedule your next visit at one of our racetrack: experience@exoticsracing.com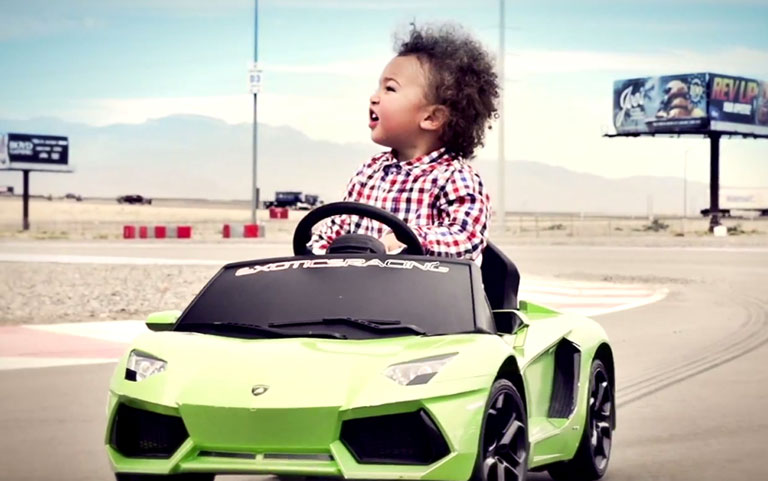 Matis, 20 months old, is driving a Lamborghini Huracán!
Matis, 20 Months Old, Driving a Lamborghini Huracan
As a kid, a toy Lamborghini was a gift that always left an impression, as a adult, driving a Lamborghini on a racetrack creates a memory for a lifetime. So, "Why play with a toy when you can drive the real thing?" Well, in this case, becuase our driver is only 20 months old. But that doesn't matter when your father is a French stuntman, racecar driver, and Co-CEO of Exotics Racing. Romain Thievin is featured in the latest EXR promotional video; a departure from the typical high adrenaline promotional video shoots at Las Vegas Motor Speedway. The speeds and stunts are slightly subdued as our star, Matis Thievin Mortaud, takes to the wheel of a toy Lamborghini. Romain had a few stunt ideas he wanted Matis to try, but his mother, Miss France 2009, Chloe Mortaud, had fianl say in the video shoot since she was the director.

It's so cute
Matis, 20 months old, was being closely watched and guarded by his mom, Chloe Mortaud, throughout the shoot. The video artfully shows the play between the Thievin's, dad and son, and the Lamborghini, toy and actual. Isn't it time you got behind the wheel of a Lamborghini supercar and tested your track driving skills? Drive the new Huracán on Exotics Racing private racetracks and for only $399 for 5 laps, you'll race up to 130mph on the straights, feel the G-Forces on the turns and fulfill your childhood and adult fantasies; legally.
Here is the YouTube link: http://youtu.be/8ma_BIueK5o
{{sharing}}
OTHER NEWS