Stay updated with news, favorite photos, and terrific videos about our Supercar Driving Experiences in Las Vegas. Exotics Racing have been featured in some of the most prestigious publications and automotive websites including Road & Track, Car and Driver, DuPont Registry, Racer Magazine, Popular Mechanics, LA Times, US Today, Hollywood Reporter, Vegas Magazine, Luxury Magazine, Robb Report, and Autoweek just to name a few. Our Communication and PR team is dedicated to provide every media with information about our activity such as new supercar deliveries on track or racing events. Contact us for more information about Exotics Racing Group or to schedule your next visit at one of our racetrack: experience@exoticsracing.com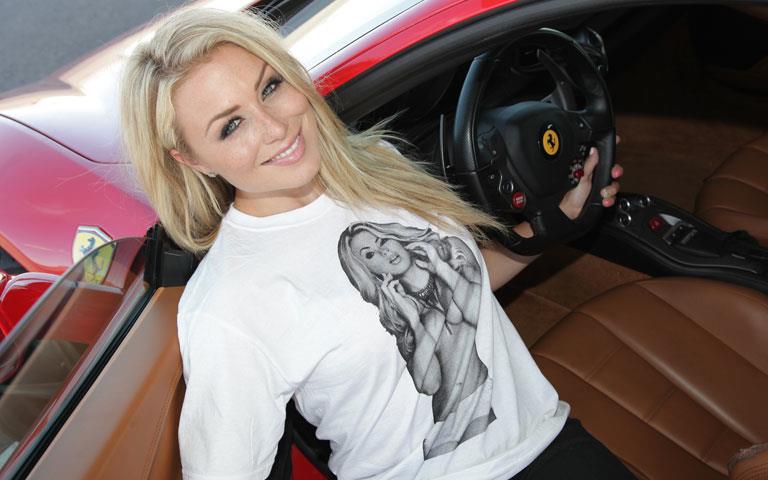 Miss Supercross Drives The Lamborghini Superleggera
Miss Supercross Drove a Lamborghini Superleggera
Dianna Dahlgren was born in Fallbrook, California. Growing up she excelled in gymnastics and took this love of fitness further. After being scouted for modelling at age 13, she soon combined this with her love of fitness and went into fitness modeling. She is also an IFBB Bikini Pro Athlete, winning numerous titles including the 2010 IFBB Europa Battle of Champions, the 2011 IFBB Phoenix Pro, the 2012 IFBB Houston Pro and the 2012 IFBB Los Angeles Grand Prix Pro Bikini.
Miss Supercross 4 years in a row
For the last three years Dianna is a "Miss Monster Energy Supercross," which is a position that began as a simple podium model but that now includes duties such as interacting with fans and commentating on television broadcasts. When the race season ends, Dahlgren becomes a fitness and fashion model for brands like GNC and has been featured in Muscle and Fitness and Maxim magazines. She came to visit Exotics Racing in Las Vegas and drove the Lamborghini Superleggera: "I had the time of my life", she said. "I didn't know I could go that fast in a super car. With the help of my instructor, I was able to go faster and faster. Thank you guys for everything."
{{sharing}}
OTHER NEWS