DRIFTING RIDE-ALONG EXPERIENCE
The most thrilling ride on a racetrack!
The Drifting Ride-Along experience is truly an adrenaline shot! Exotics Racing's professional drifter will take you as a passenger for the Supercar full-speed drifting experience. Onboard the Dodge Charger SRT Hellcat, you will feel the rush of the 707hp V8 like nowhere else. The ride-along experience will amaze you with skillful racing techniques. This supercar is fully mastered by our expert racing drivers and it shows it on the racetrack! Buckle in for the adrenaline-pumping ride of your life!



Drifting Ride-Along
Dodge Charger SRT Hellcat

204 MPH
707 HP
3.4 S
US$65.900
How do you take up to three passengers for a sideways drifting, tire-smoking extravaganza of a thrill ride? Buckle them into a Dodge Charger SRT Hellcat. Why this car? To start, it's a four door sedan, so the two backseat passenger can get in with ease. More importantly, the Charger SRT Hellcat pumps out a whopping 707 horsepower and 650 lb-ft of torque.
SUPERCAR RIDE-ALONG EXPERIENCE
Pick one of three exotic cars below
Exotics Racing's professional drivers will take you as a passenger and show you what a supercar can do on our racetrack. Onboard the Porsche 991 GT3, Ferrari 488 GTB or the Lamborghini Huracan, these ride-along experience will amaze you with skillful racing techniques mastered by our experienced racecar drivers!


Supercar Ride-Along
Lamborghini Huracan

198 MPH
580 HP
3.4 S
US$216.000
It's like a time machine. Only faster. For the speed seekers the Lamborghini Huracan together with our racing drivers will have you at the edge of your seat. With 580 horsepower and our expert racing drivers, hold on tight and enjoy the high speed ride.
Supercar Ride-Along
Ferrari 488

205 MPH
660 HP
3.0 S
US$330.000
Supercar Ride-Along
Porsche 991 GT3

198 MPH
500 HP
3.8 S
US$143.000
One thing is clear already: the new 911 GT3 ride along is going to change the way you think about Porsches. With outstanding performance and offering excellent manageability, our racing drivers will break through the limits to give the Supercar experience.
RIDER ITINERARY
Our team of racing experts will guide you through the entire experience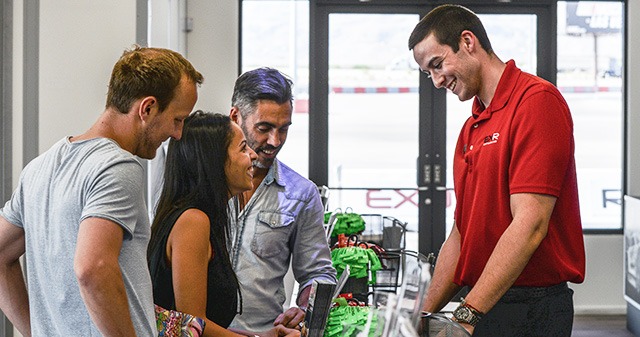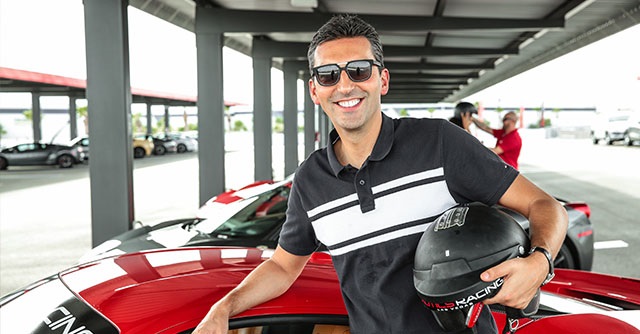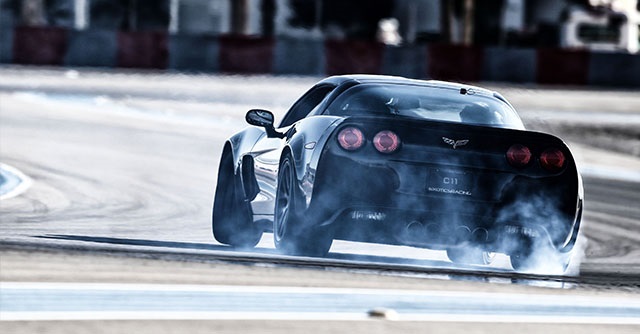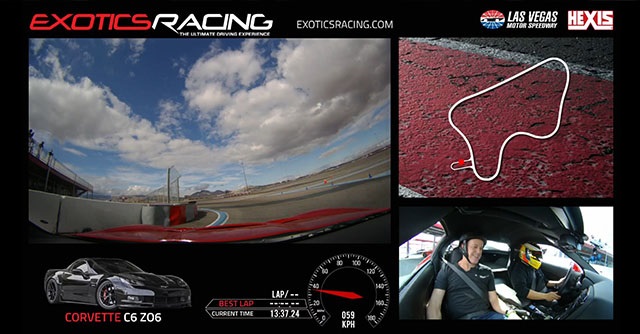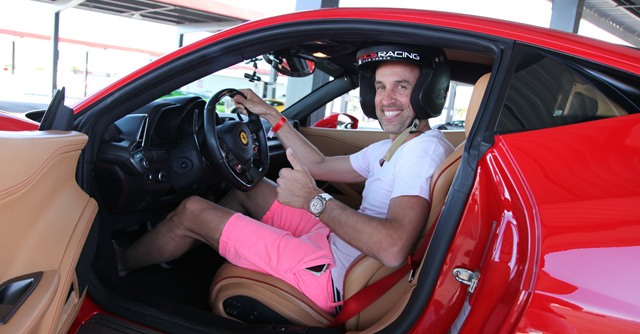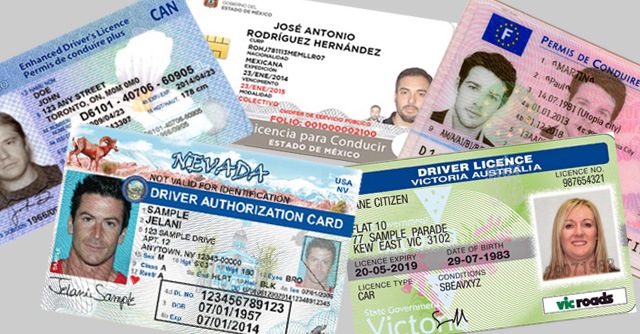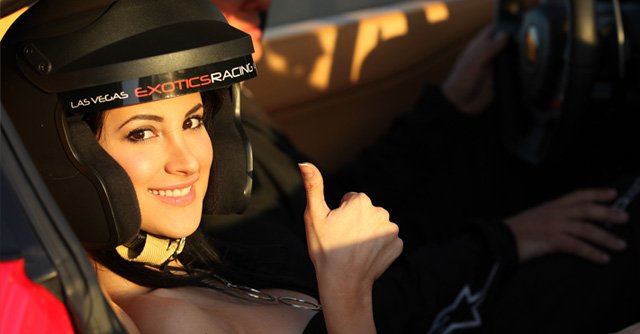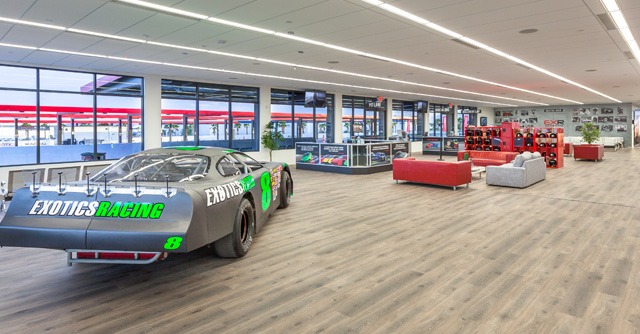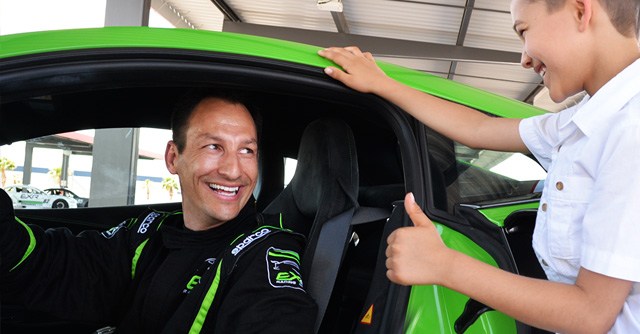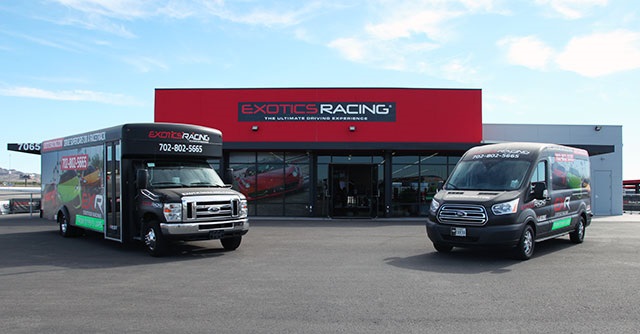 SUPERCAR DRIVING EXPERIENCES
Located on the grounds of the Las Vegas Motor Speedway, our exclusive 1.2-mile racetrack was designed by professional racing drivers to highlight our supercars performance capabilities. You'll find an example of many turns found on the world's greatest racetracks including hairpins, double apex corners, fast sweepers, chicanes, 90-degree corners and even a banked turns as well as large runoff areas, the latest high-tech safety barriers, and even the only in-ground LED lighting system in the US.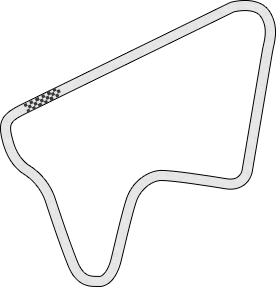 1,800 ft

Main straight away

1.2-mile

track length

7

days open

7

turns

140 mph

top speed

15 min north

Of the las vegas strip
7.584 Reviews
Over 230,000 Happy Customers! We've become a top rated racing attraction in Las Vegas and Los Angeles. See what others have to say about their exciting driving experience at Exotics Racing.

fevereiro 26, 2013
I strongly recommend Exotics Racing in Las Vegas for who really enjoys driving fast cars in a pleasant, safe and exciting atmosphere. There are already 3 years in a roll that I go there and is improving every year. Outstanding!! The instructor "Bear" that I get in the Porsche Turbo S is very good, very excited and gives you valuable tips for you to drive the car faster and faster.

fevereiro 24, 2013
What an experience! Driving the Mclaren MP4-12C with Jimmy Parker Jr. was insane. The speed and handling you get from this weapon is crazy fun! I highly recommend it, and the whole experience at Exotics Racing. Top job guys, you will definitely be seeing me again! Jarrod Perth, Australia

fevereiro 24, 2013
Best Birthday Celebration ever!!!

fevereiro 24, 2013
If you want to find your own limits in a super cars, this is the place to go !! Promise you won't be disapointed ! I will be back...Dan Belanger from Wooler Ontario Canada

fevereiro 24, 2013
Best experience in my life ever!! You guys are realizing dreams.. Best regards.

fevereiro 23, 2013
Fabulous experience in every possible way. I just need to have more money so that I can do this very often.

fevereiro 23, 2013
Staff was awesome. Really enjoyed our time there. Would definitely consider coming back next time I'm in Vegas.

fevereiro 23, 2013
If you ever wanted a track day with a 500HP+ super car, then this is the place to go.

fevereiro 23, 2013
Will definitly be back again, a yearly tradition!

fevereiro 23, 2013
One of the highlights of my life! Even guys that own these cars cant drive them like this. The instructors push you to go big, they make the experience that much better! I'll be back for sure.

fevereiro 23, 2013
This is a must for any sports car or racing enthusiast who visits Las Vegas! Outstanding experience from start to finish!

fevereiro 23, 2013
I have already suggested this experience to at least 5 people!! I came for my birthday and WOW what a great present!! What a kick ass experience! From the moment I sat down in the instruction class the hosts make you feel at ease and welcomed. My driving instructors were awesome! Very nice, personable and informative. Even in my personal video I recommend the experience so I know all my friends and family will want to go! Thank you so much for everything Exotic racing! you made my birthday!!!

fevereiro 22, 2013

fevereiro 22, 2013

fevereiro 22, 2013
My wife got me this driving experience for our Anniversary and all I can say is ... Totally Amazing !! When I stepped out of that car I was speechless and in a daze. Everybody at Exotics Racing was great. Right from the person who checked me in, and every other employee I encountered, until I walked out with my video, they were all awesome. Thank you

fevereiro 22, 2013
A first class experience, from booking to driving. The atmosphere was energizing and infectious, the instructors were outstanding and patient, even when I made bonehead mistakes and the rest of the staff was friendly and accomodating, virtually eliminating what could've been an intimidating experience. If you love or even like cars, this is not to be missed!

fevereiro 22, 2013
Driving the Aventador for the first time was an AWESOME experience! I'm hooked on visiting Exotics Racing everytime I visit Las Vegas!

fevereiro 22, 2013
A great way to experience the thrill of driving these fantastic cars. The advice from the instructors is top class.

fevereiro 22, 2013
Worth every penny! THe instructors were all top notch, and helped me to get the most out of the car within my level of driving experience. Awesome day!

fevereiro 21, 2013
By far the most mind blowing drive day I've had ever!!...OMG! The Cars are beautiful and the team of drivers and instructors were great! Will definitely come back for a shot at the other cars!! CHEERS from AUS!! =)

fevereiro 21, 2013
Had an amazing time celebrating my father's and my birthday here. The instructor and staff had provided a positive experience so that I had 100% confidence going onto the track and pushing the car to an enjoyable level. Thank you to the Exotic Racing Team.

fevereiro 21, 2013
Had a great time, track was perfect. Thank you and my wife for the great 40th birthday gift.

fevereiro 21, 2013
This was excellent! The instructor (Buddy Knisley) was awesome- his advice certainly put me at ease and helped me to drive quicker. I can't think of how you could improve on the whole operation except to bring it closer to Maryland!

fevereiro 21, 2013
The entire driving experience was enjoyable and memorable.

fevereiro 21, 2013
The entire experience was thrilling and for a first-time participant it was successful because of the expertise of your driving coaches and the friendliness of all of your workers. Thanks!