Drive a
Ferrari 488 GTB

On a Racetrack!
"Enjoy the sonorous wail of the latest Ferrari: the 488 GTB".
The Ferrari 488 GTB is a showcase of Ferrari's racing experience in both F1 and the WEC, where its beloved predecessor (the Ferrari 458 Italia) holds many World Championship titles, and has won its category in the last two 24 Hours of Le Mans. This new berlinetta combines track-tested performance with refined electronic and vehicle control systems to create a responsive production model with the razor-sharp response times comparable to a race car. read more >
The Ferrari 488 GTB's new 3902 cc V8 turbo tops the class for power output, torque and response times. The engine unleashes 670 horsepower at 8,000 rpm pushing the 488 GTB from 0 to 60 in just three seconds. And its soundtrack is what you'd expect from a Prancing Horse engine: it's full, clear and totally distinctive.
The car's sophisticated aerodynamics make a key contribution to performance, achieving 50 percent more downforce and reduced drag compared to the previous model. The 488 GTB features a double front spoiler, base bleed side intakes and, at the rear, active aerodynamics coupled with a blown spoiler. The 488 GTB is a spectacular marriage of form and function. Designed by the Ferrari Styling Centre, the new car features very sculptural flanks which, are the key to its character. Its large signature air intake scallop is a nod to the original 308 GTB, and is divided into two sections by a splitter. The wide front spoiler features a double profile to improve the thermal efficiency of the radiators positioned at the sides. At the center two pylons are combined with a deflector, which channels air towards the flat underbody.
The broad, low tail is also dominated by aerodynamic solutions, including an innovative blown spoiler which, generates downforce without increasing drag.
less >
Ferrari 488 GTB

205 MPH
660 HP
3.0 S
US$330.000
The fastest car around our track! Pure pleasure to drive, the new Ferrari 488 GTB is the successor to the already mind-blowing 458, the new berlinetta is faster and more agile, with a refined active aerodynamics package and nearly 100 horsepower more from its turbocharged V8.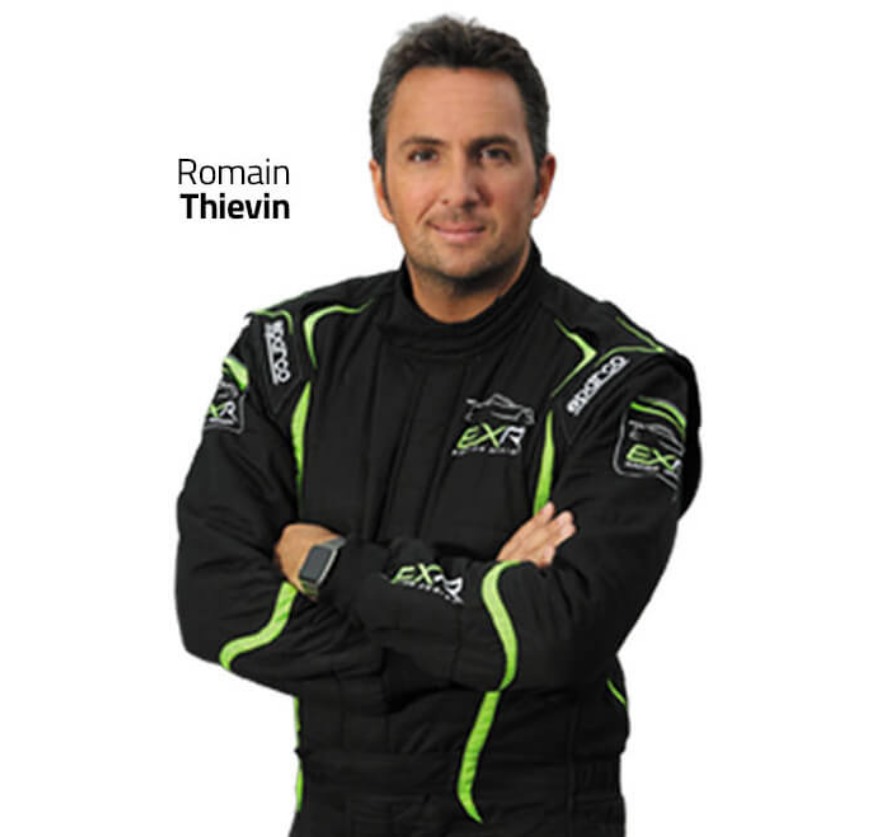 Tips From A Pro
It's pure pleasure to drive the Ferrari 488 GTB with the active aerodynamics package and 661 horsepower from its turbocharged V8. The engine delivers power without a hint of lag from the turbos. Throttle down and the engine growls all the way to redline. How good is it? The numbers speak for themselves.

DRIVER ITINERARY
Our team of racing experts will guide you through the entire experience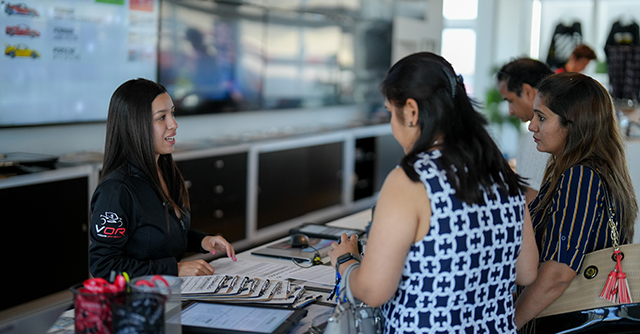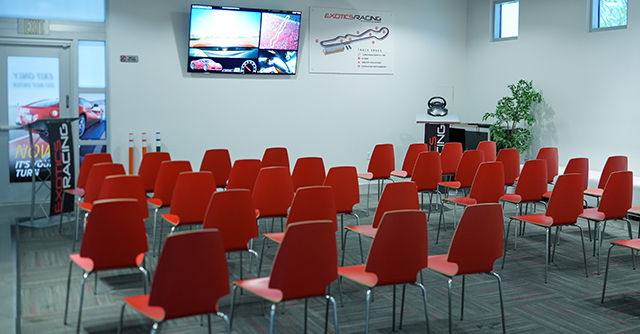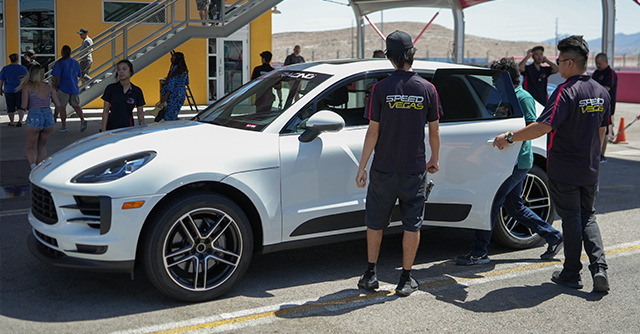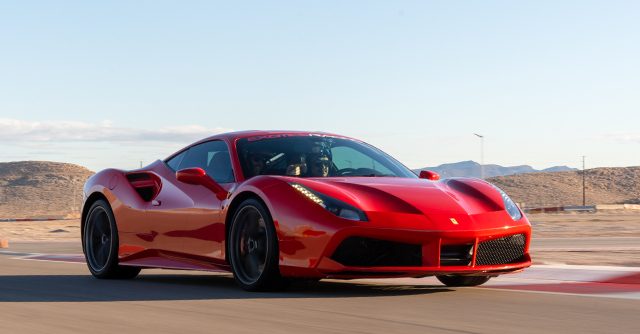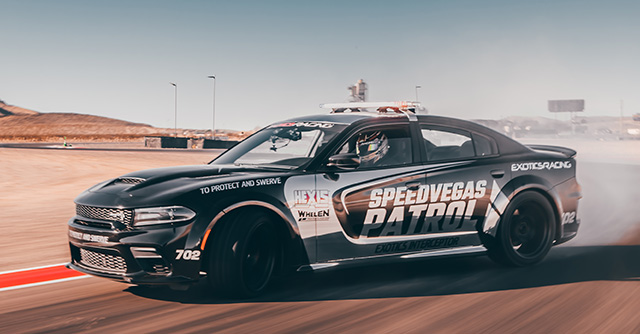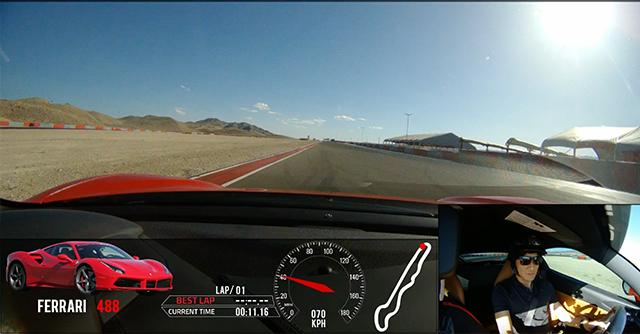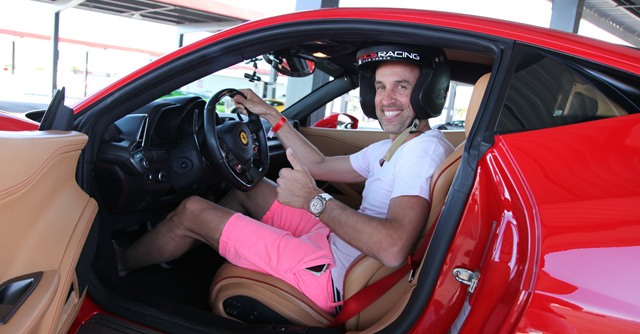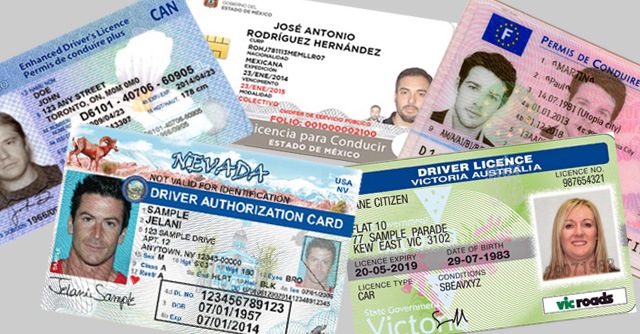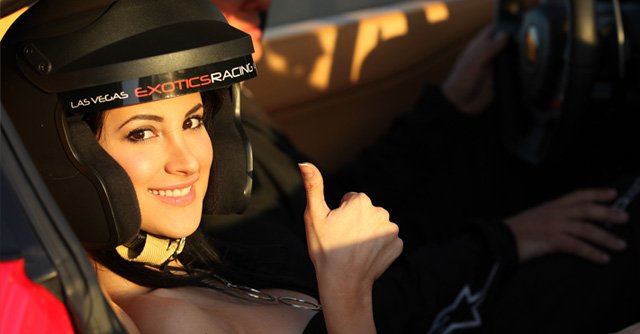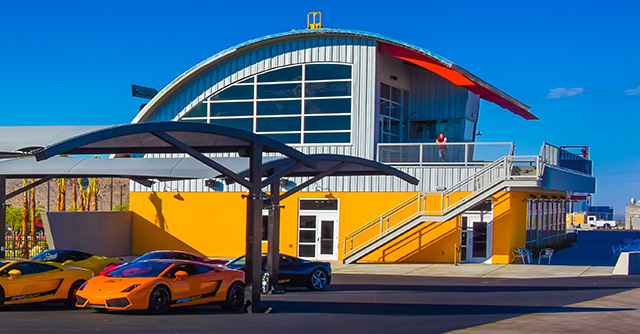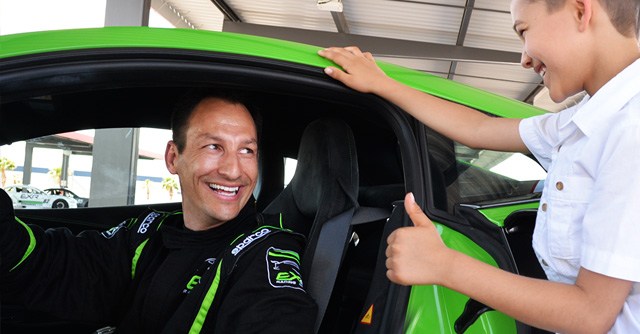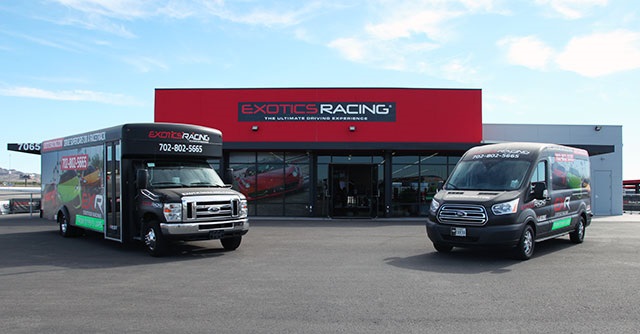 SUPERCAR DRIVING EXPERIENCES
Our Las Vegas location is at SpeedVegas Motorsports Park, just 15 minutes from the world famous Las Vegas Boulevard. Our exclusive 1.3-mile racetrack was designed by professional racing drivers to highlight our supercars performance capabilities. You'll find an example of many turns found on the world's greatest racetracks including hairpins, double apex corners, fast sweepers, chicanes, 90-degree corners and even a banked turns as well as large runoff areas, the latest high-tech safety barriers, and even the only in-ground LED lighting system in the US.

2,000 ft

Main straight away

1.3-mile

track length

7

days open

10

turns

140 mph

top speed

15 min south

Off the las vegas strip
TIME TRIAL WORLD CHALLENGE BY EXOTICS RACING
ONLY at Exotics Racing!
You never know how fast you are until you come to Exotics Racing! Challenge your driving skills on a racetrack behind the wheel of our supercars and take part of the world's largest motorsports competition, exclusively at Exotics Racing Las Vegas.
After each driving experience, whether you want to race against the clock or a friend, our automatic live and online ranking allows you to compare your laptimes and rank against other drivers. There is no exception, every driver is timed on our racetrack and therefore is a competitor of our World Challenge!
Who will be the next fastest driver at Exotics Racing?
296 Reviews
Over 400,000 Happy Customers! We've become a top rated racing attraction in Las Vegas. See what others have to say about their exciting driving experience at Exotics Racing.

dezembro 1, 2017
Since I cannot afford the cars offered for the experience I love to book these types of drives. I had an extremely great time playing with the 488. I found the instructor very affective in getting my around as quickly as I was capable of. I wish I had his job!!!!!! I just wished I could have had more time in the car, like maybe a few more laps with a break in between so as to correct some mistakes. LOVED IT, would not change anything.

novembro 28, 2017
My visit to Exotic Racing was a surprise for my 66th birthday and so I really didn't know what to expect. When we arrived, the facility was modern and clean. The staff couldn't have been more helpful. I sat through a video presentation about the track I would be driving and then we were taken on a test drive in a Porsche Cayenne. The driver talked to us about the track and the line for the turns, when to accelerate and when and where to brake. After the test drive I met my instructor, ***. ***, was great! We went over the car I had chosen, a Ferrari 488- one of the 3 Ferraris available to drive (plus Lamborghinis, McLaren, Mercedes, and Porsches), and he asked what I wanted to learn and what my goals were for my driving experience. I've driven different Porsches for the last 20 years but my 911 did not compare to the Ferrari. I told *** that my goals were to drive the correct line through the turns and to learn to be smooth on the track and that is exactly what we did. On the track *** was amazing, He kept his voice calm and very positive. As I got through a few laps I started to increase speed and realized that the 488 was capable to being driven at a level that mere mortals can only aspire to achieve. Afterwards, I had time to take a number of photos with me and the Ferrari, my wife and the Ferrari, etc. There was no sense that I was being rushed in and out. I did opt to purchase the video of my track time. It is multiview including the track view, the view of me driving and then the speed and lap times. I am so happy that I opted for the video, I have shared it with lots of my family and a few friends. Overall, I think that Exotics Racing is one of the best things to do when you visit Las Vegas. I just hope that this was the first of many trips to the track to drive one of the many amazing cars available at Exotics Racing. Thanks Exotics Racing ***

novembro 28, 2017
Excellent Staff. Excellent experience. Overall, would do it again! Husband was thrilled every second he was there. He looked like and acted like a fat kid in a candy store. Make sure to tip your drivers! The video is worth it! Must get the video!

novembro 27, 2017
Its imperative to have captured 100% your business and experience model in to the customer experiences while attending and enjoying your facility. My personal experience at your facility was "amazing" and it was what I had expected from a high end professional corporate business. I was also very impressed with the high end appearance of your business from your shuttle service to the entire staff crew and the right along instructor professional attitude. I would definitely would recommend your business to family and friends. I will see you on my next lap.

novembro 22, 2017
As always, our group's experience with Exotics was fabulous. The Mclaren 570 was a big hit as was the Huracan Performante. Our coaches gave excellent instruction and were super fun! In general, all of our group would highly recommend Exotics to anyone; experienced or not Well done!

novembro 22, 2017
My experience with Exotics Racing was AMAZING! The advice I received from instructors and staff were spot on. First, so glad I went for the additional buy one get another lap free on top of the five for which I had signed up. It really did take a few laps to get a feel for the track and the car, that made the final laps more enjoyable. Second, the in car instruction I received from my instructor, *** was extremely helpful . They said in the classroom to not be taken back as your instructor yells out orders, that this is intended to help maximize your experience. They were right. No way could I have made it around the track as fast as I did without him. And because there is so much to pay attention to otherwise (revs, other cars, breaking points etc.) he let me focus on going as fast as possible. Only thing I would suggest is to advise first timers when signing up to go directly to the track not the office where my GPS took me. I arrived early from about two hours away and sat in the rental car before my scheduled time. When I went to the door, I saw the instruction to proceed to the track. Damn, I thought; could have watched cars go around the track sooner. But I HIGHLY recommend Exotics racing. I looked into a similar experience in my home state of New Jersey and they charge the same rate for fewer laps on a smaller track. Plus you have to buy insurance separately and it is a limited amount with a deductible, $*** I think. Now, I do not know if you go solo here and that is why the insurance is separate, but if so, to have liability exposure without the benefit of an instructor telling you how to go faster, well, I'd rather do it in Vegas with Exotics. Hope that I can get back soon.

novembro 22, 2017
I have been to Exotics Racing Las Vegas 5 times now. Every time has been great. This never gets old. The instructors are fantastic. They all have a great understanding of the cars and really seem to enjoy helping the drivers go faster. On my last trip, I drove with ***. All were excellent instructors. *** both give very clear and easy to understand instructions. Teo was quite fun due to his enthusiasm. I look forward to returning.

novembro 22, 2017
You do get what you pay for! The instructors know these cars, and let you have fun in them. I have a great time every time I've been, and I don't anticipate that stopping anytime soon!

novembro 22, 2017
This was my second time at Exotics Racing and as before this was a great experience. The instructors were top notch, cars perfect and set up tremendous. We had a great time! I would always recommend them to anyone traveling to Las Vegas who wants to have an extreme driving experience.

agosto 27, 2017
The most impressive car experience ever, everything super organized, great people and track! Cars were shining, beautiful... A special thanks to my new driving teacher ***, you rock, man!!! Can wait for my next one... Best, ***
OUR SUPERCARS
The world's largest fleet of exotic cars with over 50 cars and 19 models to choose from including the hottest cars by Ferrari, Lamborghini, Aston Martin,
Porsche, Corvette, Audi and Mercedes. All cars are equipped with paddle shifters to accommodate all skill levels and board dash
cameras to capture every moment of your Exotics Racing experience.