Drive an
Audi R8 V10

On a Racetrack!
The Audi R8 V10 is German engineering forged in fiery Italian passion. The R8 definitely has a split personality. On one side, the R8 has all the power of a high performance supercar, yet the R8 has all the style and class of a high end luxury touring model. The R8's exterior is more concept car and sci-fi while at the same time the R8 displays pure muscle and power. The interior of the R8 V10 is built around speed and performance with Audi naming the driver-center cockpit "Monoposto" that translates into "single-seater" and at the same time the Audi is comfortable for two and even has luggage space behind the seats. Maybe the R8's multiple personality has something to do with the fact that the R8 shares its name with a racecar out of the Audi stable that dominated the endurance circuit before the R8 was even born. Regardless, if you are going to have a split personality in your life, this is the way to do it! read more >
Hand-built in Neckarsulm, Germany, the R8 uses the Quattro permanent all-wheel drive system and is based on the Lamborghini platform. The fundamental construction of the R8 is based on the Audi Space Frame, and uses an aluminum monocoque, which is built using space frame principles. Development of the R8 began in 2004, with prototypes testing in January 2006, leading up to the official launch in September 2006, at the Pairs Auto Show.
Audi was able to adapt some engineering development from sister-company Lamborghini in the form of the Gallardo V10 engine, transmission and chassis. The V10 engine delivers an astonishing 525 hp at 8,000 rpm with 391 lb-ft of torque. Top speed is delivered at 196 miles per hour with a 0-60 in 3.7 seconds. The R8 utilizes the 6-speed R-Tronic gearbox equipped with steering-wheel-mounted paddle shifters. Now, to say that the Audi R8 is nothing more than a Gallardo wearing a different top and badge is absolutely wrong. The R8 may share Lamborghini's racing DNA, but the Lamborghini lacks all the style and grace that makes the R8 still powerful and gruff, yet classy and refined.
The interior is a solid, comfortable space with lots of head room accented by carbon fiber and plush leather. The interior will have familiar look to it for anyone who accustomed to Audi as the cabin resembles a streetcar more than a racecar. Features include a trendy instrument panel that flaunts a premium music system and navigation.
Exotic and high-performance sports cars vary greatly in style and concept compared to more plebian cars so there is no set class the Audi R8 competes in. This gives the R8 a more universal appeal that is lacking in other high-end performance options and making the R8 one of the best everyday supercars ever made.less >
Audi R8 V10

205 MPH
610 HP
3.2 S
US$202.000
The Audi R8 was so popular with our visitors that Exotics Racing now has 3 R8s available for use. The R8 is a mid engine 5.2L, V10 that delivers 525 hp with a top speed of 196 mph. Commonly referred to as the "Iron Man Audi", the R8 is developing a reputation as the go-to-car in Hollywood, having been featured in 7 major films in the last 3 years.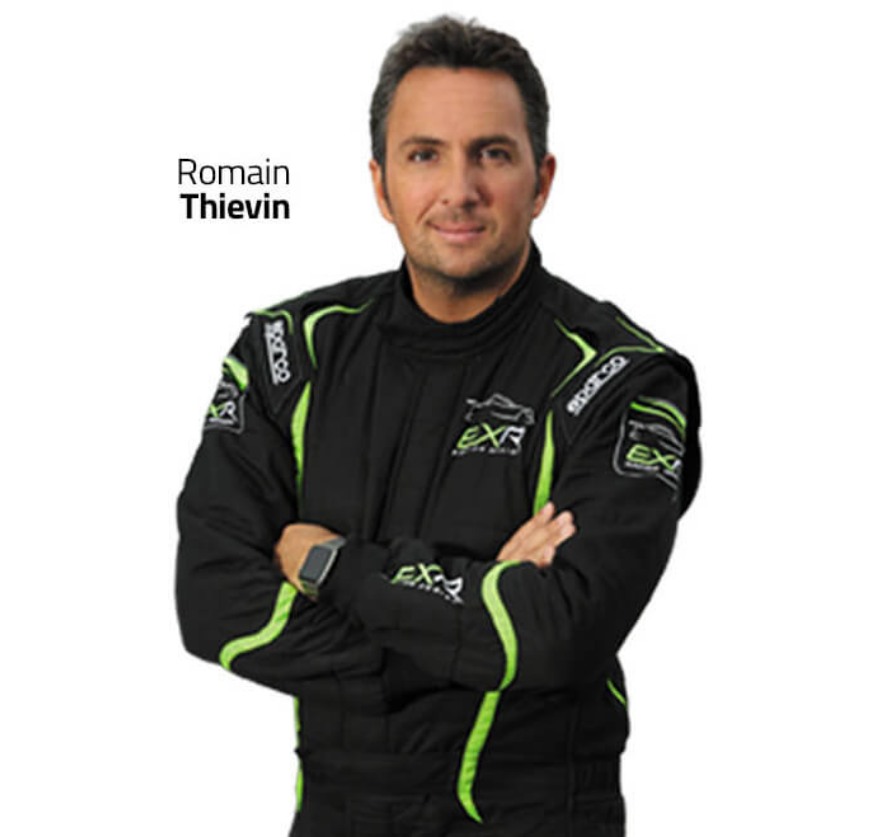 Tips From A Pro
"The R8 is the perfect example of what happens when you take a high powered Italian engine and give it to one of the most prestigious car manufacturers in the world. It shares many parts and characteristics with the Lamborghini Gallardo. It has style, comfort, and speed, all in one package; and the Advanced Quattro all-wheel-drive makes the R8 very easy to drive fast."
DRIVER ITINERARY
Our team of racing experts will guide you through the entire experience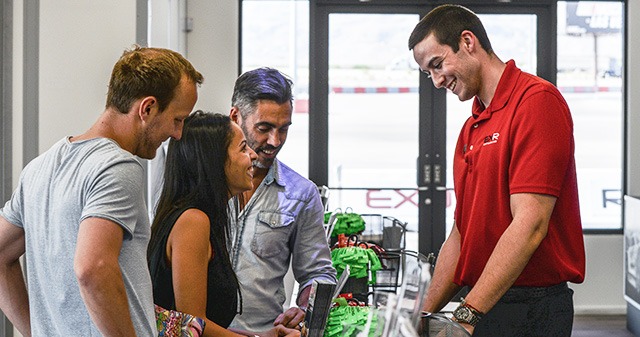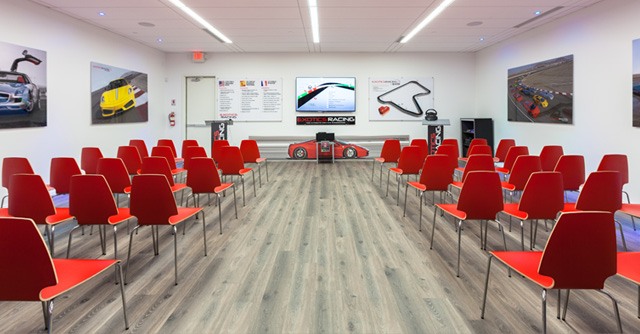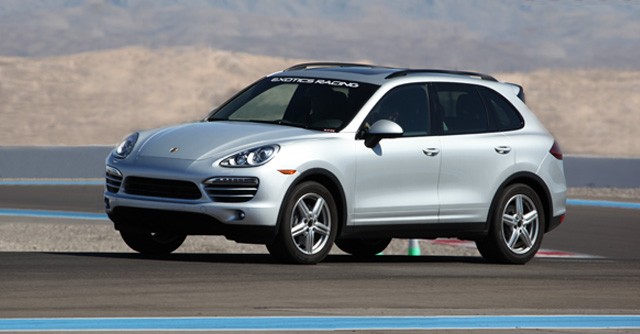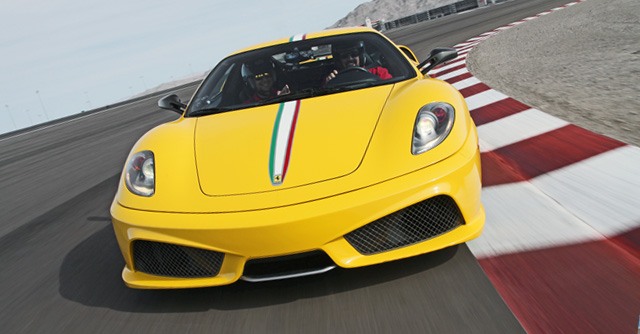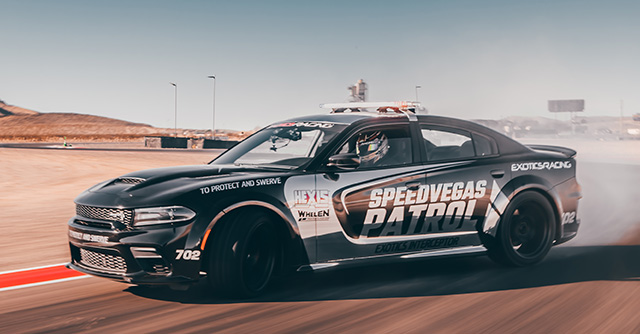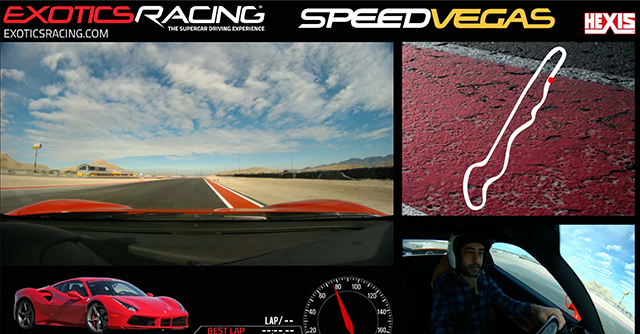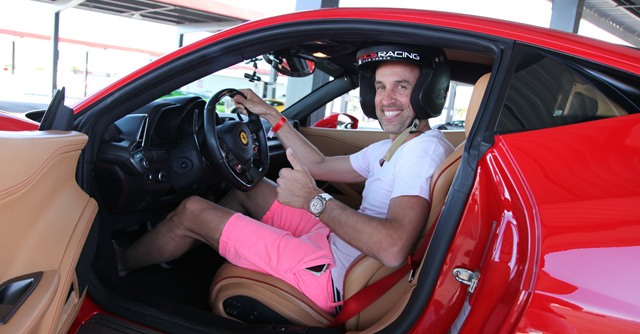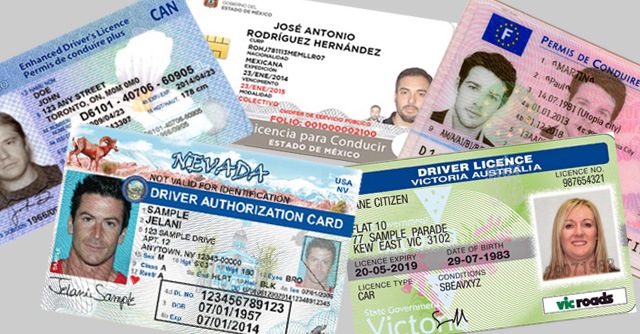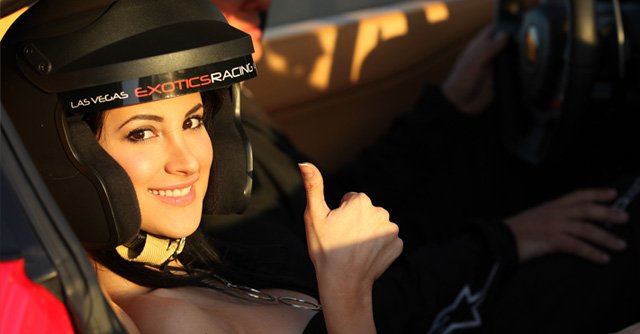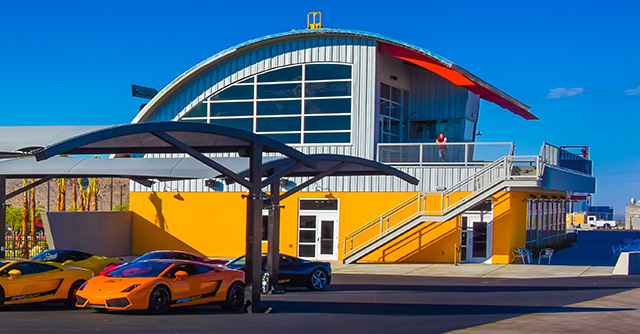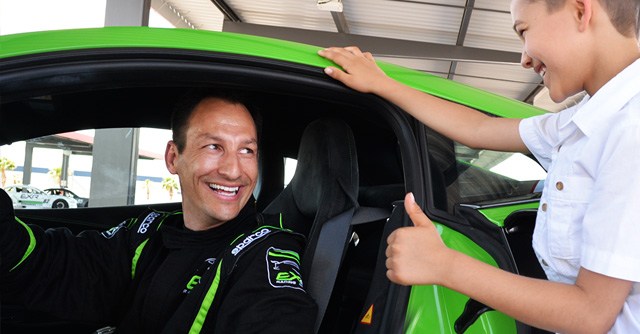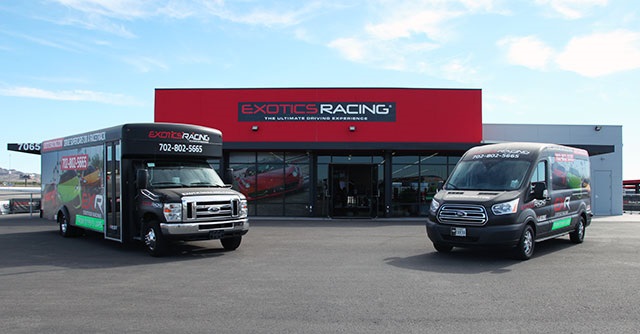 SUPERCAR DRIVING EXPERIENCES
Our Las Vegas location is at SpeedVegas Motorsports Park, just 15 minutes from the world famous Las Vegas Boulevard. Our exclusive 1.3-mile racetrack was designed by professional racing drivers to highlight our supercars performance capabilities. You'll find an example of many turns found on the world's greatest racetracks including hairpins, double apex corners, fast sweepers, chicanes, 90-degree corners and even a banked turns as well as large runoff areas, the latest high-tech safety barriers, and even the only in-ground LED lighting system in the US.
2,000 ft

Main straight away

1.3-mile

track length

7

days open

8

turns

140 mph

top speed

15 min south

Off the las vegas strip
TIME TRIAL WORLD CHALLENGE BY EXOTICS RACING
ONLY at Exotics Racing!
You never know how fast you are until you come to Exotics Racing! Challenge your driving skills on a racetrack behind the wheel of our supercars and take part of the world's largest motorsports competition, exclusively at Exotics Racing Las Vegas.
After each driving experience, whether you want to race against the clock or a friend, our automatic live and online ranking allows you to compare your laptimes and rank against other drivers. There is no exception, every driver is timed on our racetrack and therefore is a competitor of our World Challenge!
Who will be the next fastest driver at Exotics Racing?
810 Reviews
Over 400,000 Happy Customers! We've become a top rated racing attraction in Las Vegas. See what others have to say about their exciting driving experience at Exotics Racing.

dezembro 1, 2015
Thanks for the great experience and total feeling of safety at all times.

dezembro 1, 2015
The whole experience was awesome! everyone associated with the Exotics Racing organization were friendly, helpful, timely and knew their stuff! If you feel the need for speed, this is the place to go! the cars we drove were in great shape. Hitting 120mph on the straight away is well worth the cab ride for sure!

dezembro 1, 2015
Couldn't have been better. Definitely worth the money. ***, the instructor, was excellent.

novembro 16, 2015
Your instructors are very friendly and did a perfect job.\nThank you

maio 3, 2015
Very professional set up, 4 of us were from Australia & we had the very best time & will recommend it to anyone we know who is visiting Vegas in the future, keep up the good work.

abril 28, 2015
I've been to Exotics Racing 3 times now and I will keep coming back whenever I'm in Las Vegas, its the best experience if your looking for an adrenaline rush or just want to hangout and drive some amazing cars!

abril 24, 2015
When you have yor first track aquaintance lap at slow speed the track instructions seem a bit disconnected from your experience. Then on the second lap at speed they make much more sense. Then you get into ( in my case ) the Porche GT3 and... "Shut the lights out" this thing is fast and the track is coming at you almost too fast to process the instructions. But you forget about this because the instructor is correcting you on the fly and urging you to greater speed. The experience was truly a rush. I would return in a flash when next in the area. Scott, Toronto.

abril 23, 2015
The drifting experience was also worth the 2 laps and If I had brought someone, I would have taken the super special deal one this...

abril 11, 2015
Honestly, pushing a Ferrari Italia or Lamborghini Huracan around this track is about as much fun as you can have with your clothes on. But beyond the roster of kick-ass cars and a track that's designed be as unintimidating or as challenging as you like it, what really makes the experience is the instructors. They push you to the limit (but not over) your capabilities, so by the end of the session you're driving a helluva lot faster than you ever imagined. I can see flying out to Vegas once a year to do this. Who needs casinos when you've got 600 horses breathing fire up your butt...

abril 7, 2015
Exotics Racing was an absolutely incredible experience. The staff helped a dream of mine to come true and I can't thank them enough. Everyone there is very professional and help to make you feel very comfortable. It doesn't matter how much driving experience you've had in the past (I had none) because they teach you all you need to know. From the minute you walk in to the time you leave, everyone is very nice, professional, approachable, and kind. The staff will also take time to take photos of you with the cars, etc. I had some amazing professional drivers with me (thanks Sean, Ben, Josh, & Joe!) to help guide me through every turn. I drove the Lamborghini Aventador, Lamborghini Huracan, Ferrari 458 Italia, Audi R8, and Mercedes AMG...all were very different from each other but also incredible to drive. I would definitely opt for 10 laps (or more!) because you really start to get a feel for the car you're driving around the 3rd or 4th lap. For me, laps 5-10 were by far the best. If you've ever dreamed about driving these cars - then do it...this is your chance. If you've been on their website contemplating whether or not you should...trust me, you should. Next time I'm in Vegas, I'm definitely coming back to Exotics Racing!
OUR SUPERCARS
The world's largest fleet of exotic cars with over 50 cars and 19 models to choose from including the hottest cars by Ferrari, Lamborghini, Aston Martin,
Porsche, Corvette, Audi and Mercedes. All cars are equipped with paddle shifters to accommodate all skill levels and board dash
cameras to capture every moment of your Exotics Racing experience.