DRIFTING RIDE-ALONG EXPERIENCE
The most thrilling ride on a racetrack!
The Drifting Ride-Along experience is truly an adrenaline shot! Exotics Racing's professional drifter will take you as a passenger for the Supercar full-speed drifting experience. Onboard the Dodge Charger SRT Hellcat, you will feel the rush of the 707hp V8 like nowhere else. The ride-along experience will amaze you with skillful racing techniques. This supercar is fully mastered by our expert racing drivers and it shows it on the racetrack! Buckle in for the adrenaline-pumping ride of your life!



Drifting Ride-Along
Dodge Charger SRT Hellcat

204 MPH
707 HP
3.4 S
US$65.900
How do you take up to three passengers for a sideways drifting, tire-smoking extravaganza of a thrill ride? Buckle them into a Dodge Charger SRT Hellcat. Why this car? To start, it's a four door sedan, so the two backseat passenger can get in with ease. More importantly, the Charger SRT Hellcat pumps out a whopping 707 horsepower and 650 lb-ft of torque.
SUPERCAR RIDE-ALONG EXPERIENCE
Pick one of three exotic cars below
Exotics Racing's professional drivers will take you as a passenger and show you what a supercar can do on our racetrack. Onboard the Porsche 991 GT3, Ferrari 488 GTB or the Lamborghini Huracan, these ride-along experience will amaze you with skillful racing techniques mastered by our experienced racecar drivers!


Supercar Ride-Along
Lamborghini Huracan

198 MPH
580 HP
3.4 S
US$216.000
It's like a time machine. Only faster. For the speed seekers the Lamborghini Huracan together with our racing drivers will have you at the edge of your seat. With 580 horsepower and our expert racing drivers, hold on tight and enjoy the high speed ride.
Supercar Ride-Along
Ferrari 488

205 MPH
660 HP
3.0 S
US$330.000
Supercar Ride-Along
Porsche 991 GT3

198 MPH
500 HP
3.8 S
US$143.000
One thing is clear already: the new 911 GT3 ride along is going to change the way you think about Porsches. With outstanding performance and offering excellent manageability, our racing drivers will break through the limits to give the Supercar experience.
RIDER ITINERARY
Our team of racing experts will guide you through the entire experience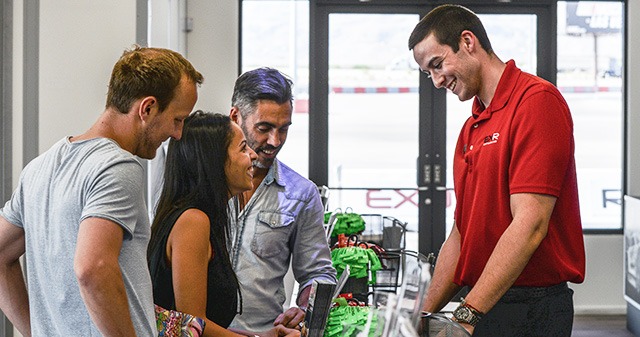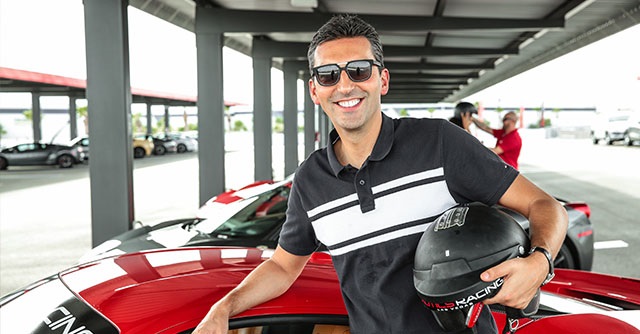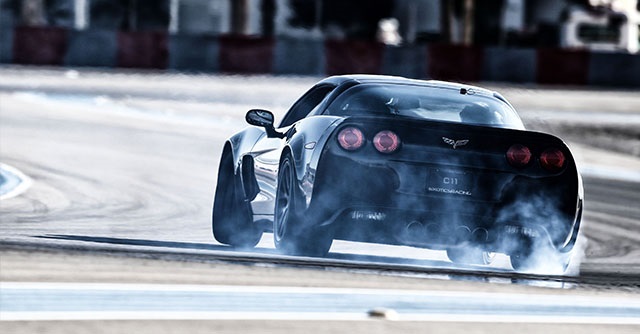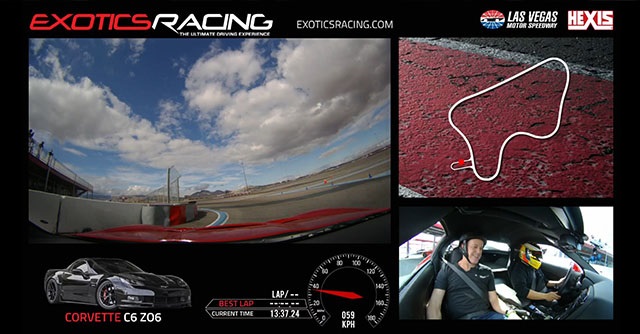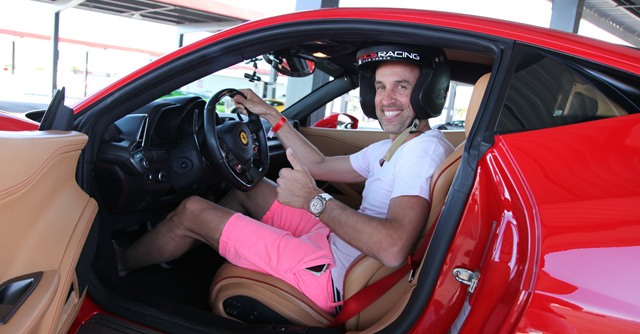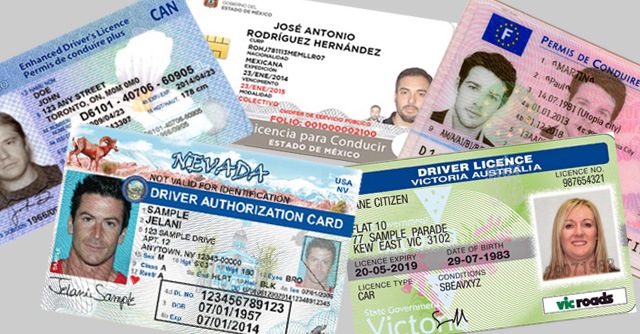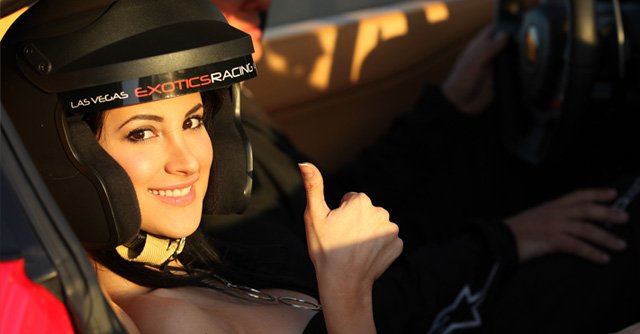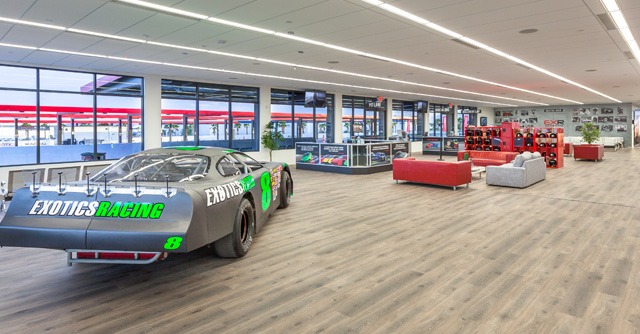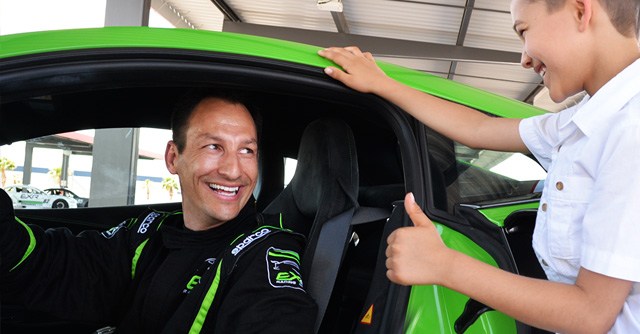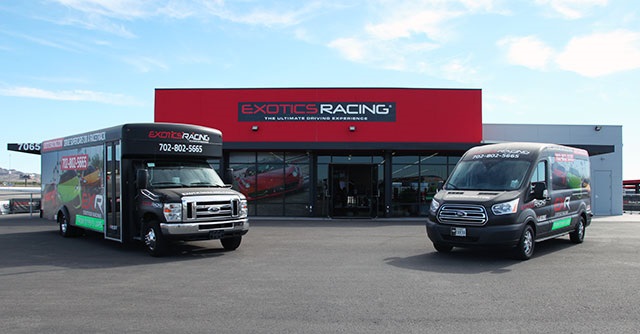 SUPERCAR DRIVING EXPERIENCES
Located on the grounds of the Las Vegas Motor Speedway, our exclusive 1.2-mile racetrack was designed by professional racing drivers to highlight our supercars performance capabilities. You'll find an example of many turns found on the world's greatest racetracks including hairpins, double apex corners, fast sweepers, chicanes, 90-degree corners and even a banked turns as well as large runoff areas, the latest high-tech safety barriers, and even the only in-ground LED lighting system in the US.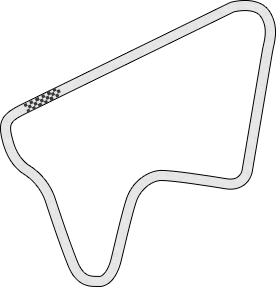 1,800 ft

Main straight away

1.2-mile

track length

7

days open

7

turns

140 mph

top speed

15 min north

Of the las vegas strip
7.587 Reviews
Over 260,000 Happy Customers! We've become a top rated racing attraction in Las Vegas. See what others have to say about their exciting driving experience at Exotics Racing.

abril 2, 2013
This was my belated birthday gift from my fiance, and it was everything I'd hoped it would be. My personal instructor, Joe, made the experience even better than I'd imagined with his encouragement and great input. Can't wait to do it again...more laps next time!

abril 2, 2013
This was one of the "BEST" experience's of my Life! Thanks for a great time, I will be back for more!

abril 2, 2013
The Exotics Racing Experience is amazing, I completed 7 laps in a Ferrari F430-F1 and my wife 7 more in a Lamborgini Gallardo, the instructors are really good, driving with his advices makes you faster in the track and they encourage us to push hard the accelerator. I strongly recomend to everyone who travel to las vegas make a stop on Exotics Racing.

abril 2, 2013
As a gift to my daughter for her 18th birthday and graduation from high school, we took a trip to Las Vegas. I mentioned to her some of the numerous activities we could partake in and she choose Exotics Racing. Needless to say, we were extremely pleased with our experience at Exotics Racing. I ended up purchasing 2 extra laps in the Ferrari 430 for my daughter along with the $99 ride along with the drifting car. She got out of both cars with the biggest smile I've seen in a long time. It was a great experience for her and she wants to come back. Next time, I'll be sure to allocate enough time so I can drive as well.

marzo 31, 2013
Amazing time with all the cars. The track was well prepped, cars were ready to go. Hosts and instructors were amazing. I really liked the Z06 ride along--- got completely sideways with wind blowing thru my hair. Will never forget that. Thanks Exoticsracing. Will def come back again.

marzo 31, 2013
Great experience, I would highly recommend the Exotics Racing experience! Pete and Rudy were outstanding instructors and really made my experience a great one!

marzo 30, 2013
We had a terrific time. Staff was very professional. Going into the experience, I thought my stress would be more about damaging a quarter million dollar car. Instead, it's all about pushing your driving skills to their limit. Don't think you're just going to be cruising around the track. Your instructor is going to push you to GO FAST! What a blast!

marzo 30, 2013
One of the best experiences of my life made possible by a professional and knowledgeable staff. Thanks Exotics, and I hope to see y'all again soon! Sincerely, Andy Hudson Houston, Texas

marzo 30, 2013
For those of us who will never afford a supercar, Exotics Racing offers the next best thing, and you'll drive flat-out on the track with a knowledgeable instructor and without the dangers of driving on the street. You will be blown away!

marzo 30, 2013
My experience was incredible. The cars were clean and well-maintained, the staff was professional, knowledgeable, and helpful. The drifting experience is phenomenal and Rudy is an amazing skillful pro at what he does in that Vette! Exotics Racing will be part of my next trip to Vegas - without a doubt! See you soon.

marzo 30, 2013
I learned the essence of being smooth on the track..will definitely be back!

marzo 30, 2013
Fantastic day, thanks to everyone.

marzo 30, 2013

marzo 29, 2013
I didn't have any expectations coming into the day but had a great time although we didn't have enough time to do more unfortunately.

marzo 29, 2013
Great experience and adrenalin rush. Instructors are first class and push you hard to be better. Will return each time I am in Vegas

marzo 29, 2013
After driving 5 laps with the R8 and 5 laps with the SLS, my hunger for racing has not been completed. I will definitely come back for more! This is strongly recommended, however I suggest at least 10 laps with your dream car, because 5 laps will only get you warmed up and wanting for more.

marzo 29, 2013
Anybody coming to Las Vegas needs to book a driving experience at Exotics Racing. For a very reasonable price you can drive your exotic dream car on a race track with top notch instruction from a professional instructor. If your not into driving at least do the 2 lap ride along in the Z06 Corvette - watching my wife being drifted through the turns was almost as much fun as driving the Lamborghini. And even if you don't drive or ride you can walk around the garage and get up close with millions of dollars worth of the best performance cars available in the world today. If you decide to drive a car here I have 2 words of advice: 1. Get the video - you'll regret it if you don't and... 2. Drive the Lamborghini Aventador. It may not be as refined as a 458 or MP4-12C, but it's the baddest bull on the road!!

marzo 29, 2013
Buddy was a fantastic instructor in getting the Lamborghini Aventador around the track. His instruction throughout the course allowed me to take full advantage of the car and the race track. The instructors make a tremendous positive impact in the total experience.

marzo 29, 2013
Had a very good time and my wife commented on my Helmet Hair.

marzo 29, 2013
Excellent day. I highly recommend driving at least two cars for contrast and more than the basic 5 laps. I'll be visiting again next time I'm in Vegas!

marzo 29, 2013
Dollar for dollar one of the best things you can do in Vegas.

marzo 29, 2013

marzo 29, 2013
I was one of the only women who raced the day I was there. I found the learning process and instruction straightforward, and not intimidating in any way. Don't be afraid to give it a try - it's definitely worth it! I recommend Exotics Racing to anyone!

marzo 29, 2013
This was truly one the bucket list items you have do. Looking at exotic cars verses actually driving the heck out one. Can't beat it!

marzo 29, 2013
FUN CARS, GOOD PEOPLE, GREAT PLACE.