DRIFTING RIDE-ALONG EXPERIENCE
The most thrilling ride on a racetrack!
The Drifting Ride-Along experience is truly an adrenaline shot! Exotics Racing's professional drifter will take you as a passenger for the Supercar full-speed drifting experience. Onboard the Dodge Charger SRT Hellcat, you will feel the rush of the 707hp V8 like nowhere else. The ride-along experience will amaze you with skillful racing techniques. This supercar is fully mastered by our expert racing drivers and it shows it on the racetrack! Buckle in for the adrenaline-pumping ride of your life!



Drifting Ride-Along
Dodge Charger SRT Hellcat

204 MPH
707 HP
3.4 S
US$65.900
How do you take up to three passengers for a sideways drifting, tire-smoking extravaganza of a thrill ride? Buckle them into a Dodge Charger SRT Hellcat. Why this car? To start, it's a four door sedan, so the two backseat passenger can get in with ease. More importantly, the Charger SRT Hellcat pumps out a whopping 707 horsepower and 650 lb-ft of torque.
SUPERCAR RIDE-ALONG EXPERIENCE
Pick one of three exotic cars below
Exotics Racing's professional drivers will take you as a passenger and show you what a supercar can do on our racetrack. Onboard the Porsche 991 GT3, Ferrari 488 GTB or the Lamborghini Huracan, these ride-along experience will amaze you with skillful racing techniques mastered by our experienced racecar drivers!


Supercar Ride-Along
Lamborghini Huracan

198 MPH
580 HP
3.4 S
US$216.000
It's like a time machine. Only faster. For the speed seekers the Lamborghini Huracan together with our racing drivers will have you at the edge of your seat. With 580 horsepower and our expert racing drivers, hold on tight and enjoy the high speed ride.
Supercar Ride-Along
Ferrari 488

205 MPH
660 HP
3.0 S
US$330.000
Supercar Ride-Along
Porsche 991 GT3

198 MPH
500 HP
3.8 S
US$143.000
One thing is clear already: the new 911 GT3 ride along is going to change the way you think about Porsches. With outstanding performance and offering excellent manageability, our racing drivers will break through the limits to give the Supercar experience.
RIDER ITINERARY
Our team of racing experts will guide you through the entire experience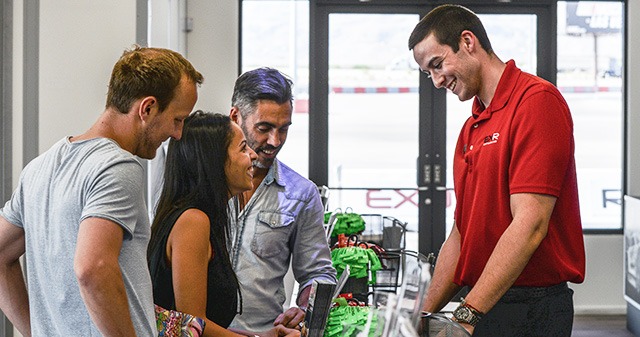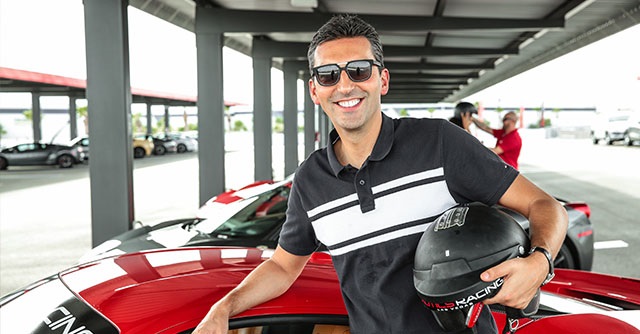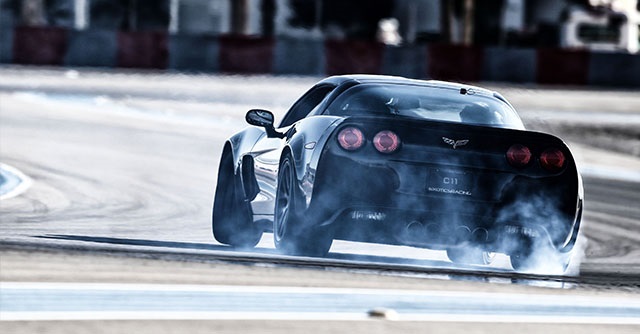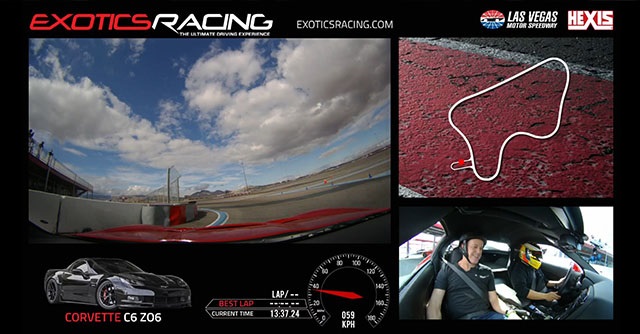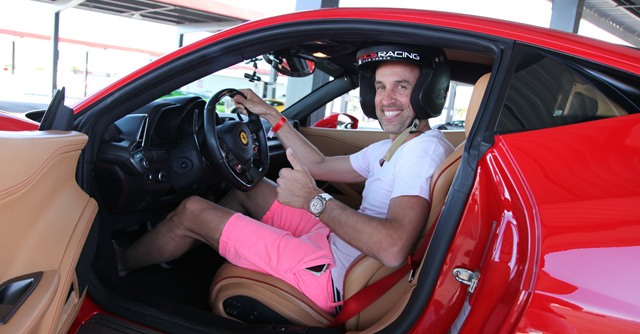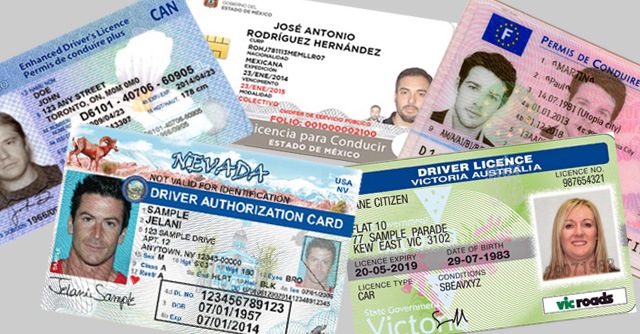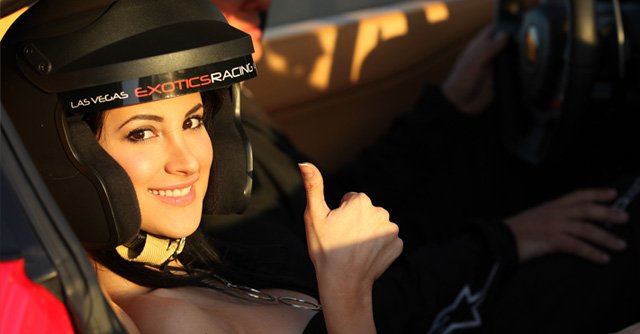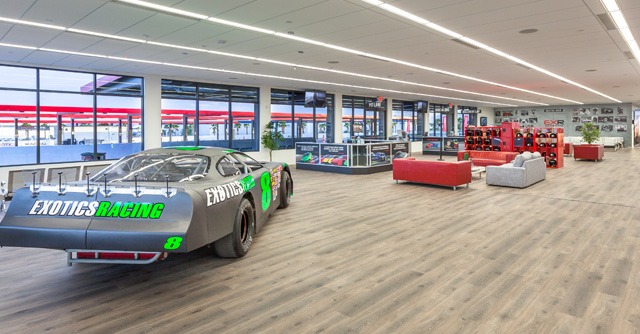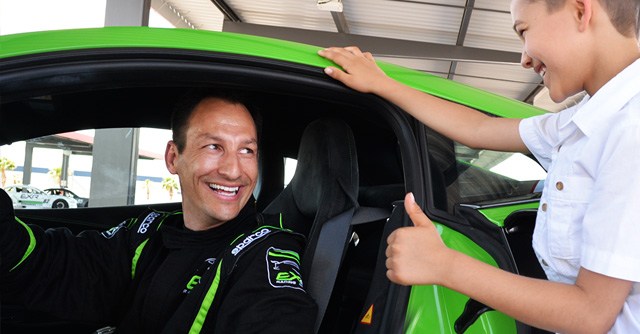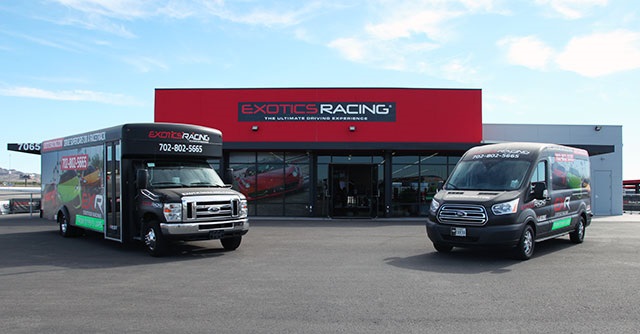 SUPERCAR DRIVING EXPERIENCES
Located on the grounds of the Las Vegas Motor Speedway, our exclusive 1.2-mile racetrack was designed by professional racing drivers to highlight our supercars performance capabilities. You'll find an example of many turns found on the world's greatest racetracks including hairpins, double apex corners, fast sweepers, chicanes, 90-degree corners and even a banked turns as well as large runoff areas, the latest high-tech safety barriers, and even the only in-ground LED lighting system in the US.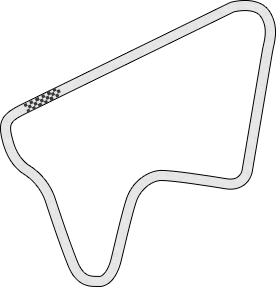 1,800 ft

Main straight away

1.2-mile

track length

7

days open

7

turns

140 mph

top speed

15 min north

Of the las vegas strip
7.584 Reviews
Over 230,000 Happy Customers! We've become a top rated racing attraction in Las Vegas and Los Angeles. See what others have to say about their exciting driving experience at Exotics Racing.

enero 6, 2017

enero 6, 2017
Made my dream come true. Every part of the experience was smooth, hassle free, and fun. Great job putting together a rockstar team to both have fun safely and be pushed as well.

enero 4, 2017
Great experience! Staff is friendly and very welcoming. A definite bucket list item.

enero 4, 2017
If you want a real experience, do the ride along. It's faster than I could have ever driven and gives you the feel of the cars. The drifting ride along is insane and worth every cent. A must do if you're there! Crazy crazy ride. Get a video while you're at it. It was hilarious to watch when we got home. Would do this again and again.

enero 4, 2017
Our group had a great experience driving exotic cars. The staff were all friendly and helpful. Our driving instructors were patient and fun to ride with. We whighly recommend Exotics Racing!

enero 4, 2017
Really fun and easy. Good coaching. Good feeling. Great place.

enero 4, 2017
The experience is just awesome. Since the beginning they deal with you like if you were unique, as each of their cars. I drove the Lambo Huracan the first time and then the AMG GT the second time. Both cars are fantastic and unbelievably fast. You feel each bump on the exhaust system as you shift them up. I strongly recommend the experience. None should leave Vegas or LA before doing it!

diciembre 30, 2016
I just spent the day at the High Performance Driving Experience (HPDE) package at Exotics Racing in Las Vegas. It was an entire day with personalized VIP treatment and detailed instruction with the goal to allow me to drive a model of the same vehicle I own back in NY at its maximum performance. Although my day was with the McLaren 570S, I understand I was fortunate as that vehicle is in high demand. I can see why! I flew out from NY just for this purpose. It was amazing! My personal instructor was JD (Josh), and he was obviously passionate about the fundamental principles of track driving, cars and everything about them. His history of racing added legitimacy and he really tuned into my goals of being able to push my car to its limits but realized I wasn't trying to start a career in racing. I felt the day was special as soon as I arrived. I was greeted with enthusiasm by the staff and after an orientation by JD in the race trailer, I was offered the opportunity to wear a racing suit and shoes. I chose yes, and it added to the experience for sure. JD was very detailed in explaining the fundamental principles of track driving of which I had some un answered questions about prior to arriving. All answered now. He then throughout the day related those principles as he sat next to me as I drove their version of my Mclaren 570S ( Orange instead of white). I know some manufacturers offer test drives but this experience of driving this car was amazing! Being able to take my vehicle on a track with many variety of turns, with an experienced instructor coaching me as I head into a tight turn at 120 mph and trail braking is just something that is rare. After a full day of challenging the Mclaren and me, I am looking forward to do this once a year. At the end of the day I opted to run the new Ferrari 488 for 5 laps with JD. I have to say adding the Ferrari on to compare was a great choice. At that point I was comfortable with track and basic principles of driving. (My best lap was with the McLaren at just under 57 seconds) The McLaren I felt was right there with regards to speed and handling, which is an amazing tribute to the Mclaren 570S. An amazing day, an amazing opportunity. I am looking forward to doing this as often as I can to improve my driving skills and keep up with the latest supercars on the planet.

diciembre 30, 2016
I had a wonderful time at the Excotic Racing track Las Vegas. The Staff and driving instructors were extremely nice and very helpful... It was just a totally awesome experience! ***

diciembre 29, 2016
Great Time!! both my son and I Drove the GT3 as well as the F430 F1 couldn't stop smiling and talking about it the rest of our trip. Definitely coming back for another session Awesome experience!!

diciembre 29, 2016
I was completely satisfied with my entire experience there! I recommend this place to anyone i come across. The instructors were fantastic, the environment is great, and the car selection is amazing! I will be back!

diciembre 29, 2016
A great time. Excellent staff. They were all very courteous and a pleasure to deal with, very helpful. The driver who rode with me made sure I got the most out of my laps. The instruction and practice laps prior to my actual drive was a great help too. If you go drive the NSX. The only thing that I would say needs improvement is that the green cones are hard to pickup at speed. They need to be a little larger and brighter. A minor quibble. I would heartily recommend Exotic Racing. A lot of fun.

diciembre 29, 2016

diciembre 29, 2016
Great day! The entire experience was perfect in every way.

diciembre 29, 2016
This was a birthday present for my husband, he had a great time and was happy with ever area of the visit. Thanks to the wonderful staff for a great time. Hope to be back next year.

diciembre 29, 2016

diciembre 29, 2016
This a GREAT experience!!! The cars and instructors are phenomenal! We were really excited to do this, and the experience was better than expected. Thank you!

diciembre 29, 2016
Very Very good !!! I Love the Drifty !!!

diciembre 29, 2016
Great experience and great customer service !

diciembre 29, 2016

diciembre 29, 2016
It was one of the items on my bucket list. My trainer was very helpful and friendly. I forgot to tip him afterwards as I was still in trance after driving the Aventador. My apologies for that. EXR has all the right people and the right cars to make it an experience of a lifetime.

diciembre 29, 2016
Outstanding time. Instructor was fantastic. The entire process from sign in to racing was smooth. The entire staff was exceptional. Will definitely be back.

diciembre 22, 2016
Best staff ever!! Not only do they teach everyone how to get a fast lap but they are very friendly and love to have a laugh. Great experience overall and would highly recommended !

diciembre 22, 2016
Loved it! I was like a kid at a candy store :) Professional and friendly staff. Professional instructors with wealth of racing knowledge, guiding you through the race tracks. The cars are just mind blowing! Will come back for sure :)

diciembre 22, 2016
Great staff and fantastic drivers, very helpful. Just a great time !