DRIFTING RIDE-ALONG EXPERIENCE
The most thrilling ride on a racetrack!
The Drifting Ride-Along experience is truly an adrenaline shot! Exotics Racing's professional drifter will take you as a passenger for the Supercar full-speed drifting experience. Onboard the Dodge Charger SRT Hellcat, you will feel the rush of the 707hp V8 like nowhere else. The ride-along experience will amaze you with skillful racing techniques. This supercar is fully mastered by our expert racing drivers and it shows it on the racetrack! Buckle in for the adrenaline-pumping ride of your life!



Drifting Ride-Along
Dodge Charger SRT Hellcat

204 MPH
707 HP
3.4 S
US$65.900
How do you take up to three passengers for a sideways drifting, tire-smoking extravaganza of a thrill ride? Buckle them into a Dodge Charger SRT Hellcat. Why this car? To start, it's a four door sedan, so the two backseat passenger can get in with ease. More importantly, the Charger SRT Hellcat pumps out a whopping 707 horsepower and 650 lb-ft of torque.
SUPERCAR RIDE-ALONG EXPERIENCE
Pick one of three exotic cars below
Exotics Racing's professional drivers will take you as a passenger and show you what a supercar can do on our racetrack. Onboard the Porsche 991 GT3, Ferrari 488 GTB or the Lamborghini Huracan, these ride-along experience will amaze you with skillful racing techniques mastered by our experienced racecar drivers!


Supercar Ride-Along
Lamborghini Huracan

198 MPH
580 HP
3.4 S
US$216.000
It's like a time machine. Only faster. For the speed seekers the Lamborghini Huracan together with our racing drivers will have you at the edge of your seat. With 580 horsepower and our expert racing drivers, hold on tight and enjoy the high speed ride.
Supercar Ride-Along
Ferrari 488

205 MPH
660 HP
3.0 S
US$330.000
Supercar Ride-Along
Porsche 991 GT3

198 MPH
500 HP
3.8 S
US$143.000
One thing is clear already: the new 911 GT3 ride along is going to change the way you think about Porsches. With outstanding performance and offering excellent manageability, our racing drivers will break through the limits to give the Supercar experience.
RIDER ITINERARY
Our team of racing experts will guide you through the entire experience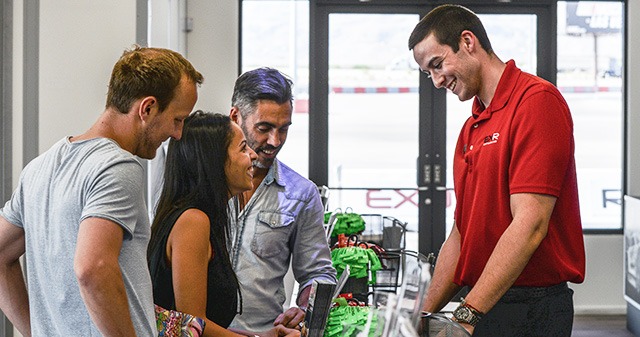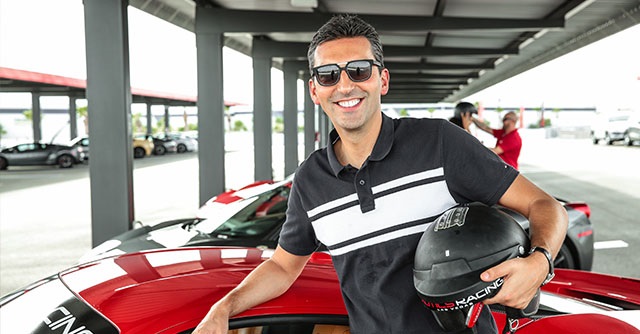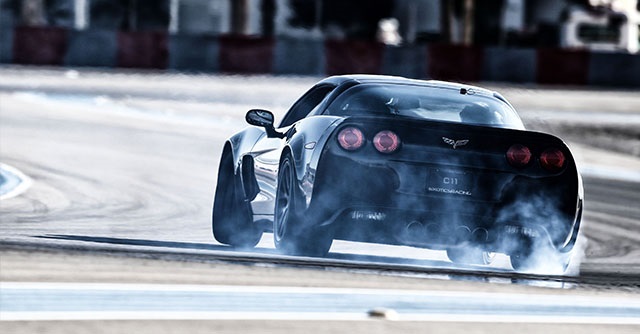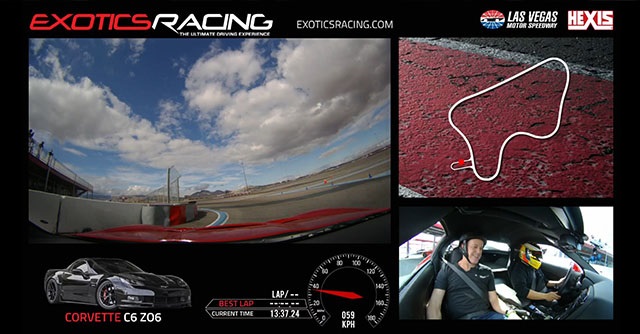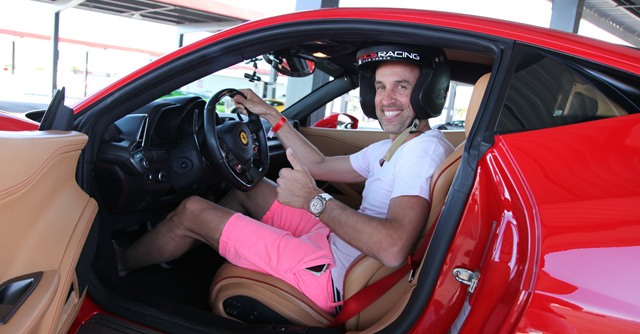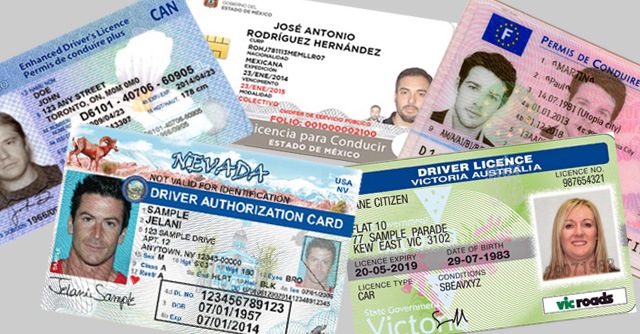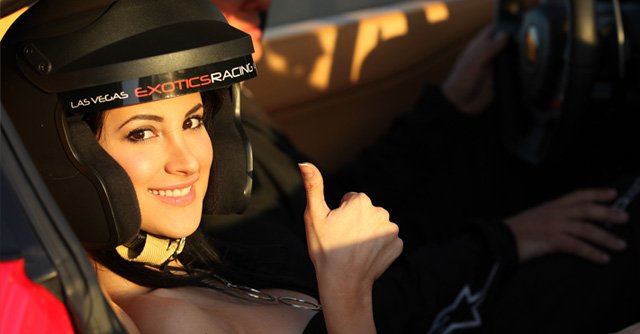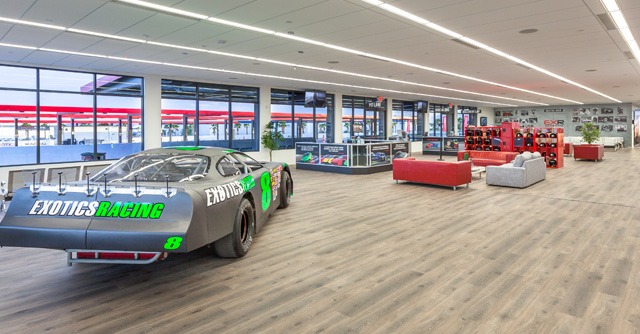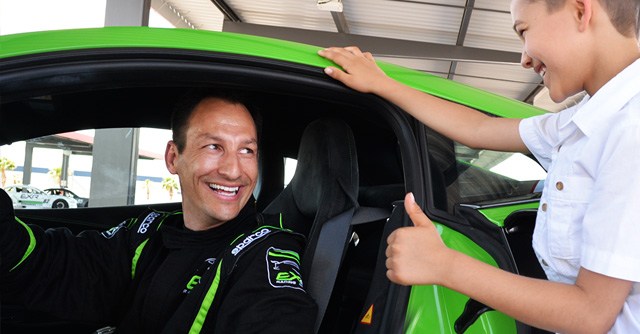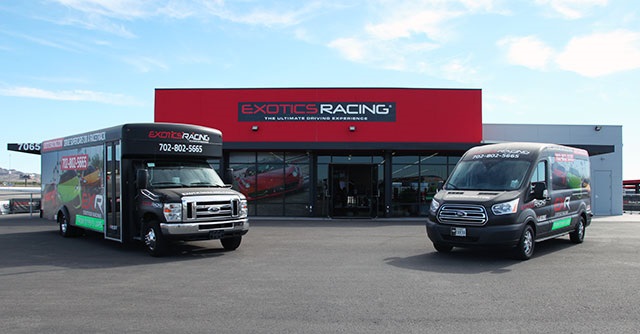 SUPERCAR DRIVING EXPERIENCES
Located on the grounds of the Las Vegas Motor Speedway, our exclusive 1.2-mile racetrack was designed by professional racing drivers to highlight our supercars performance capabilities. You'll find an example of many turns found on the world's greatest racetracks including hairpins, double apex corners, fast sweepers, chicanes, 90-degree corners and even a banked turns as well as large runoff areas, the latest high-tech safety barriers, and even the only in-ground LED lighting system in the US.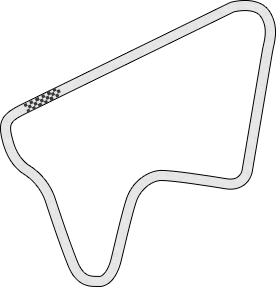 1,800 ft

Main straight away

1.2-mile

track length

7

days open

7

turns

140 mph

top speed

15 min north

Of the las vegas strip
7.574 Reviews
Over 230,000 Happy Customers! We've become a top rated racing attraction in Las Vegas and Los Angeles. See what others have to say about their exciting driving experience at Exotics Racing.

octubre 6, 2013
An experience of a lifetime! The staff was informative and friendly. Chris was a great instructor! LOVED IT AND CAN'T WAIT TOO EXPERIENCE THE RUSH AGAIN!

octubre 6, 2013
A fantastic experience. Staff, vehicles, & facility were first class. I will do it again the next time I visit Las Vegas.

octubre 6, 2013
Compared to my whole weekend in Vegas coming to Exotics Racing was a huge highlight. It's clean, friendly, all the other drivers/visitors feel like they know you because you have a really special interest in common. It was great, and I plan on coming back soon. In the meantime I'm telling everybody I know about the affordable prices and the amazing experience.

octubre 6, 2013
Ladies, if you are looking for the perfect gift for your guy, consider this. Purchased an experience for my husbands 50th birthday, he could not stop smiling from the time we got into the limo until we left Vegas Three days later! We also purchased the video, and everytime he views it, he smiles all over again!!! Excellent staff! Excellent Experience!

octubre 5, 2013
Excellent time! Made my hubby's 40th birthday celebration beyond memorable. Staff was energetic and enthusiastic. Loved the add-on options such as the drifting ride along for some of us not yet ready to put the pedal to the metal. There were plenty of photo opportunities as well as purchasing the video - which we did of course. Already looking forward to visiting again!!

octubre 5, 2013
Great experience for any level!! I had a terrific time and the instructors are focused on you getting the most out of the day! The last lap comes too soon....

octubre 5, 2013
Simply the greatest experience Las Vegas has to offer.

octubre 5, 2013
It was a life long dream to drive a Ferrari and thanks to Exotic Racing that dream finally was able to come true!!! Not only did I get to drive a f30 but thanks to Dave I got to drive one like it was designed to be driven. The only down side is that now I want to keep going back!!! I can't thank everyone one enough!!!

octubre 5, 2013
Worth the money, definitely. Drive a Ferrari on a track is something you have to do!!

octubre 4, 2013
This should be on every thrill junkie's bucket list! But allow yourself more time than they suggest, as people change their minds and want more laps, and you will too!

octubre 4, 2013
My third trip was just as great as the other two. The new change to the track just added some more challenge and excitement to the experience. Jimmy and Joe Joe are rock stars in my book they made the laps in the 458 and the MP4-12C the best show in Vegas and all the instructors have been great. Only been back two days and I am already looking at the calendar trying to pick a day for my forth trip biggest problem is how do I decide what to drive next.

octubre 3, 2013
Awsome experience!! and will come back for more laps !

octubre 3, 2013
Exotics Racing is a professional and amazing driving experience! I will recommend it to all my family & friends!

octubre 3, 2013
Most fun I've ever had in Vegas. Planning a trip with my freinds to come out and do it again.

octubre 2, 2013
This was my third driving experience (each one with different companies), and far the best of all. A great car selection, and very friendly and professionals instructors taking care of the car but making sure you are having a great time. Excellent!

octubre 2, 2013
Get to experience those supercars in that environment and with that level of expertise by your side is something POETIC! BEST TIME EVER!!! THANKS EXOTICSRACING!

octubre 1, 2013
Was my first time in Vegas and first time driving an exotic auto. I'm from Newfoundland, Canada, and we don't have any vehicles like most of yours here so just to see my dream cars in the one place was fantastic!

octubre 1, 2013
I had a awesome time on the day I went, drove four cars and did the drift ride along. The staff seemed really nice, friendly, knew what they were talking about and generally well organised. Would recommend it to any one with any level of driving experience, the staff seemed like they could adjust to any one to make the have a great day.

octubre 1, 2013
I surprised my husband with this experience and he had an absolutely fabulous time pushing a Lamborghini to its limits while being safely guided around the track!

septiembre 30, 2013
Booked this as a surprise for my husband on our honeymoon and as a birthday treat. He LOVED every second. Dream come true driving such incredible cars.

septiembre 30, 2013
The Porsche 997 Turbo and my driving instructor Ben made this an unforgettable experience!

septiembre 29, 2013
Even though this experience was a gift for my daughter, I was ver impressed with the operation in every respect. We plan to return.

septiembre 29, 2013
Purchased some laps for my dad to celebrate his 70th birthday and decided to take out a few cars of my own. The cars, staff and track were all exceptional and the experience was beyond what I expected. The opportunity to even drive cars of this magnitude would be very rare . . . even less likely would be the chance to push them to the limits while a professional driver gives you directions necessary to take full advantage of all the things these cars can do. Thanks for a great experience for all involved. See you next time!

septiembre 29, 2013
Take a ride in the Vette!

septiembre 29, 2013
Instructors were great and did an excellent job of encouraging you to get everything out of the cars that you can. Well done!!